Mark Cuban is an American billionaire, entrepreneur, media proprietor, television personality, and 'Shark' who can make the dreams of aspiring entrepreneurs come true or end. He's a man with many titles, and many responsibilities, but is he a father?  
Mark Cuban and his wife Tiffany Stewart have three children together, two daughters and a son, whom they have kept out of the public eye as far as possible for people of their celebrity. Alexis was born in 2003, Alyssa was born in 2007, and Jake was born in 2010.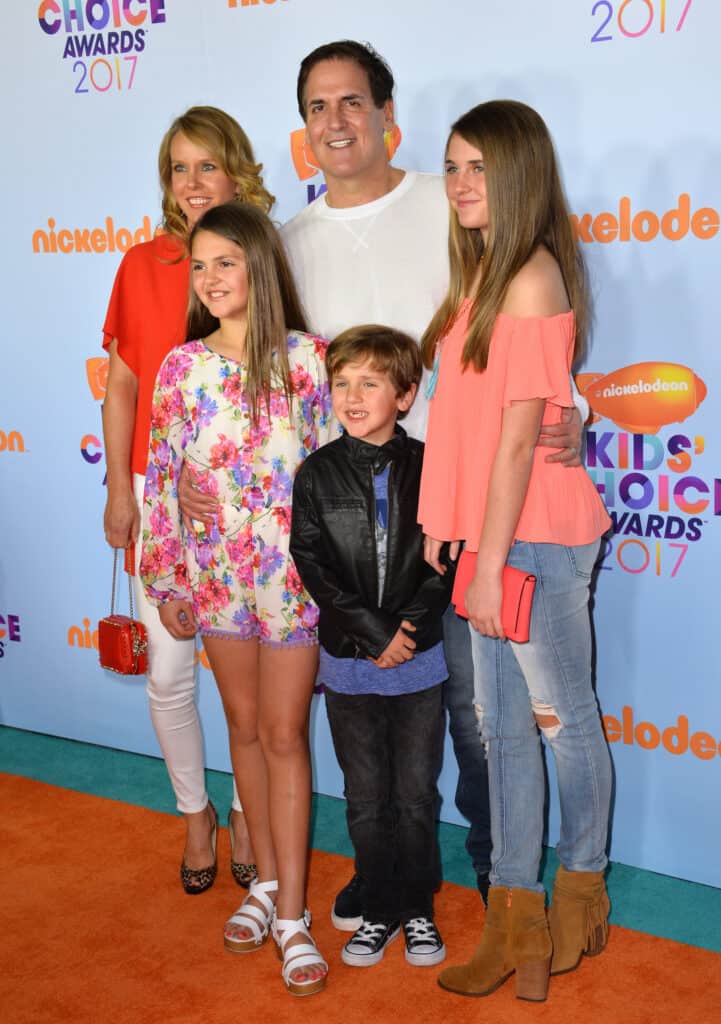 His family sees the softer side of the feisty investor, but that's not to say he isn't strict. Let's find out more about how Mark Cuban became a father, who his children are, and how his billionaire status influences his parenting style.
Is Mark Cuban a Father?
Mark became a father for the first time at 10:38 AM on 25 September 2003 when Tiffany gave birth to a daughter at the Presbyterian Hospital of Dallas' Margot Perot Center. They named her Alexis Sofia.
Tiffany's sister, Jamie, was in the delivery room with the couple and said that Mark was "so anxious" and described how "he was compulsively munching on dry cereal to calm his news, but the chomping sound was severely irritating his wife."
Jamie also added that Mark was "very much a coach, very much in awe of his new little girl" and "a baby hog".
Mark's second child, another daughter, was born in 2007 and is called Alyssa. In 2010, Mark and Tiffany's third and final child was born, this time a son whom they named Jake.
Who are Mark Cuban's Children?
Mark's eldest daughter, Alexis, is well on her way to becoming a social media star. She has over 41,000 Instagram followers and more than 410,000 followers on TikTok, where her videos have garnered upwards of 8.5 million likes.
On the odd occasion, Alexis will post a TikTok video that features her famous father. When this happens, it makes national news.
Alexis's success on the platform inspired Mark to start his own TikTok account, which has more than 630,000 followers. His bio reads "Dallas Mavs. that shark tank guy. do some business. have fun with my kids" which sums up the type of content he posts.
Not much is known about Alyssa other than the fact that she plays the violin. Despite not having much of a social media presence herself, there are several fan pages dedicated to her on TikTok.
Tiffany and Mark have worked hard to keep Jake out of the public eye, but now and then an article is posted that sheds a little light on the young boy. For instance, he seems to have inherited his father's passion for investment as at the age of 11 years old he invested in GameStop, BlackBerry, and more.
In an episode of 'Shark Tank', an entrepreneur pitched her skincare line and Mark revealed that Jake has eczema. He said "I have three kids and my wife would literally come and make your bed every day. I would too for that matter, if it kept my son, in particular, from itching all over."
Mark Cuban: The Family Man
Mark and Tiffany are hands-on parents. They have a nanny, but she only works on weekdays and weekend mornings, and that is as far as their household help goes.
Unlike many other celebrities, the Cubans don't have chauffeurs, butlers, or private chefs. This is because Mark's biggest fear is that "they grow up to be entitled jerks" and he and Tiffany are cautious not to spoil them.
He told Real Vision Finance, "If my kids want money today, it's like, how are you going to earn it? I'm not that dad that says 'Here's a present, here's a bank account, here's a debit card, just use it'. No…I want them to recognize, like I did growing up, that you have to earn what you're going to get."
Mark rewards his children in different ways. In 2017, 'Money for Math' was Jake's income, and Alyssa had to read a non-school book to earn money, while he and Tiffany were struggling with Alexis.
In an attempt to curb their kids' screen time, Mark and Tiffany have a rule that phones must be turned off at 10:00 PM And if they aren't switched off in time, Mark has set up an automated system — Cisco routers — that cuts their internet connectivity.
He told Ariana Huffington, "That's the downside of having a geeky dad, you know. I can figure all this stuff out."