With her prim attitude and ability to sometimes look like a Stepford Wife, Melania Trump seems to have been brought up in a very specific way and with strict rules. Did that upbringing have to do with a wealthy family?
Melania Trump does not come from money. She is from Slovenia which was Yugoslavia and under communist rule when her family lived there. Her mother was a patternmaker at a children's clothing manufacturer and her father was a traveling car salesman.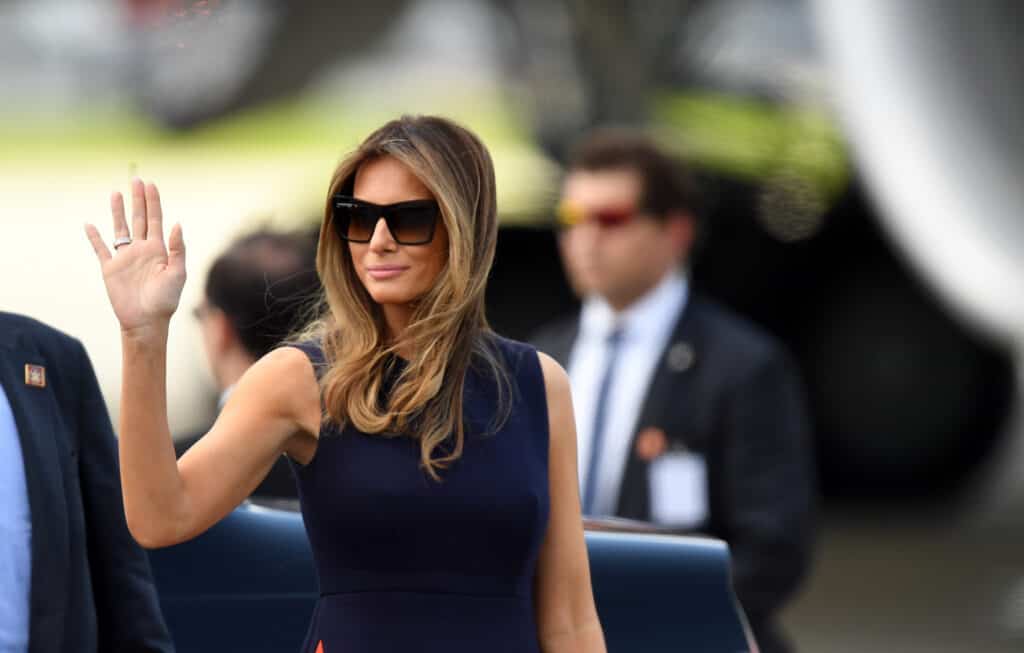 Scroll down to learn more about Melania Trump's upbringing in Slovenia and how she eventually met Donald Trump.
Melania Trump's Slovenian Roots
Melania Trump was born Melanija Knavs in Novo Mesto, Slovenia, formerly Yugoslavia, on April 26, 1970. She was the second daughter born to Amalija and Viktor Knavs. Her older sister and only sibling is Ines Knavs.
The Knavs family lived modestly in a two-bedroom apartment in the small town of Sevnica in the center of the country. It was here that her mother worked as a pattern maker for the children's clothing manufacturer Jutranjka.
Her father originally started his career as the chauffeur for the town's mayor. However, Viktor eventually got into selling cars around the small communist country. That was how the Knavs eventually had a successful business.
That business was a long time coming though. During that time, Melania got her start in modeling and fashion. As a little girl, her mother would often put her in fashion shows held by the factory to model the children's clothing.
It was through these fashion shows that Melania found a passion for modeling. She was only five-year-old when she started modeling in those fashion shows. When she was sixteen she started a career as a commercial model.
At this point, Melania changed her name from the Eastern-European last name Knavs to its German counterpart Knauss. This helped to boost her career as there was a lot of adversity towards Eastern Europeans in the 1980s when she was launching her career.
Melania was discovered by fashion photographer Stane Jerko while he was visiting Ljubljana in 1987. Melania was studying design and architecture at the University of Ljubljana, but she dropped out to pursue a career as a model.
This choice led her to meet her future husband and eventually living a very wealthy life as a Trump and the former First Lady of the United States.
You can learn more about Melania Trump's life by watching the below video titled "The True Story of Melania Trump" from The Things.
Melania Knauss Meets Donald Trump
In September 1998, Melania Trump was in New York City for Fashion Week when she attended a party at the Kit Kat Club. She was 28 at the time and it was while at the party that she caught the attention of a 52-year-old Donald Trump.
Playing her cards right, Melania didn't give her number to Trump but instead asked him for his. Then she kept him waiting for her call. When she eventually did call him, they went on their very first date at the New York nightclub Moomba.
Despite the sparks between the couple, they had a rocky beginning. Trump was in the process of divorcing his second wife Marla Maples and he and Melania broke up multiple times over the next three years.
Then they finally got back together for good in 2001. In April 2004, Donald proposed to Melania and they were married on January 22, 2005, in Palm Beach. Although she didn't come from money, she now had access to millions upon millions of dollars.
Donald & Melania Trumps Unorthodox Marriage
It has become public knowledge that Melania and Donald Trump don't have the most orthodox marriage. They sleep in separate rooms after all.
However, their dynamic seems to work for them. While many have criticized the couple for their vanity or materialism, they do appear to love each other.
A deeper look into their relationship dynamic was presented in Mary Jordan's book The Art of Her Deal: The Untold Story of Melania Trump.
In the book, Jordan revealed that Melania and Donald are both loners and appear to like their alone time. While it may seem that they live separate lives, they are constantly in touch and around for the other.
It may not be a dynamic that would work for everyone but it works for this couple that has an over two-decade strong marriage.