Melania Trump is a Slovene-American businesswoman, former FLOTUS, and an ex-model whose job took her to Milan, Paris, and New York City. Because she is so well-traveled, many people find themselves wondering what languages Melania Trump speaks.
Melania Trump speaks five languages; English, Slovenian, French, German, and Italian. However, despite Melania's claims, there is very little evidence that she speaks any language other than English and Slovenian — and a lot of evidence to suggest that she cannot speak the other three languages.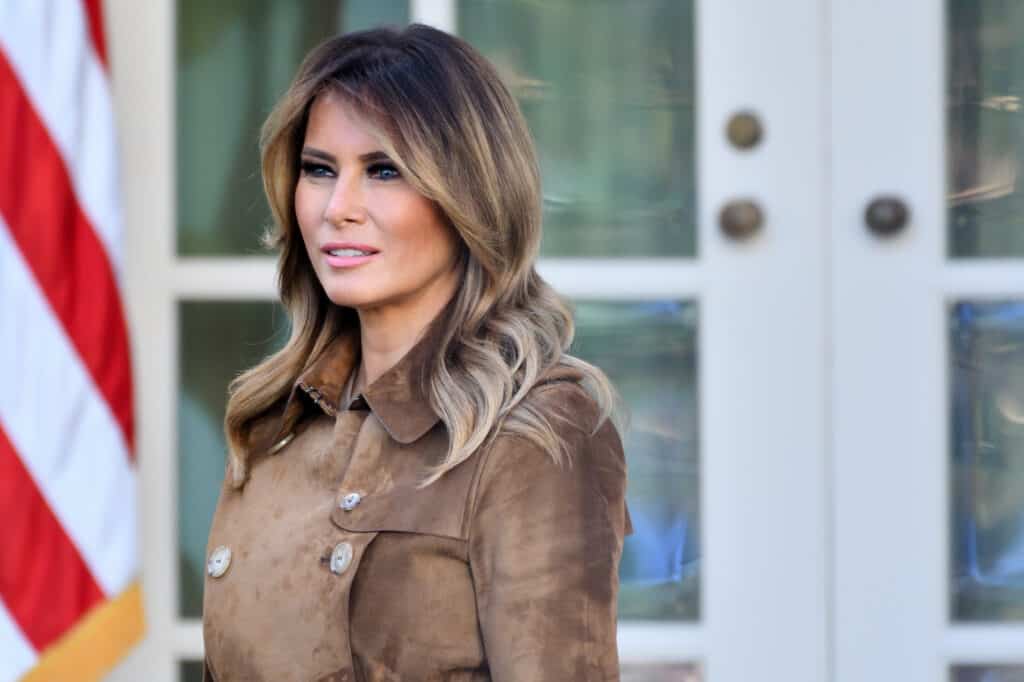 There's no denying that Melania Trump is a mysterious, elusive, and oftentimes evasive woman. Let's find out more about her first language, what other languages she speaks, and why some people doubt that she is a polyglot.
What is Melania Trump's First Language?
Melania was born in Slovenia, while it was still part of Yugoslavia. When she was a teenager, she and her family moved to Sevnica where she attended the Secondary School of Design and Photography before heading to the University of Ljubljana for one year.
Because she was born and educated in Slovenia for most of her life, it's not surprising to discover that her first language is Slovenian. However, what is surprising is the fact that she hardly ever — if at all — speaks her native tongue in public.
The fact that she's not quick to converse in Slovenian, at least in public, leads many to believe that Melania has stopped speaking her home tongue and instead adopted English as her first language.
While plausible, this theory is likely untrue as her son Barron speaks fluent Slovenian, and has done so since the age of two. And when you consider the fact that Melania is a self-confessed "full-time mom", logic dictates that Melania must have been the one to teach her son how to speak Slovenian.
Melania and Barron hold dual-citizenship in both Slovenia and the United States. It's reported that Barron converses in Slovenian with his aunt, Ines Knavs, who helped him acquire his Slovenian citizenship.
What Other Languages Does Melania Trump Speak?
While English is not technically her first language, it is the language that she speaks most often. And despite speaking with a thick Slovenian accent, Melania speaks English at an intermediate level.
As is the case with many people whose first language is not English, Melania sometimes forgets certain words and struggles with her pronunciation. She may not be a fluent English speaker, but she can understand the language perfectly.
In addition to speaking English as a second language, Melania has claimed on many occasions that she also speaks Italian, German, and French, as seen in the video below.
When you take a look at her past travels, it would not be unsurprising if Melania could speak these languages. When she was eighteen, she signed with an international modeling agency in Milan, and subsequently spent the next four years bouncing between Italy and Paris.
Her travels mean that it's not impossible that Melania would have picked up the languages spoken in these countries.
Is Melania Trump Really a Polyglot?
As is the case with many celebrities who share the same level of fame as Melania, her claims of being a polyglot have been questioned since she uttered the words.
The biggest reason that makes people question whether Melania really speaks all of those languages is simply the fact that she hasn't spoken them in public.
There is absolutely no footage of her speaking German and according to Wolfgang Schwarz, who was Melania's modeling agent, Melania "knew so little German" that they spoke English to one another.
According to the limited footage available, Melania's ability to speak French is limited to little more than "Bonjour" and "Je m'apple Melania". Likewise, when it comes to Italian her vocabulary seems to consist of "Ciao", "Grazie", and "bambino" sprinkled in English sentences.
Further evidence was presented in the case of Melania's 2017 visit with Pope Francis in Rome. The Pope asked her a question in Italian, but it appeared that Melania did not understand until his question was translated into English.
In addition, 'linguist' was not listed in Melania's White House biography which is strange because it's listed in the biography of Lou Henry Hoover who — before Melania came along that is — was the First Lady who spoke the most languages.
All of this evidence is discussed in detail in the book 'The Art of Her Deal: The Untold Story of Melania Trump' by Mary Jordan. Mary approached the White House for proof of Melania's polyglot status, but her request was denied.