Competitive swimmer, national hero, and the most decorated Olympian of all time, it's fair to say that Michael Phelps has achieved a fair bit over the course of his career. With a grand total of 28 Olympic medals to his name (23 of them gold medals), many of the Baltimore-born star's fans have expressed an interest in what it was exactly that made the retired swimmer such a medal harvesting machine.
During his swimming career, Michael Phelps said that he consumed as many as 12,000 calories per day, typically made up of protein (meat), dairy, and plenty of carbohydrates. Reflecting on his diet, Phelps said: "I tended to eat a lot of pasta, chicken and pizza at night because it's super easy".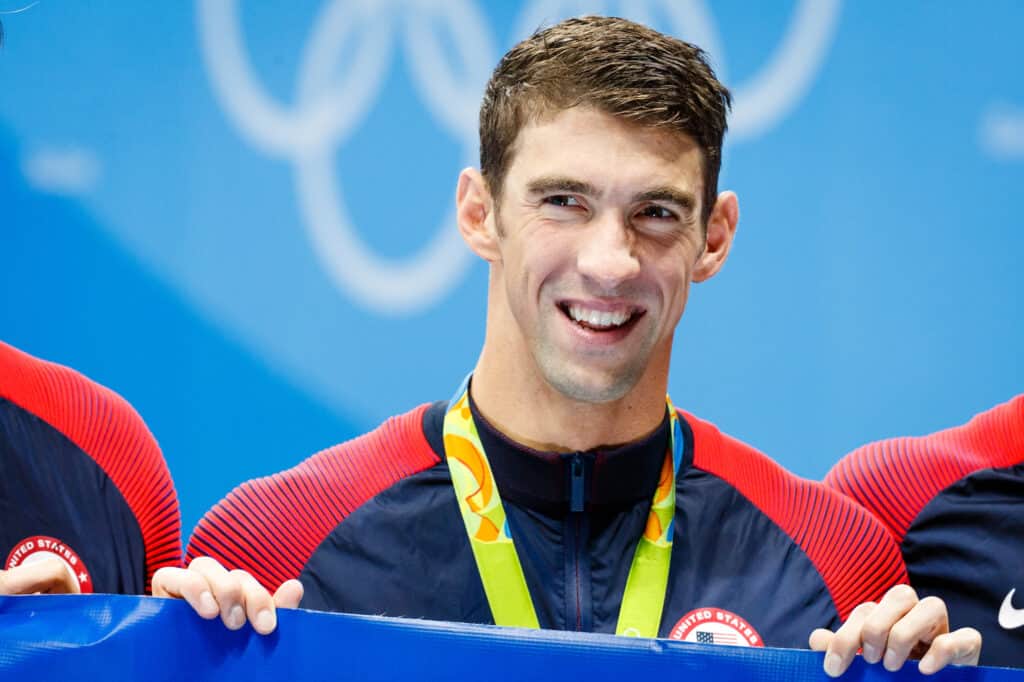 Generally speaking, Phelps' training schedule was pretty monstrous and his Olympic diet is the stuff of legend, but, if you want to become the most successful Olympian of all time, it's all part of the process.
Yet, the former swimmer's diet wasn't as chaotic and insane as many people might think, and there was clearly a method behind the madness.
Calories, Calories, and More Calories
Unlike many of us, who are always aiming to lose weight, for a long time, one of Phelps' biggest challenges concerned keeping the weight that he would burn during his time in the pool. Swimming 70-100 miles per week, naturally, the issue of losing weight became a big problem for Phelps and other athletes.
Phelps once said, "For so long, eating really became a job" and boy did he excel in that role.
During the 2008 Beijing Olympics, where the star won eight gold medals, was consuming 12,000 calories per day, which around 4,000 calories per meal (already almost double the recommended male daily intake).
So, let's not beat around the bush. For breakfast, Phelps started every day with two cups of coffee, one five-egg omelet, three chocolate-chip pancakes, three slices of French toast, one bowl of porridge, and three fried-egg sandwiches with cheese, lettuce, tomatoes, fried onions, and mayonnaise. Talk about a breakfast of champions…
Moving onto lunch, Phelps would consume half a kg of pasta, and two large ham and cheese sandwiches with mayonnaise on white bread. All of this would be washed down with a few energy drinks.
For his evening meal, Phelps would then consume another half kg of pasta, an entire pizza, and more energy drinks.
On top of this, Phelps also said that many nights during his career involved eating an entire pint of Ben & Jerry's ice cream.
The Method Behind the Madness
When it comes to structured diets like this, there's always the insinuation that the individual digesting all that food enjoys it, but, with Phelps, and many other athletes, that is not always the case.
The diet is, in many ways, merely an aspect of the job, it was a necessity for Phelps, who said: "We have to eat something within 30 minutes, to replenish what we lost".
And, there's not much to indicate that Phelps enjoyed his diet.
In fact, he once reflected on the Olympic diet and spoke about how difficult that aspect of the role was, saying: "You're eating the same thing every day for ten days… By the end, I was wanting something like a cheeseburger. When I checked out of the village on the very last night, I went to meet my wife and family, and they asked me if they could order me food. I said, 'Just the biggest cheeseburger and fries you can find. That's all my body is craving right now.'"
At the end of the day, even the most incredible human beings are mere mortals with human appetites and human yearnings.
While the swimmer did thrive on his high-calorie diet, he never consumed as much he did during the Beijing Olympics.
In fact, in 2012, he toned back his intake and changed up his diet, although, on a daily basis, the star still consumed lean meats, a meatball sub, a bowl of oatmeal, an egg and cheese omelet, whole grains, and plenty of coffee and vegetables.
Post-Podium Diet
Now that Phelps has officially retired, for the second time, the star has finally been able to rid himself of many of the limits on his diet, and he's massively cut down his calorie intake too.
And, Phelps is a fan of his new lifestyle, with the former swimmer saying: "Having that time to make meals together and to enjoy that process in the kitchen, it's a good family activity".