Olympian swimmer Michael Phelps is known for breaking world records at astonishing speeds – but can he swim faster than one of the world's greatest predators?
Michael Phelps is not faster than a shark. He competed in a timed comparison to promote the Discovery Channel's Shark Week, but it wasn't really a race.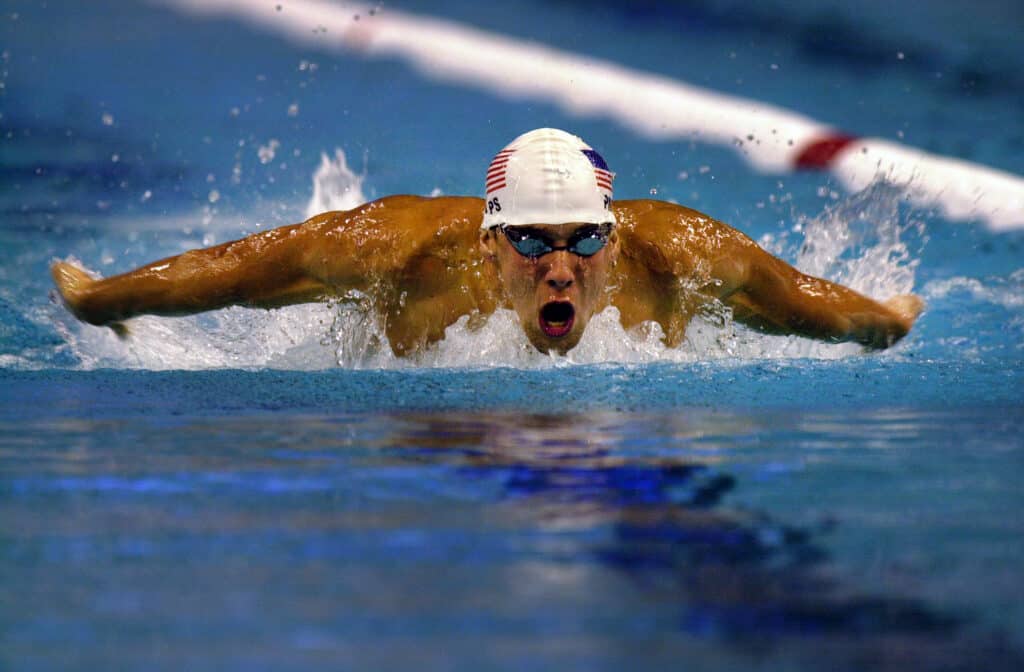 Although it was great promotion for Shark Week, the hype surrounding the idea of Michael Phelps 'racing' a shark left viewers confused.
Shark Week Race
Fans of the Discovery Channel (and fans of sharks) were incredibly excited when, in 2017, Michael Phelps paired up with the nature channel to promote their annual Shark Week, a week of programming dedicated to sharks.
Specifically, the Discovery Channel and Michael Phelps promoted an even that claimed to be Michael Phelps 'racing a shark.' Fans were understandably excited for the spectacle of one of humanity's fastest swimmers competing against one of the speediest predators in nature.
However, some people were skeptical; the Discovery Channel couldn't actually ask Phelps to race a great white shark. 'What would they do,' they asked, 'put the two of them in an Olympic-sized swimming pool?'
Of course, it would be impossible (and a little silly) to get a great white shark to follow the rules of the pool and stay in its lane, and the proposed race took place very differently. Still, some fans were disappointed that it was not how they had pictured in their heads.
Instead, the Discovery Channel recorded a shark's speed following a high-tech piece of bait and got a typical pace. They first recorded a hammerhead shark, which had a recorded speed of 15 miles an hour, then a reef shark which swam around 5.8 miles an hour, and finally a great white shark which swam 26 miles an hour when at top speeds.
Although Michael Phelps is the most decorated Olympian of all time, it is humanly impossible to swim at 26 miles an hour. For a competitive edge, the Discovery Channel outfitted Phelps with a monofin, which allowed him to mimic a shark's movements when swimming.
You can watch The Guardian document the entire process below:
As the video shows, Michael Phelps did not race against an actual shark, but a computer simulation based on recordings of shark's speeds. He also lost the race, being two seconds slower than the computerized 'shark.'
Although Michael Phelps did not win against a shark, he succeeded in another way; Shark Week helps fight the fear associated with sharks and promotes understanding and conservation efforts. The publicity associated with shark week is a valuable tool for ocean conservationists.
Although sharks are considered dangerous animals due in part to films such as 'Jaws' and '47 Meters Down,' the truth is that humans are much more dangerous to sharks, with the shark finning industry killing three sharks every second.
Michael Phelps vs. Great White Sharks
Michael Phelps may have lost his computerized race against a shark, but against humans, he is considered to be the fastest around. He is the most decorated Olympic athlete of all time, having won a total of 28 medals.
His fantastic speeds even earned him the nickname 'The Baltimore Bullet' because he is from Baltimore, and he swims as if he were a bullet – an incredibly accurate nickname.
Michael Phelps has swum professionally from a young age, qualifying for the 2000 Olympics when he was just 15 years old. He was the youngest man to do so since 1932.
In 2001, he set the world record for the 200-meter butterfly and for being the youngest male to set a swimming world record.
Although he may not be able to beat a great white shark, Michael Phelps has been holding his own against humans since he was a teenager.
In comparison, great white sharks are one of the fastest sharks in the ocean (although they are beaten out by salmon sharks and mako sharks, the latter of which can reach speeds of 60 miles per hour) and have no major natural predators.
Although the great white shark is a magnificent creature, it cannot hold its own against humans as well as Michael Phelps can. The great white shark population is dwindling, primarily due to overfishing.
Michael Phelps may not have beaten a shark in an actual race, but he did something even better – draw awareness to the plight of a creature that's often considered to be a monster.