Olympic swimming champion Michael Phelps may have raced a shark, won numerous gold medals, and broke world records, but where does this athletic legend hang out when he's not in the pool? Is he a fish out of water, or is he right at home?
Michael Phelps lives in Paradise Valley, Arizona. The decorated Olympic swimmer retired from competition and settled down in a massive $2.53 million mansion in the area.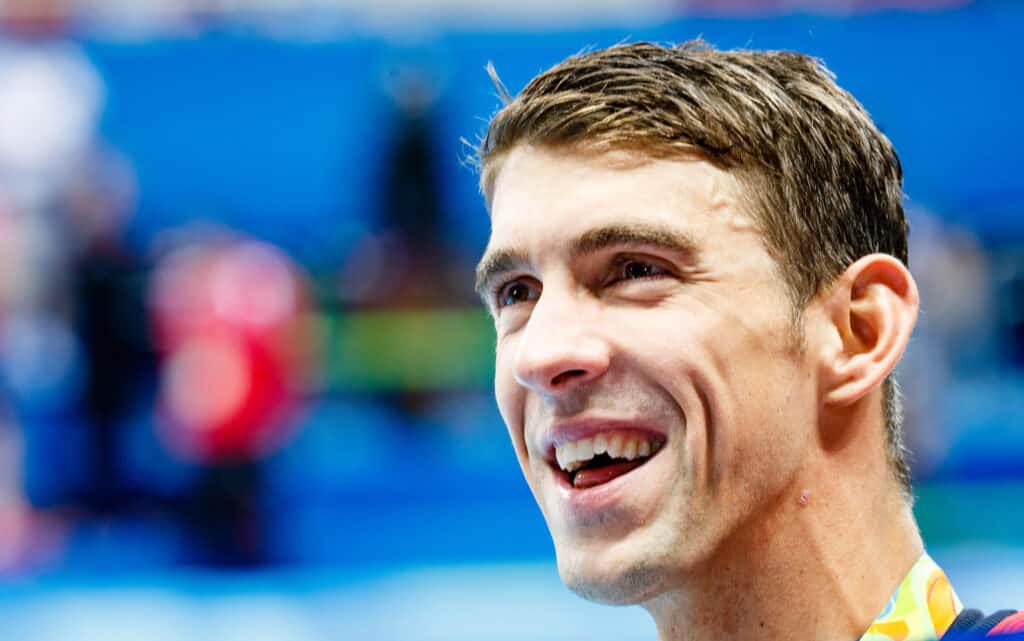 In case you were wondering, yes, there is a swimming pool. Although Michael Phelps may have retired from personally competing in swimming, he now works as an assistant coach at Arizona State University, helping other prospective Olympic swimmers backstroke towards their dreams.
Homes in Paradise (Valley)
Bleacher Report said that Michael Phelps is absolutely living a life of luxury after retiring from the sport, as he purchased a $2.53 million home in Paradise Valley, Arizona.
Michael Phelps and his family had settled in the Paradise Valley area in 2016 but moved into their new home in 2018.
The mansion features six bedrooms and eight bathrooms. The Baltimore Sun reported that the home also features a barbeque space, a wet bar, a hot tub, and a sauna.
Michael Phelps and his family moved into the house in 2018. He and his wife, former Miss California USA Nicole Johnson, probably wanted a larger space for their growing family, as they welcomed their second son, Beckett, into the world that same year.
They moved from another mansion in the area, which sold for $3.5 million, although the original asking price was around $4.125 million.
Their previous home has (in addition to the swimming pool) five bedrooms and six and a half bathrooms. The house is a whopping 6,010-square-feet and sits on two acres of land.
Before Michael Phelps moved to Paradise Valley, Arizona, he lived in Baltimore, Maryland. His three-bedroom, 5,000 square foot home sold for $960,000 in 2016.
Early Life
Michael Phelps grew up in Baltimore, Maryland. He grew up in the Rodgers Forge neighborhood.
He started getting into swimming when his two sisters, Whitney and Hilary, joined the local swim team; apparently, Michael Phelps was not a natural swimmer from the beginning.
In his book "Beneath the Surface: My Story," he said of his early swimming days, "No way. I hated it. We're talking screaming, kicking fit-throwing, goggle-tossing hate."
When he was seven years old, he was so afraid to put his head underwater that his instructors gave in and let him float around on his back.
That just goes to show you how much a person can grow. Michael Phelps grew up from that scared kid too afraid to put his head underwater into one of the world's most decorated Olympic medalists, with 23 gold medals and 28 total medals to his name, according to USA Today.
He must have learned the backstroke first.
Michael Phelps is a testament to using one's challenges to overcome them. In addition to his early fear of swimming, Michael Phelps also struggles with attention deficit hyperactivity disorder (ADHD).
As a child, he got picked on in school and struggled with inattention. In his book "Beneath the Surface: My Story," Michael Phelps said that as a child, "I simply couldn't sit still, because it was difficult for me to focus on one thing at a time."
However, swimming helped him cope with his racing thoughts.
Michael Phelps said that once he got the hang of swimming, his mind felt clear, and he finally felt as if he was in control. His family was incredibly supportive, as they saw how much swimming helped him, and his mother drove him to swim meets and competitions.
Although he still struggled to focus in class, Michael Phelps said that he could swim for hours. This is a common trait in people with ADHD, who may struggle to focus on certain tasks and yet be able to hyperfocus on other tasks that they enjoy for hours on end.
Michael Phelps was a nationally ranked swimmer at the young age of ten years old.
We all have our own struggles and challenges to overcome; it just takes finding the right method to cope with them. Perhaps we can all learn from Michael Phelps, who used what many people might view as an obstacle into the very thing that helped him become great.