If you don't know who Millie Bobby Brown is, you've been living under a rock. Well, she's only one of the few A-list stars who have achieved massive success in Hollywood before reaching 18! Now that she's a certified adult, people are clamoring for more juicy info about the actress, including her relationship status.
Millie Bobby Brown is currently dating Jake Bongiovi and the pair's romance started in the summer of 2021. The two reportedly met from common friends in the A-list circle and have been constant in each other's social media feeds since then.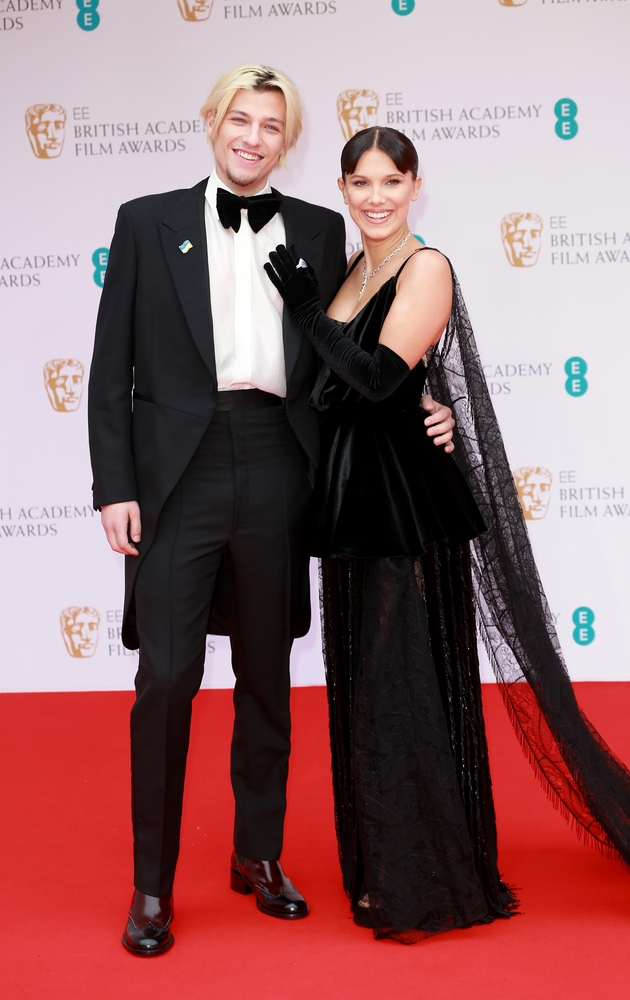 Read on for more info on the guy who makes MBB's heart happy these days.
Who is Jake Bongiovi?
Though his name sounds unique and relatively unheard of, Jacob Hurley Bongiovi hails from a pretty distinguished celebrity family. He is the son of the '80s rock star Jon Bon Jovi and restauranteur Dorothea Hurley. The couple has 4 children: Romeo, Stephanie, and, Jesse, while Jake is the youngest.
This charmer is still studying at Syracuse University in New York and plays football for the college team. He attended Poly Prep Country Day School where in he also was part of the varsity team and Pennington High School.
How old is Jake Bongiovi in 2022?
Jake Bongiovi, who was born in May 2002, turned 20 years old in 2022. He is older than his girlfriend, Millie Bobby Brown, by almost two years.
How did Millie Bobby Brown and Jake Bongiovi meet?
The Enola Homes actress revealed that she and Jake met on Instagram. The lovely twosome began their friendship and we have all witnessed this budding romance take on new heights through the countless snaps they post online.
Evidently, the young lovers are smitten and we can't help but feel their energy toward each other. In June 2021, Jake posted a photo of them together in a car with the caption "BFF <3." Could this mean best friends forever or boyfriend forever? Onlookers have since reported sightings of these two holding hands while taking a stroll in New York City. 
Then we're thrilled to discover a long line of sweet selfies of the pair, normally posted on Instagram stories. The two hinted that they were more than friends when Millie finally posted a selfie of them hugging while riding the famed London Eye during one of their sightseeing tours around London. The photo was blurry but it explicitly showed Jake giving Millie a kiss on the cheek.
All Loved Up
2022 has been going pretty awesome for the Stranger Things lead as she celebrated her 18th birthday in February with her new love. The couple appeared to look like real-life Barbie and Ken with matching blond hair, which Jake continues to sport until now.
Noah Schapp, Millie's best friend and co-star in Stranger Things, also shared a photo on his Instagram showing the group having a fun time at the birthday bash.
By March, the couple made their red carpet debut at the BAFTA Awards looking all grown up and glamorous. Millie wore an edgy black Louis Vuitton gown with a flowy lace train and matching lace leggings and silver accessories.
Then by May, MBB took to Instagram to greet her boyfriend on his birthday: "Happy birthday baby, can't wait to fly to the moon and back with you! (Schroobie noobie)." In the same month, the couple looked dapper in matching outfits for the premier of Stranger Things 4. Jake stood by her lady in a black tuxedo with a white turtleneck, while Millie wore a white satin Louis Vuitton gown with a one-shoulder sheer black sleeve.
All is well as the young couple shared with the world their recent travels to Spain, with photos and a caption, "Te Amo."