The breakout star of Netflix's Stranger Things practically grew up right in front of audiences since the show started streaming in 2016. We all first saw Millie Bobby Brown as a 12-year-old, young and almost androgynous looking. As she has grown up, many fans are now wondering how tall Millie Bobby Brown is. We're here to answer that.
Millie Bobby Brown's height as of 2022 is 5 feet 4 inches (1.63 m or 163 cm).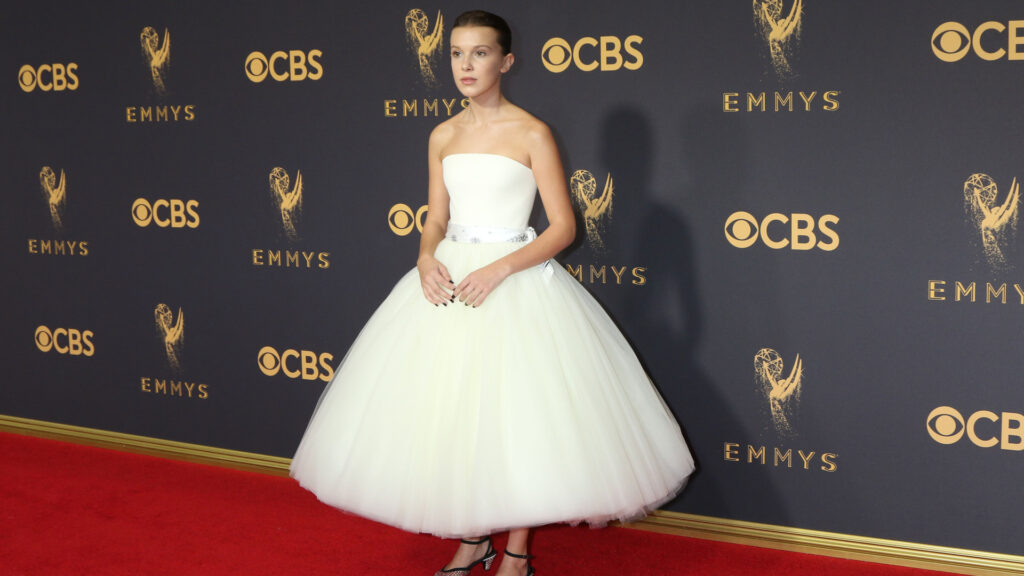 Read on for more fast facts about the Stranger Things star.
How old is Millie Bobby Brown?
Born in Marbella, Andalusia, Spain on February 19, 2004, Millie Bobby Brown turned 18 in 2022. She landed her first professional acting role at the age of 9 when she portrayed Young Alice in the 2013 television series Once Upon a Time in Wonderland.
Millie was 12 when Stranger Things was first released by Netflix in June 2016. In the hit show, she plays the lead character Eleven, whose exact age at the beginning of the story is quite unclear. As the series progressed, fans have an answer for anyone asking how old is Millie Bobby Brown's character at this point: Eleven should be 14 by now. 
Early Life
Millie Bobby Brown's family was living in Spain when she was born and they stayed there until Millie was 4 years old. They moved to Bournemouth, Dorset, England, and stayed there for four years. She was the third of four children to Kelly and Robert Brown. Her siblings' names are Paige, Ava, and Charlie.
After the family's residence in England, they moved to Orlando, Florida where she started going to acting workshops to pass the time. And as the classic discovery story goes, a Hollywood talent scout noticed her and told her parents that their daughter has a chance at being a star.
What movies has Millie Bobby Brown been in?
After getting discovered, things seemed to happen quickly for young Millie. Her earliest acting work was mostly minor roles in TV shows, which is a good way for a youngster to ease into the crazy world of show business. 
She made appearances on TV shows such as Grey's Anatomy, Intruders, NCIS, and Modern Family from 2013 to 2015. Millie Bobby Brown's movies include Godzilla: King of the Monsters (2019), Enola Holmes (2020), and Godzilla vs. Kong (2021). 
Who is Millie Bobby Brown's boyfriend?
Reports say that Millie Bobby Brown is dating Jake Bongiovi, who is the son of rock legend Jon Bon Jovi. They went public around 2021, by posting pictures with sweet captions on their social media profiles. At first, it seemed as though the two were just friends but over time, things developed.
Since going public about their romance, they have been seen everywhere together – in the city doing normal people things, going on beach and camping trips, and gracing the red carpet. 
Jake Bongiovi's parents are Jon Bon Jovi and Dorothea Hurley. He turned 20 in 2022. While he has a rock star dad and an actress girlfriend, it seems that Jake wants to stay private and pursue his studies in Syracuse. 
Did Drake and Millie Bobby Brown date?
This has to be one of the most controversial rumors about the young actress. It started in 2018 when Millie Bobby Brown shared in an interview that she has a friendly relationship with Drake and that he texts her and gives her dating advice. This alarmed the internet world considering that Millie hadn't turned 18 yet at the time and that the rapper is 18 years her senior.
Millie addressed the issue head-on, posting an Instagram story that said: "Why u gotta make a lovely friendship ur headline? U guys are weird… For real. I'm lucky to have people in the business extend their time to help me further my career and offer their wisdom and guidance."
Drake never officially gave a response to the issue until it just blew over. Seeing Millie's reaction and how happy she has been with Jake, it seems the rumors were not true after all.