Some of the characters Paul Rudd has played have had tattoos, like his character in the 2018 dramedy Ideal Home. Does he have any though?
Paul Rudd does not have any tattoos. On top of that, Rudd seems to be fairly against tattoos in general. He has said that he would never let any of his kids get tattoos. This is in stark contrast to some of his colleagues from The Avengers franchise. Rudd has played a few characters who had tattoos though, like Paul in Ideal Home.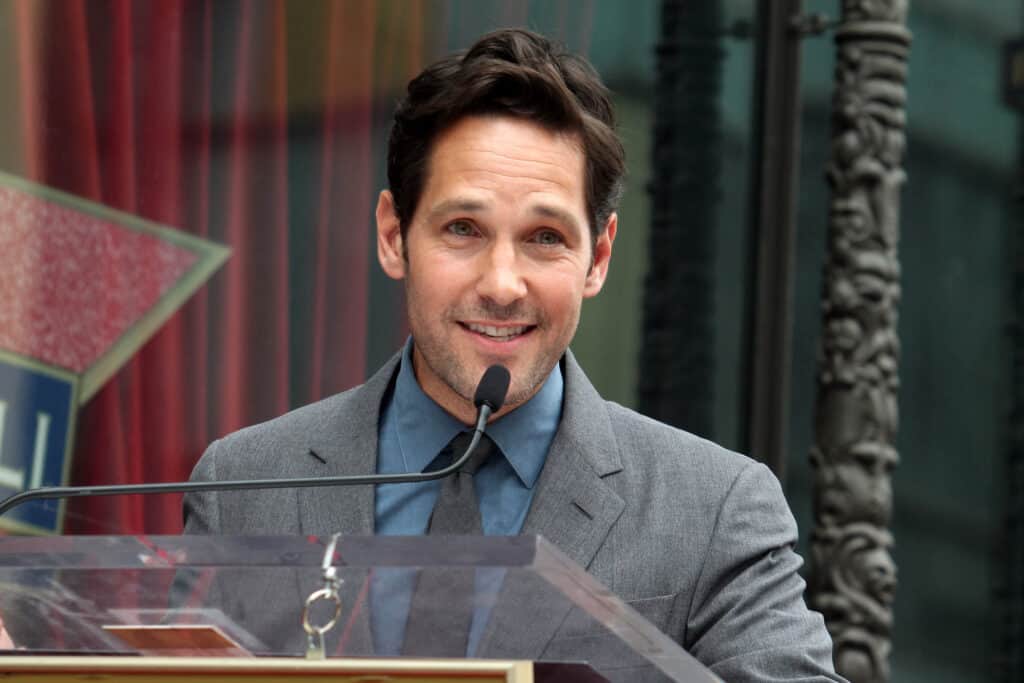 You can read more below about the different characters Paul Rudd has played that had tattoos and his personal opinion on tattoos.
Paul Rudd's Tattooed Characters
Since Paul Rudd made his film debut as Josh in the cult classic film Clueless, he has played tons of different characters. In fact, he has been in over sixty different films since 1995s Clueless.
While he personally doesn't have any tattoos, some of those characters he played definitely had tattoos. But which ones?
Well, not many. Most of the characters he has played aren't exactly the tattoo wearing types.
During his rise to fame in the 1990s, he played characters that you wouldn't see wearing tattoos. While they are very common now, during the 90s and early 2000s they were often seen as being worn by gang members, criminals, and drug addicts.
Often these were the types of characters that an actor would have to be playing in order to have any visible tattoos. Rudd was often portraying the male lead characters in romantic comedies like The Object of My Affection and Overnight Delivery, which were roles where his character wouldn't have tattoos.
His bad boy and rebellious character of Andy in Wet Hot American Summer didn't have any tats. Even when he played the punk rocker and best friend of Courtney Love's character in 200 Cigarettes, his character didn't have any tattoos.
One character he has played that definitely had tattoos was Chuck in Forgetting Sarah Marshall. Chuck was the laid back stoner surf instructor who says his island name is Kunu. He had two tattoos on his left bicep.
You can watch Paul Rudd as Kunu in Forgetting Sarah Marshall in the below video.
In the film Ideal Home, Paul Rudd plays Paul who is the partner of Steve Coogan's character Erasmus. His character has a bunch of tattoos too.
On his left bicep is a tattoo of a US highway sign but with the letter A in the center. On his left shoulder blade is what appears to be a compass with arrows on it.
Then he has a tattoo of a vintage hand-crank egg beater and the words 'bon appetit' on his right forearm, a pig with the different meat cuts on his left forearm, and a butcher's knife on his left wrist.
Rudd's Stance on Tattoos
In a 2019 interview on Jimmy Kimmel Live, Paul Rudd joked that he has a Dinner for Schmucks tramp stamp. This was definitely a joke about a non-existent tattoo because he has a pretty old school stance surrounding the whole idea of getting a tattoo.
While doing interviews for his 2011 film alongside Jennifer Anniston, Wanderlust, Rudd explained that he would never let his kids get tattoos. He has said that crazy hairstyles are okay because hair can be cut and it can grow back, whereas you don't have that option with a tattoo.
He further explained that "I thought bolo ties were the s**t, especially with my long hair. Now imagine a bolo tie you could never take off. That's a tattoo."
That pretty much sums up why he doesn't have any tattoos. This is the complete opposite of some of his Marvel Universe co-stars.
In fact, Robert Downey Jr., Scarlett Johansson, Chris Evans, Chris Hemsworth, and Jeremy Renner all have matching Avengers tattoos. Mark Ruffalo backed out of getting the same tattoo as the original Avengers cast due to his fear of needles.
Chris Evans and Scarlett Johansson were the ones who came up with the idea for the matching tattoos which isn't a surprise considering both of them have tons of tattoos.
While Rudd didn't get a tattoo with the group, Chris Hemsworth has joked that he has a 'scratch-and-sniff' tattoo of Rudd's face somewhere on his body. Again though, this was just a joke, to which Paul Rudd replied saying it smells like him.