The television series The Crown highlighted just how conservative and refrained Queen Elizabeth II is from her style to her public image. Has that conservative image stretched to her not wearing makeup?
Queen Elizabeth II does wear makeup. Unlike many celebrities, she does her own makeup, only using a professional makeup artist for her holiday speech. Other royals who do their own makeup are Kate Middleton and Meghan Markle. The Queen has actually given out Royal Warrants to some of the makeup companies whose products she uses.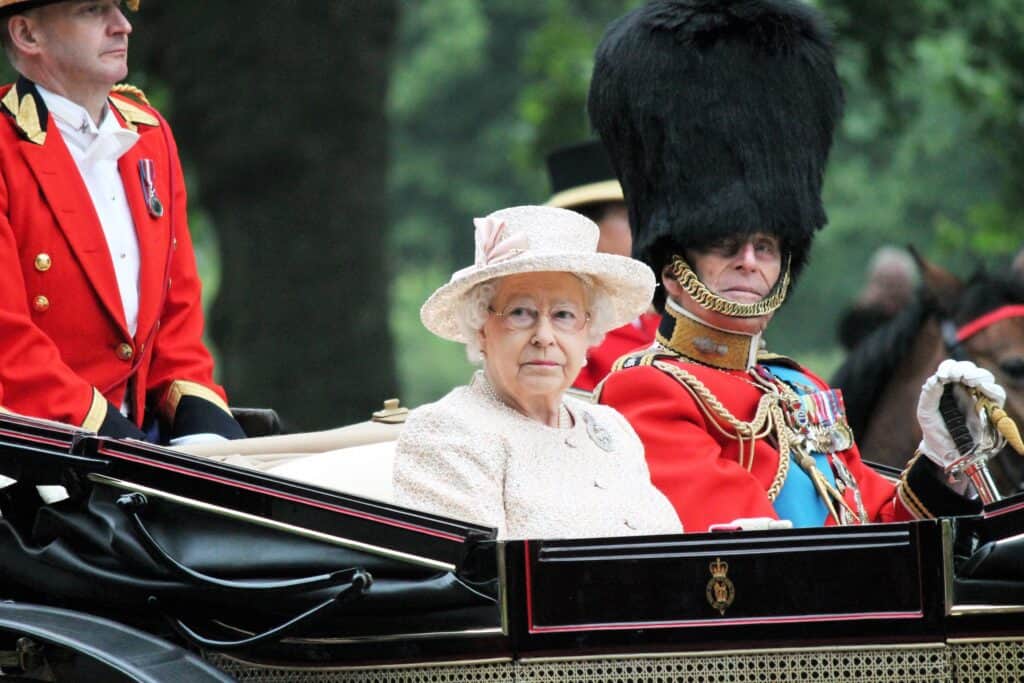 You can read more below about the beauty companies Queen Elizabeth II has given warrants to, what products she uses, and some of the royals' beauty secrets.
Queen Elizabeth II's Royal Beauty Warrants
You may be wondering what exactly it means to be given a Royal Warrant.
Well, a Royal Warrant of Appointment is given to "those who have supplied goods or services to the Households of HM The Queen, HRH The Duke of Edinburgh or HRH The Prince of Wales for at least five years, and who have an ongoing trading arrangement."
The only people currently allowed to give out Royal Warrants are Queen Elizabeth II, Prince Philip, and Prince Charles. According to The Royal Warrant Holders Association, there are approximately 800 Royal Warrant holders today.
There are a few different beauty companies within that list of 800 Warrant holders. First and foremost, would have to be Clarins.
Clarins is a French skincare company that was founded by Jacques Courtin-Clarins in 1954. It totes that its products are all "Made in France."
Another holder of a Royal Warrant is the American cosmetics company, Elizabeth Arden. The company was founded by Elizabeth Arden in 1910 and was purchased by Revlon in 2016.
The luxury soap company Bronnley has been used by Queen Elizabeth II for most of her life and is known as one of the original British perfume brands. It was founded in 1884.
The British fragrance company, Molton Brown, holds a Royal Warrant. It was founded in 1971 and is now a subsidiary of Kao Corporation.
Finally, Floris of London is one more fragrance company that has a Royal Warrant from Queen Elizabeth II. This is the oldest British perfume maker and was founded in 1730.
Floris received their first royal warrant from King George IV in 1820 and have since received 19 total. This includes one from Queen Elizabeth II in 1971 and one from Prince Charles in 1984.
Queen Elizabeth II's Makeup Products
According to Town & Country, there are a few products that are the Queen's favorites among the brands listed above. There are also some other products that she is rumored to use.
Queen Elizabeth II was crowned while wearing a lipstick created especially for her by Clarins. Since then, she has been using their products, and it's rumored she likes their Ever Matte Radiant Matifying Powder.
Apparently, she is also a fan of Clarins Hand and Nail Treatment Cream.
You can watch the below video that highlights Queen Elizabeth II's favorite beauty products.
HM, The Queen has been spotted on more than one occasion reapplying her famous red or pink lipstick. The gold case is a giveaway that she uses Elizabeth Arden Beautiful Color Moisturizing Lipstick.
According to a rep from Elizabeth Arden, Queen Elizabeth II often orders their Eight Hour Cream Skin Protectant too.
As for the other Royal Warrant holders listed above, it's not exactly known what specific products she uses from them.
In terms of brands without Royal Warrants, it has been speculated that The Queen uses Essie nail polish. More specifically the color called Ballet Slippers and has been since 1989.
However, without the Royal Warrant, it is hard to say whether this speculation is a fact.
Royal Makeup Tips
Even with the massive amount of money and resources at her disposal, Queen Elizabeth II does her own makeup. The same can be said of Kate Middleton and Meghan Markle.
There must be some tips and tricks that they follow to appear so flawlessly at their own hands.
According to this compilation article from Good Housekeeping, there are actually lots of different ways the Royals appear royal. Many have actually given tips over the years.
Women in the Royal family, The Queen included, avoid wearing fake eyelashes, make sure they wash their faces, and stick to wearing nude color nail polishes.
All of them, at some point, have stressed the importance of moisturizing. This is clear through Queen Elizabeth II's skin looking radiant even in her nineties.