A beloved star from the golden age of Hollywood, Robert Redford is part actor, director, industry influencer, and founder of the world-famous Sundance Film Festival. With decades of experience under his belt, does the Hollywood all-star enjoy a drink or two in whatever spare moments he can find?
Robert Redford drinks alcohol and has not been shy when it comes to the telling of stories where the consumption of it has become a problem for him. Though he turned to drink during some difficult times, he has never relied on it.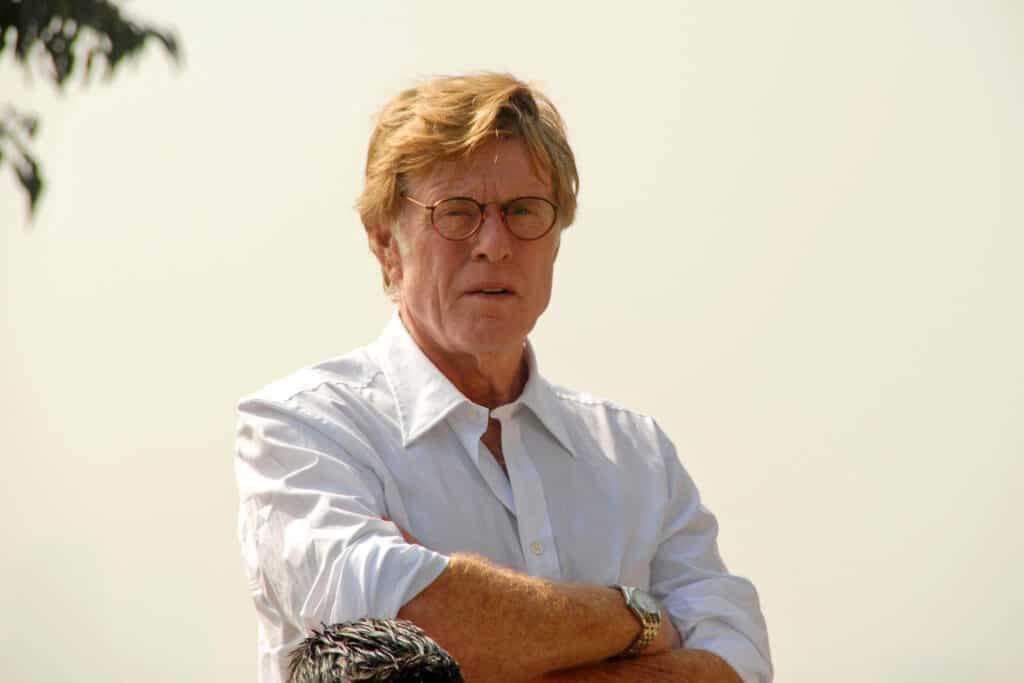 Redford, as a man, is a product of a bygone era, one of the last surviving men from a time when they would commonly be portrayed smoking cigars and drinking whiskey. If you think of some of the most iconic characters he has portrayed, like Johnny Hooker in The Sting, it's hard to imagine him not enjoying the occasional drink.
Tragedy's Companion
Long before he had assumed the role of Jay Gatsby or The Sundance Kid, before Redford had even considered a career as an actor, his life had been defined by more than his fair share of ups and downs. His ups and downs came to be resolved by turning to alcohol.
Those tumultuous moments in his life came as early as his school years. As a rebellious youth that was plagued by troubles with the law and authority figures that sought to tell him that he had no place, it was his mother that served as Redford's biggest supporter.
The passing of a parent, especially one as loving and supporting as Redford's mother, is a hard thing to deal with at any age, let alone for the young adolescent that Redford was at the time. Though he had some plans laid out for his future, none of which reflected the star he later became, they were dashed when the young actor-to-be turned to alcohol to soothe his emotional pains.
Nothing like the revelry that we see Redford enjoying in Barefoot in the Park, his days were presumably consumed by alcohol, as his drinking apparently eventually led to the loss of his scholarship.
Paris Nights
Seemingly at a loss following the death of his mother and the subsequent misfortunes, Redford was without purpose in the world. A combination of a passion for art and a lust for adventure, which also happened to coincide with his desire to escape his current surroundings, paved a path to Europe.
As we now know, Redford's true destiny was the world of film, but at that time he was still relentless in pursuing a career as an artist. Unfortunately, the goals and hopes he had pinned on Europe were slowly crumbling as he stayed alone in a Paris apartment.
Once again, alcohol proved to be his main companion, as one source says that he "drank himself into oblivion" every night, haunted by hallucinations born of his lack of sustenance and abundance of drink.
Thankfully for Redford, he eventually found his way back to reality and rode a series of decisions that took him not only to New York but to his destiny as one of the biggest stars that Hollywood has ever produced.
Endless Youth
You might think that so many years spent living from moment to moment, hounded by troubles with alcohol as the sole comfort, may have had lasting effects on Redford. Perhaps a tendency towards alcoholism, or lingering issues with his health?
Luckily for Redford, the mistakes of his past haven't haunted him at all.
Aging is the dreaded enemy of us all, with milestones like 50 and 60 years old being sources of fear for those who want to hold on to their youth. That's not the case for Redford, who even when he hit 80 years old still looked healthy and spry enough to put someone half his age to shame.
With a combination of healthy living and a positive outlook, Redford has managed to not only maintain his physical condition but has consistently been a big player in the movie industry. Whether it's something as innovative as The Sundance Festival, his abilities as a director and an actor, Redford always managed to keep moving forward, seemingly unhaunted by any issues he may have had with alcohol in the past.