Robert Redford is an Academy Award-winning actor, director, and activist who is known for his role in 'Butch Cassidy and the Sundance Kid'. When you're as big a celebrity as Robert Redford, everyone wants to know everything about you — hardcore fans even want to know whether he signs autographs with his right hand or his left.
Robert Redford is left-handed, but that has never held him back or had any negative effect on his career. In fact, in the film industry it's not actors or directors like Robert that are impacted by left-handedness, but the viewers!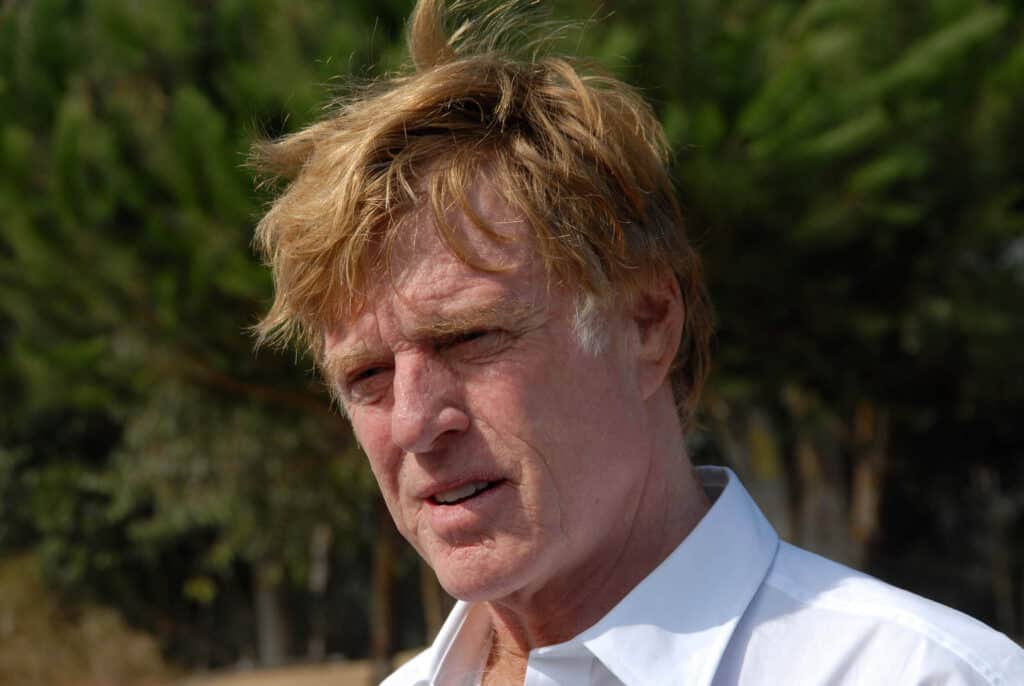 Lefties, this article is for you. Let's take a closer look at this Hollywood legend's left-handedness, how it impacts his career both in front of and behind the camera, and which other celebrities are left-handed.
Who Is Robert Redford?
On 18 August 1936, little Robert Redford was born in California's Santa Monica. He grew up with his parents, milkman Charles Robert Redford and his wife Martha Hart, and a half-brother named William.
Robert spent most of his childhood in Santa Monica but moved to Van Nuys, Los Angeles, when he was a teenager. After graduating from Van Nuys High School in 1954, Robert attended Colorado's University of Colorado Boulder for a year and a half before being kicked out.
After CU gave him the boot, Robert spent time traveling the world and lived in Spain, Italy, and France. It would seem that his travels sparked a creative fire in him and when he returned to the United States he headed straight for Broadway.
In 1959, Robert made his Broadway debut in a play named 'Tall Story', followed by a small role in 'The Highest Tree' that same year. By 1963 he bagged his biggest Broadway role in 'Barefoot in the Park'.
The success of this play brought Robert much success. In light of the success of the play, he was awarded role after role on television drama programs and rocketed to stardom.
Before long he began appearing in films too and by 1969 his portrayal of the 'Sundance Kid' in 'Butch Cassidy and the Sundance Kid' turned him into a household name.
Today, Robert is a legendary actor who has starred alongside the likes of Marlon Brando, Jane Fonda, Barbra Streisand, Dustin Hoffman, Brad Pitt, River Phoenix, and Scarlett Johannsson.
Robert is an accomplished director with movies like 'Ordinary People', 'The Legend of Bagger Vance', and 'The Company You Keep'. He is also part of the group of filmmakers that founded a little something called the Sundance Film Festival.
How Being Left-Handed Impacts Robert Redford
Once you discover that Robert is left-handed, it's easier to see why he became more creatively inclined after leaving school. This is because left-handed people are right-brain dominant.
According to psychologists, this means that left-handed folks are more likely to process information creatively. In addition to following a creative information processing flow, lefties are thought to process this information quicker.
But in what ways — if any — does being left-handed impact actors and film directors like Robert? As it turns out, other than using props that are user-friendly for left-handed people, being left-handed doesn't have much of an impact on those in this field.
It's the viewers that are impacted. Many people are shocked to find out that a character's on-screen lateral movement has a profound impact on the way they feel when watching content.
A study conducted by Cleveland State University revealed that an audience is likely to feel more positive when a right-to-left lateral movement is made. Conversely, left-to-right lateral movement yielded a 'Negative Affect'.
In layman's terms, watching on-screen characters move from right to left made people feel 'good' while watching the same characters perform the same actions from left to right made people feel 'bad'.
Are There Any Other Left-Handed Celebrities?
Though Robert is surely one of the most iconic, he is not the only left-handed celebrity out there. In fact, many of the most famous actors, actresses, musicians, artists, and athletes in the world are lefties.
Robert joins the likes of actors Keanu Reeves, Mark Wahlberg, Tom Cruise, Nicole Kidman, Whoopi Goldberg, Bruce Willis, Dennis Quaid, and Sylvester Stallone in the left-handed celebrity club.
Away from the silver screen, Sir Paul McCartney, Oprah Winfrey, Barack Obama, Prince Charles, David Bowie, Lady Gaga, Justin Bieber, and Eminem are also left-handed.