Robert Redford is an American actor, director, activist, and co-founder of the Sundance Film Festival. Onscreen, he's been a heartthrob and part of epic love stories for decades — but can the same be said for his real-life romances?
Robert Redford has been happily married to his wife Sibylle Szaggars since 2009, after the pair dated for 11 years. A decade before meeting Sibylle, Robert was married to Lola Van Wagenen for 27 years and the pair had four children together.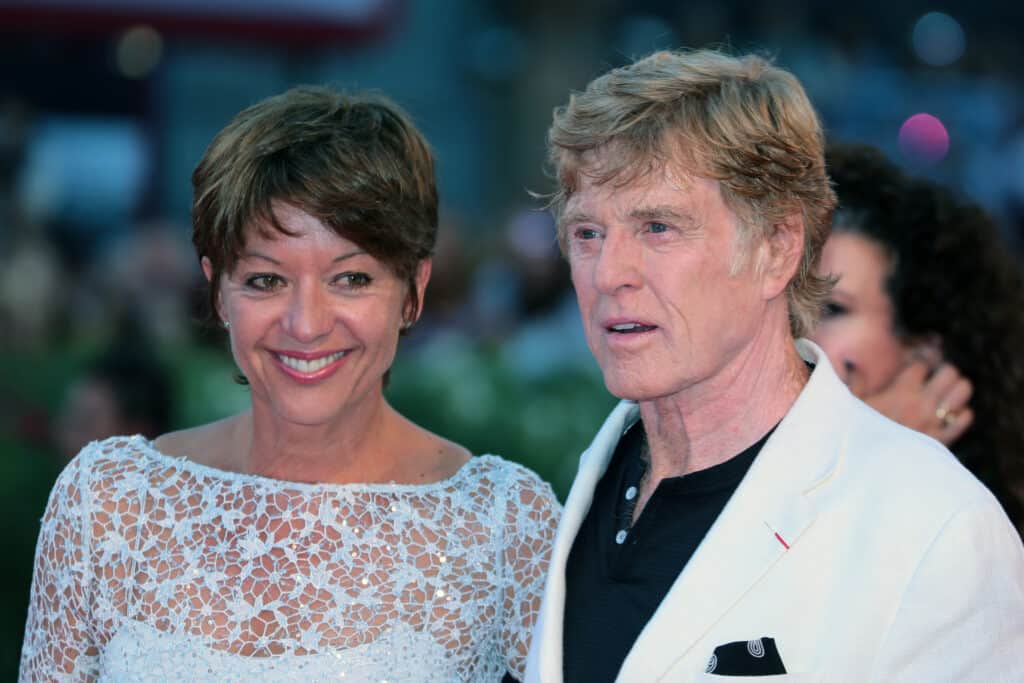 He's the poster child for long-term romances, and it's safe to say that he's been lucky in the love department. Let's find out more about Robert Redford's marriages, as well as who his ex and current wife are.
Robert Redford: The On-Screen Romancer
Robert's acting career started in the late 1950s with his debut being a small role in the 1959 Broadway production of 'Tall Story', followed by 'The Highest Tree' later that same year.
In 1960, he began appearing in television drama programs and by 1962 his career in film had just begun. Robert's first roles were quite serious ones in serious films about war, psychiatry, and coming-of-age.
But Robert's piercing blue eyes and mop of blond hair would prove to be perfect leading man material and soon Robert was appearing in films and productions that were of a romantic nature.
He starred as Natalie Wood's love interest in 'Inside Daisy Clover' and 'This Property is Condemned'. Robert then went on to star alongside Jane Fonda in 'The Chase' and 'Barefoot in the Park' and then alongside Barbra Streisand in 'The Way We Were'.
Robert's other on-screen romances consist of those with the iconic Mia Farrow in 'The Great Gatsby', Faye Dunaway in 'Three Days of the Condor', Lena Olin in 'Havana', Michelle Pfeiffer in 'Up Close & Personal' and Demi Moore in 'An Indecent Proposal'.
Who Was Robert Redford's First Wife?
Robert met his would-be wife, Lola Van Wagenen, in 1957 in Los Angeles, before being an actor had even crossed his mind.
A whirlwind romance ensued, which resulted in a top-secret wedding in Las Vegas, that only their closest friends and family members were aware of. A few months later, on 12 September 1958, they officially wed in a Mormon ceremony in Lola's hometown of Provo, in Utah.
So, who was this Lola that managed to snag a man that would become one of Hollywood's most eligible bachelors? Lola was born in December of 1938, in Provo, Utah, to a Mormon family.
At the time of meeting Robert, Lola was studying to become a historian but paused her studies and dropped out of college to start her family with Robert. 27 years, four children, and two History degrees later, the pair split.
The reasons for their 1985 divorce aren't public knowledge, but many presume that it was either the pressures that Robert's acting career put on the marriage or not being able to fully work past the grief that came with losing their first child to sudden infant death syndrome.
Robert Redford's Happily Ever After
After splitting with Lola in 1985, Robert focused on his career more than ever and he solidified himself as a Hollywood heartthrob and was considered to be one of Tinsletown's most eligible bachelors. Until 1996, that is!
Sometime in 1996, Robert met a woman named Sibylle Szaggars. Nobody is quite sure how they met, but sparks must've flown from their very first encounter.
Sibylle was born on 14 April 1957 in Hamburg, Germany, and spent all of her life being a multimedia environmental artist. Her work has been exhibited all over the world from Monaco to Japan, and many countries in between.
Robert and Sibylle got together shortly after meeting and dated for a whopping 11 years before getting married in 2009 at the Louis C. Jacob Hotel in Sibylle's native Hamburg.
Robert often gushes over his wife. According to the Denver Post, he describes Sibylle as "a very special person."
He continued, "She's younger than I am (in her early 50s), and European, which I like, so that's a whole new life."