Stevie Wonder is an American musician, singer, songwriter, and record producer who has won the hearts of people all over the world with hits like 'I Just Called to Say I Love You' and 'Isn't She Lovely.' With love songs like those, Stevie has led an active love life, to say the least — but has he ever fathered a child?
Stevie Wonder has nine children from five different women, one of whom remains a mystery to this day. He had his first child, a daughter named Aisha in 1975, and his ninth child, also a daughter who goes by Nia was born in December of 2014 when Stevie was 64 years old.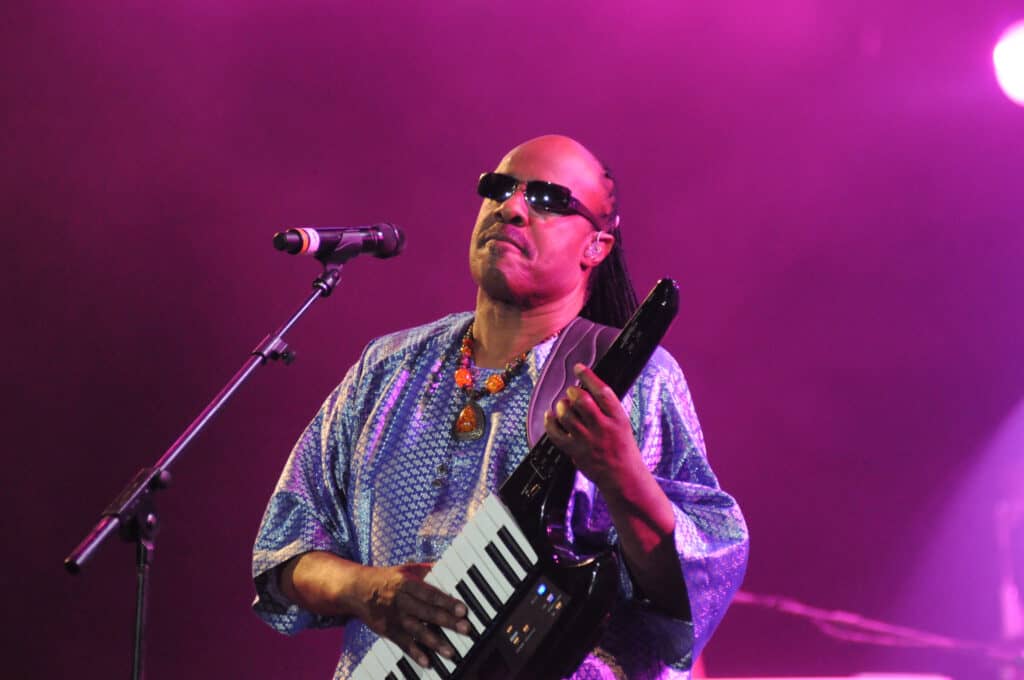 Let's find out more about Stevie Wonder's band of children as well as what kind of father he reckons he is. Nine children is a lot by anyone's standards, but other celebrities have even more children — read on to find out who beats Stevie in the famous father's department.
Is Stevie Wonder a Father?
Stevie is the proud father of not one, not two, but nine children! He became a father for the first time in 1975 when he was 25 years old and most recently again in 2014 at the age of 64.
These children come from five different women and vary greatly in age. Stevie has five sons, three daughters, and a child whose gender is unknown.
Stevie's first daughter, or rather the sound of her happily splashing in the bathtub, inspired one of his greatest hits: 'Isn't She Lovely?'.
In an interview with Oprah, Stevie described his parenting style as "Not one of those fathers who just send money. I guide them as a father and talk to them as a friend. I always want my children to feel they can tell me anything."
Who Are Stevie Wonder's Kids?
On 2 February 1975, Aisha Morris was born to Stevie and his partner at the time Yolanda Simmons. The couple met in the early 70s while Yolanda was working at Stevie's publishing company and — after having two children — split after being together for several years.
Aisha is a successful singer and songwriter who has performed — and even toured — with her father on many occasions. Despite her relationship with the limelight, Aisha is a very private person, and little is known about her personal life.
In 1977, Keita Morris, Stevie's first son, was born and much like Aisha, Keita followed in his father's footsteps and is a musician, DJ, and producer. Keita has two children of his own; a son named Asmar and a daughter named Lula Mae.
On 4 October 1983, Stevie and Melody McCulley welcomed a baby boy named Mumtaz Morris to the world. Mumtaz is an R&B artist who has four daughters and two sons with his wife.
In 1985, Sophia Morris came around. The identity of her mother has never been revealed, and other than appearing in the odd music video for the likes of Kanye West, Sophia keeps to herself.
A few years later, in 1988, Stevie became a father once more — presumably to the unknown woman who gave birth to Sophia — this time to another son who he named Kwame Morris. Kwame was born in Sydney and is a very successful model, songwriter, and entrepreneur.
On 1 September 2001, Kailand Millard Morris was born to Stevie and Kai Millard Morris, his second wife of 11 years. Kai is a drummer, a runway model, and the rumored ex-boyfriend of Maddie Ziegler.
Stevie and Kai welcomed another baby boy to the world on 13 May 2005 — Stevie's birthday! Mandla Kadjay Carl Stevland Morris is a pianist, model, and aspiring fashion designer.
After splitting from Kai, Stevie remarried — this time to a woman called Tomeeka Robyn Bracy, For some reason, the pair kept the birth of their first child together a complete secret, the only thing that is known about this child is that their name may be Zaiah.
And last — at least for now — came the couple's second child, Nia Morris, who was born in December of 2014.
Are There Any Other Celebrities Who Have More Than 6 Children?
Stevie may be one of the most iconic, but there are a handful of celebrities who have multiple children. In the nine-kid club, Stevie and Mel Gibson are the only members.
Madonna, Alec Baldwin, Sting, Sean Combs, Billy Ray Cyrus, Robert De Niro, T.I., Kris Jenner, and Brad Pitt and Angelina Jolie have six children. Elon Musk has seven children, as do Mike Tyson, Dr. Dre, Ziggy Marley, Fetty Wap, and Kevin Costner.
Though it may seem like madness to the everyday folk, it's common for celebrities to have large families either through natural conception or adoption. Though having nine children is impressive, Stevie is not the celebrity with the most children — far from it!
Clint Eastwood and Mick Jagger have eight kids while funnyman Eddie Murphy has 10 children. Legends from back in the day, Marlon Brando and Charlie Chapman, each had 11 children.