People favor different genres, either because it's what interests them or, in the case of musicians, what they are good at. Musical geniuses like Stevie Wonder, however, cut across many genres. Was he a jazz musician?
Stevie Wonder, who began his musical career at just eleven years old, is a jazz musician.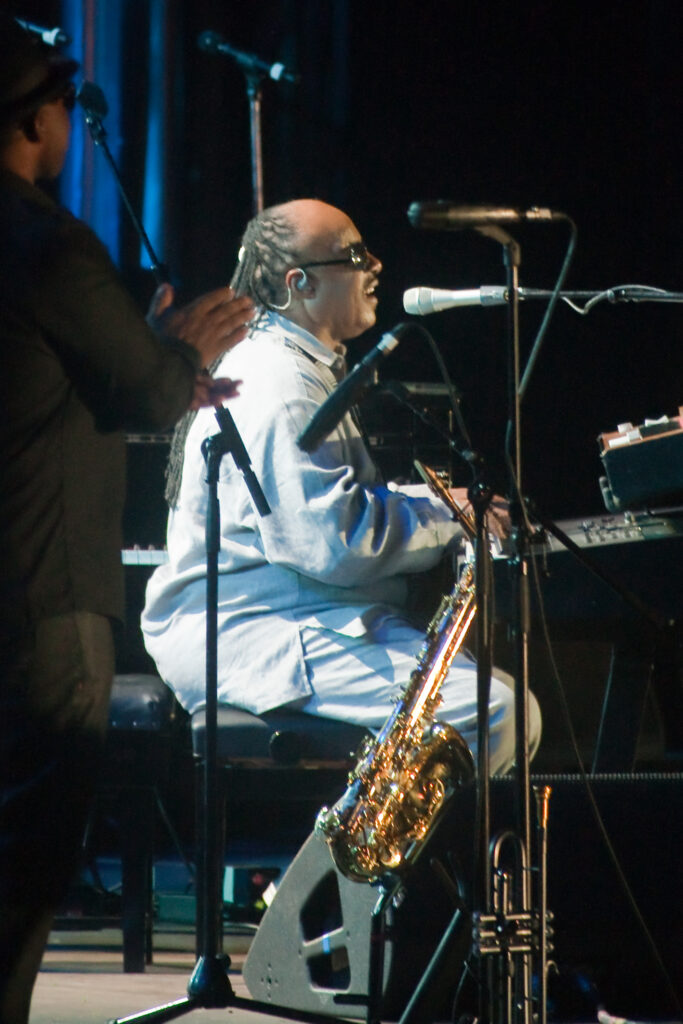 Being blind shortly after birth didn't stop Wonder from being a musical prodigy. Let's go over his jazz music career here:
Who is Stevie Wonder?
Stevland Morris (born Stevland Hardaway Judkins), known professionally as Stevie Wonder, is an American musician, singer-songwriter, multi-instrumentalist, and record producer.
Stevie was born in Saginaw, Michigan, and he is the third of five children born to Lula Mae Hardaway. He was born six weeks premature, resulting in retinopathy of prematurity. This condition made him blind.
He began his musical journey at the age of 11, and from the start, his love for jazz took center stage, playing a key role in the refinement and definition of his sound.
In 1961, Wonder signed a record deal with Motown Records. And just a year into his record deal, he released his first-ever album, which was titled, The Jazz Soul of Little Stevie. You could hear the drums, harmonica, and organs he played on the album.
Stevie came back with another fine-tuning; releasing Sir Duke a little more than 10 years later. In this song, he serenaded and proclaimed his love for Jazz. Straight off the album Songs in the Key of Life and bringing delight to his fans worldwide, the album was considered a landmark in American music.
Sir Duke is an ode to Stevie Wonder's biggest heroes, Duke Ellington and the jazz artists who he looked up to, his mentors that shaped his musical education. Wonder illustrates his love for jazz not only in the lyrics but also within the arrangement, melody, rhythm, and harmony.
By 1977, the popularity of jazz music suffered a heavy downswing, and genres such as RnB with Soul and Funk, which seemed like a much modern adaption of jazz, kicked their way into the mainstream. Funk and R&B seemed to have infused original lessons from jazz and adapted them to a more modern setting, making jazz sound out of vogue.
But Wonder's work is nearly impossible to whittle down just to one genre: he's pop, funk, soul, R&B, and rock all in one. Talk about versatility.
What Genres are Stevie Wonder's Expertise?
Stevie Wonder had a unique blend when it comes to jazz, but he also performed in other genres like R&B, gospel, and progressive soul. He is considered alongside other R&B legends as one of the most cherished rhythm-and-blues musicians of his time.
Stevie Wonder's Marriage and Children
Stevie Wonder has been married three times. He first tied the knot with Motown singer and collaborator Syreeta Wright in 1970 but they divorced in 1972.
Stevie Wonder next married fashion designer Kai Millard in 2001. Their marriage lasted over 11 years before it ended in 2012.
About five years later, he got married to Tomeeka Bracy.
Stevie Wonder has nine children with five different women. His first daughter, Aisha, who was the sole inspiration forIsn't She Lovely, was born in 1975. Her mother, Yolanda Simmons, also gave birth to a boy Keita in 1977.
He also had a son named Mumtaz with Melody McCulley in 1983, and a daughter and a son, Sophia and Kwame, with a woman whose identity is kept secret.
Stevie Wonder is also a father to Kailand Millard Morris and Mandla Kadjay Carl Stevland Morris, and had two children with Tomeeka Robyn Bracy.
What are Stevie Wonder's Notable Achievements?
Stevie Wonder, in 1963, became the youngest artist ever to top the Billboard hot 100 with his single Fingertips, doing it at age 13. He has also won several Grammy Awards in his career. 
In 1989, Stevie Wonder was inducted into the Rock and Roll Hall of Fame. In 1999, he was honored with the Polar Music Prize by the Royal Swedish Academy of Music
Stevie Wonder is a musical legend emphatically for his musical works in R&b, pop, and soul. Nonetheless, his immense contributions to jazz and the genres mentioned above cannot be overemphasized. The milestones which his works have attained are breathtaking and will forever leave his legacy as one of the most excellent Jazz musicians ever to live.