She may have an attraction to tattooed men, namely Harry Styles and John Mayer, but Taylor Swift hardly seems like the type to get 'inked up' herself. Alas, Swift has been through several image overhauls in recent years so anything is possible. Is this what Reputation-era Taylor meant by "the old Taylor is dead?"
Taylor Swift does not have any tattoos. Over the years she has been seen with a variety of scribbles on her body, but these have either been temporary tattoos, permanent marker, or edited photos. In a 2012 interview with Taste of Country, Taylor admitted "I don't think I could ever commit to something permanent. […] I don't want to get a tattoo".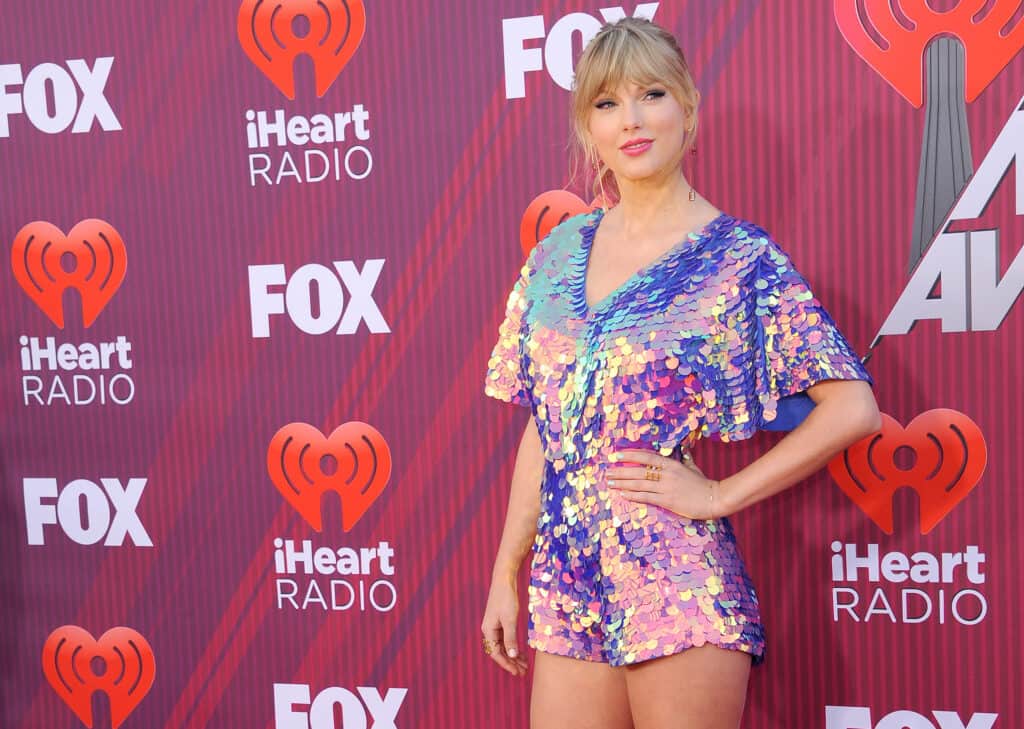 Despite being impermanent, Taylor's body art seems to be very symbolic. In this article, we'll explore the meaning behind Taylors 'tattoos' and discuss the possibility of Swift permanently inking her body in the future.
You Need To Calm Down
Speculation about Taylor having a tattoo was primarily sparked by the single artwork and music video for "You Need To Calm Down". Upon revealing the artwork on June 13th,2019, fans were shocked to see Taylor unlike they've ever seen her before. Swift is captured in a mobile home park, wearing a pink bikini with her back towards the camera. Inked across her back is a giant tattoo featuring two intertwined snakes and a kaleidoscope of butterflies.
Fans were quick to point out that the tattoo is fake. However, its symbolic meaning cannot be ignored. Snakes were a huge part of Taylors 'Reputation'-era, following the infamous rift between Taylor, Kanye West, and Kim Kardashian. She went on to reclaim the snake motif, using it as a representation of the negative criticism she receives.
Nonetheless, the 'tattooed' snake is surrounded by an array of butterflies. Butterflies are said to symbolise resurrection, purity, and innocence. This suggests that Taylor is using butterfly imagery as a metaphor for growth and moving on. In this sense, the tattoo can be seen as a metamorphosis, with Taylor leaving the venomous snake behind in favour of a happier, more authentic era.
This isn't the first time Taylor has used the imagery of snakes and butterflies. In the 'ME!' music video, the opening sequence shows a snake slithering across rainbow cobbles. Just as it is about to strike, the snake explodes into a kaleidoscope of butterflies. Again, this implies that the 'Reputation'-era is over.
13
Elsewhere, Taylor has become known for performing on stage with the number 13 marked on her hand, leading many people to confuse it for a tattoo. Speaking to MTV, Taylor said: "I paint this on my hand before every show because 13 is my lucky number for a lot of reasons. […] Basically when 13 comes up in my life it's a good thing". She typically draws the '13' with eyeliner, marker, or even nail polish.
In an interview with Taste of Country in 2013, Taylor was asked if she would ever get a tattoo. The songstress replied: "If I was going to get something, it would be a 13, but I just, ugh – I don't want to get a tattoo".
It seems that Swift has outgrown this superstition in recent years, however, as she stopped drawing the '13' in around 2013. Nevertheless, in 2018 the '13' made a surprise comeback for the 13th show of the Reputation tour. In a clip posted to Instagram Taylors mum, Andrea, is captured drawing the number on her daughter's right hand using eyeliner. Taylor then declares that her mother is the only person she's ever entrusted with the privilege of drawing the '13'.
Final Words
It's pretty clear cut that tattoos are not Taylor Swift's vibe. From butterflies and snakes to song lyrics and the number 13, Taylor seems to enjoy using her body as a canvas, but not in a permanent way. Whatever the case, temporary butterfly tattoos would make great merchandise for Taylor's next tour, what do you think?