Since springboarding into the spotlight with her debut country-pop album in October of 2006, Taylor Swift has found many ways to connect with her millions of fans across the world digitally. If you've tried to find her on the wildly popular TikTok, it probably wasn't her own account.
Unfortunately for some, Taylor Swift does not have her own TikTok account.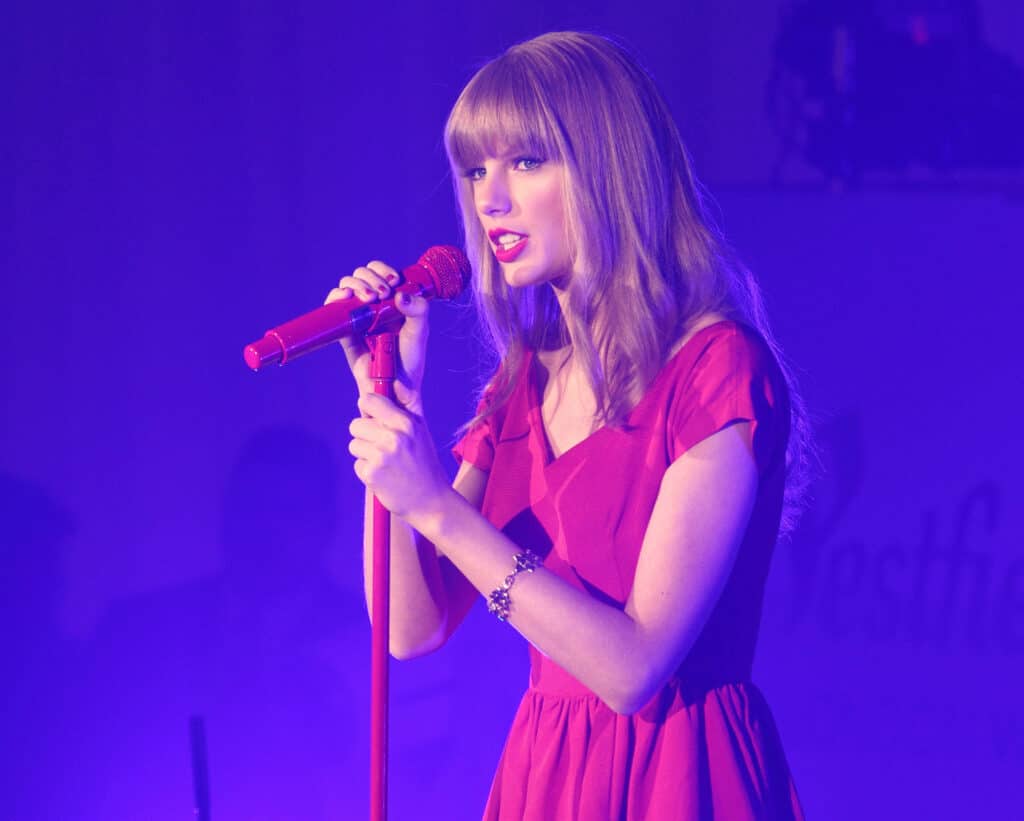 Though she certainly ranks as one of the world's top celebrities with over 50 million albums sold, she only operates on a few select social media platforms, with Tumblr being her preferred way to reach her fanbase. We'll take a look at each of her social media accounts below.
Tumblr
Taylor took full control and ownership of her official Tumblr page in 2014, which is the social media platform she prefers.
On her official page here, she teases fans (called Swifties) of any upcoming music or music videos, posting photos from video reels and magazine shoots to excite her devoted fans.
Despite having 9 studio albums under her belt, excluding her three live albums and two compilation albums, in addition to five EPs, Taylor keeps putting out new quality music that has real staying power.
She was awarded Billboard's Woman of the Decade in 2019, being the award's first recipient.
You can check out some of her posts here, like this gorgeous album cover of her ninth studio album, Evermore, or a photo from her upcoming music video, Willow. 
She has said however that she does use Tumblr to access TikTok when she scrolls on by an enticing video. Who doesn't?
Instagram
Taylor's Insta can be found here in case you were wondering.
Her Instagram gives a good taste of what you get from her Tumblr profile, just obviously with fewer words. She often posts promotional pictures, like her too-cool cover for the Rolling Stones featuring herself and Beatles alum Paul McCartney, or the headshot she did to rally supporters for Joe Biden on the front of V Magazine.
We especially love it when she shares snapshots of her younger self, as she did in this cute throwback picture of herself sporting an awesome tie-dye dress and a head of messy, blonde curls.
Youtube
You know what Youtube is all about, so we'll spare you the details.
When you go to Taylor's page, you'll find music videos for her latest albums, like The 1 from Folklore, and Willow from the album Evermore.
Of course, you can treat yourself to Taylor Swift classics like Blank Space, Red, or the semi-controversial Shake It Off. Don't forget about the gems of her early work, including videos like Fearless and You Belong With Me.
If you want to have a Taylor Swift listening spree, her official Youtube channel is the best free way to do it on the internet.
Twitter
You can find Taylor's official Twitter page here, at @taylorswift13.
Taylor is pretty active on Twitter, sharing photos that you would see on her other personal accounts like Instagram and Tumblr, though she also is a big retweeter.
Lately, she has been tweeting nothing but gushy thank-you's and hilariously animated cat gifs to show her reactions to her latest albums becoming top records of the year.
We couldn't be more thrilled for her either!
Facebook
Since its creation on November 3rd, 2007, Taylor has garnered over 70 million likes on her official Facebook page. 
Again, a lot of the content here is recycled from her Twitter, Tumblr, and Instagram, but we don't mind. We'll take all the Taylor Swift we can get!
Many of her social account taglines read "I come back stronger than a 90's trend", and we couldn't agree more. Like a trend, Taylor is a force to be reckoned with.