Antonio Ramiro Romo, or Tony Romo as football fans know him, is a former American football quarterback and a sports analyst who has enjoyed a long and successful career in the sports world. He's an international sports star, but does he remember his roots?
Tony Romo does not speak Spanish now but intends to learn it in the future with the help of his grandfather Ramiro Romo Sr. who believes his grandson will have no difficulty picking up the language. Growing up, Tony attended an English-speaking school and his household only spoke English.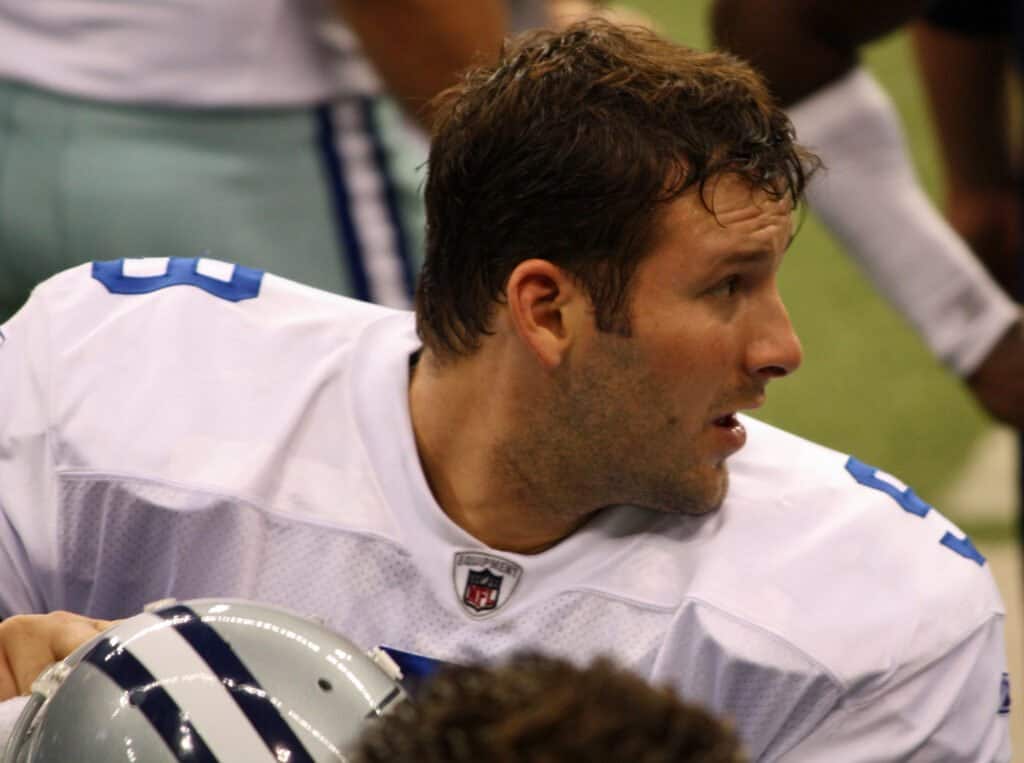 Do you want to find out more about who Tony Romo is, and what ties — if any — he has to his Mexican heritage? Then keep reading this article because it will cover all of that and more.
Who is Tony Romo?
Tony Romo, byname of Antonio Ramiro Romo, was born on 21 April 1980 in San Diego to parents Ramiro Romo Jr. and Joan Jakubowski. At the time of his birth, his father was stationed at the San Diego U.S. Naval Base.
He lived in the San Diego area until he was two years old when Ramiro Jr. stopped serving and moved the family to Burlington, Wisconsin. It was here that Tony's passion — and skill — for sport was discovered.
As a child, Tony loved playing Little League baseball, golf, soccer, and — of course — football. Throughout his adolescence sport remained one of the most important factors in Tony's life.
While a student at Burlington High School Tony played football, golf, tennis, and varsity basketball. He graduated in 1998 and went to Eastern Illinois University.
Tony enjoyed a massively successful college football career. After a surprisingly slow start in the world of professional football, Tony was signed as an undrafted rookie free agent to the Dallas Cowboys.
He went on to play for the Dallas Cowboys for 14 seasons, breaking several team records and winning awards along the way. On 4 April 2017 Tony retired from the Cowboys and professional football altogether.
Later that same year, Tony began working with CBS Sports as a lead color analyst for the NFL telecasts. The New Yorker has called Tony the "genius of football commentary" and so it seems as though his career in broadcasting is bound to be a successful one.
Can Tony Romo Speak Spanish?
Tony cannot speak any Spanish. This is because he was raised by his father, who stopped speaking the language when he was 14 years old for reasons unknown.
In addition to being raised in an English-speaking household, Tony attended Burlington High School, which is predominantly English as is the Wisconsin area. Only 6.5% of Wisconsin's population is made up of Hispanic people.
And finally, only 28.8% of San Diego's population is Hispanic, so it's not too surprising that Tony never learned how to speak Spanish in his early childhood years.
Tony's grandfather, Ramiro Sr., told Kens 5, "Tony was brought up to never be embarrassed by what he is. He knows he's Antonio Ramiro Romo. He has many Hispanic fans who are proud of him and support him."
Ramiro Sr. continued, "He wants us to move to Dallas, so I can teach him how to speak Spanish. If I had a chance to spend more time around him, he could learn to speak it because I would encourage him and he learns very quickly. He said it's my fault because his father didn't speak Spanish."
Tony Romo's Ties to His Mexican Heritage
Tony's biggest — and some suspect only — tie to his Mexican heritage is his grandparents, Ramiro Sr. and his wife Joan.
Tony's grandfather emigrated from Múzquiz, Coahuila, Mexico to San Antonio, Texas when he was just a teenager. He says of his grandson, "I told my son and my Nieto never to try to hide their culture, to be proud of who they are. I'm proud to say they've never run away from being Hispanic."
On top of his familial ties to Mexico, in 2007 Tony went on holiday to Cabo San Lucas, Mexico, with his then-girlfriend Jessica Simpson.
This vacation was heavily criticized by the media as Cowboys fans and stakeholders believed Tony should have been practicing for his playoff opener against the Giants. Needless to say, they lost the game and much of the blame was unfairly placed on Tony.