Antonio Ramiro Romo, or Tony Romo as he's known to football fans around the world, is a household name thanks to the 14 seasons he spent playing for the Dallas Cowboys, an iconic American football team. So, is he still a deft hand at a bootleg, or is Tony Romo retired?
Tony Romo retired from the NFL on 4 April 2017 and was released by the Dallas Cowboys immediately after making the announcement. After he retired, Tony transitioned to broadcasting and got a job as an analyst at CBS.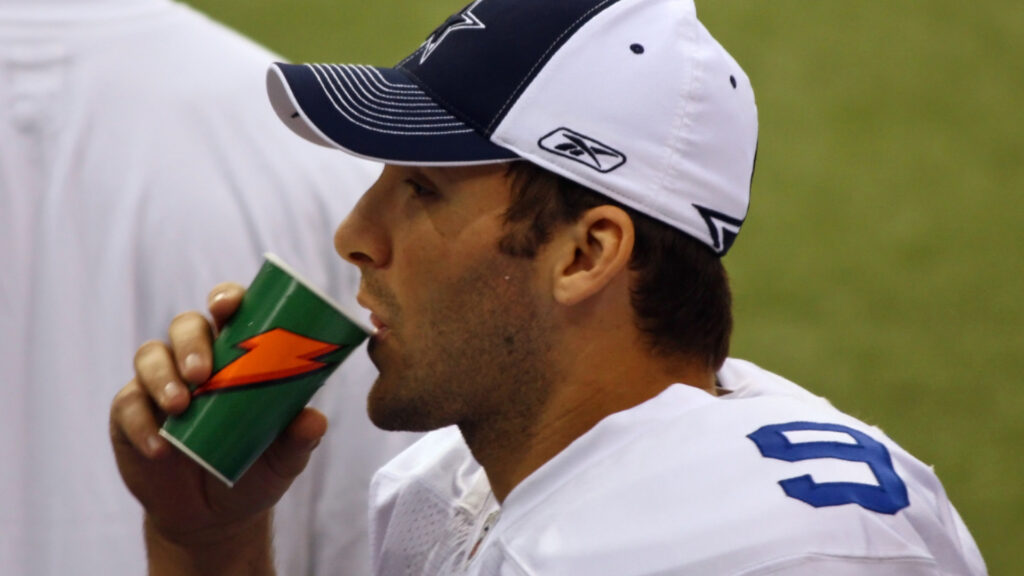 He was one of the most popular and beloved NFL quarterbacks of the decade, so why did Tony Romo retire? If you're interested to know when and why Tony Romo hung up his cleats and what retirement has done for his fame – as well as that of other celebrities – this article was written with you in mind.
When Did Tony Romo Retire?
On 4 April 2017, Tony announced his retirement from the NFL via a post on Twitter. The tweet simply read "I guess it's time to start dressing up. #CBS" along with a photo of Tony wearing a suit jacket with the CBS logo on its breast pocket and a big smile on his face.
Tony's retirement was described by most (and by Britannica) as "abrupt" and his fans were devastated as the sports star had given no indication that retirement was on the cards and on his mind. The Cowboys released him straight after his announcement.
Jerry Jones, the owner of the Dallas Cowboys, said, "We wish Tony and his family nothing but the best. As an organization, we did what he asked us to do in terms of his release, and we wanted to do what was ultimately in his best interest and in the best interest of his family."
Later that same day, CBS released a statement that included a quote from Tony reading "When you think about the NFL, two of the most iconic brands are the Dallas Cowboys and CBS Sports. Going from one legendary team to another as I begin the next phase of my career is a dream come true."
He continued, "I have always known that once my playing career was over I wanted to become a broadcaster. I am ecstatic for the opportunity to work with Jim Nantz as I learn the craft and convey to fans my passion for this great game."
Why Did Tony Romo Retire?
As per the above statement, Tony admitted that broadcasting was what he aimed to do after retiring. But why did he decide to retire and what made him decide that his "playing career was over" in 2017?
Various contributing factors led to Tony's retirement, but no official reason was provided at the time. However, it's easy to identify three prominent reasons without Tony's help.
The most obvious reason is that Tony – though still an incredible player – was past his prime at 36 years old. By this logic, Tony knew that if he transitioned to broadcasting he could add a couple more decades to his working life whereas if he remained in the NFL he would only have a few playing years left.
In addition, Tony – who was the highest-paid NFL player at the time – had reached the maximum earning bracket in the Dallas Cowboy's payscale. Annual salary caps meant that most other NFL teams were unable to afford Tony's salary.
And finally, ESPN's Adam Schefter and Archer indicated that Tony's decision to retire was motivated by his health and his tendency to become injured. Before announcing his retirement, Tony had been plagued by injuries and in 2016 he was sidelined by a broken back bone until midseason.
Other Celebrities Who Got More Famous After Retiring
Tony's tale is truly remarkable, though his success is not an isolated event. After retiring from the NFL, Tony became even more famous as his active fans could continue to watch him and his new position in broadcasting garnered the star a whole new audience and fanbase. As it turns out, retirement isn't the end of one's career after all and Tony – and these celebrities – prove this.
When Dwayne Johnson retired from full-time wrestling in 2004, the WWF world mourned. Shortly after retiring, Dwayne threw himself into acting and picked up millions of new fans who know him as an actor rather than a wrestler. He's also the highest-paid actor on the planet!
Mary-Kate and Ashley Olsen are also perfect examples of celebrities who got even more famous after retiring. When the twins retired from acting in 2012, they had more time to focus on their passion: fashion. In the years since they retired, the Olsen sisters have cemented themselves as fashion icons and are at the helm of flourishing fashion-related businesses.
And finally, Shaquille O'Neal retired from basketball in 2011. Since he retired, he has become even more famous thanks to TV appearances, film roles, sponsorships, and Directorships at brands such as Krispy Kreme and Papa Johns. However, in 2021, Shaquille announced that he was retiring from being a celebrity and said, "I denounce my celebrity-ness today. I'm done with it."