Tony Romo is an American football quarterback turned sports analyst and broadcaster who has amassed himself a loyal fan base due to his extensive football knowledge and humble attitude. He's also amassed himself quite a fortune over the years, but just how much does Tony Romo make?
Tony Romo earns an annual salary of USD $17,500,000, and a further USD $500,000 in 'perks', which means he earns USD $18,000,000 per year for working for CBS. In addition, he is said to earn around USD $5,000,000 in endorsements.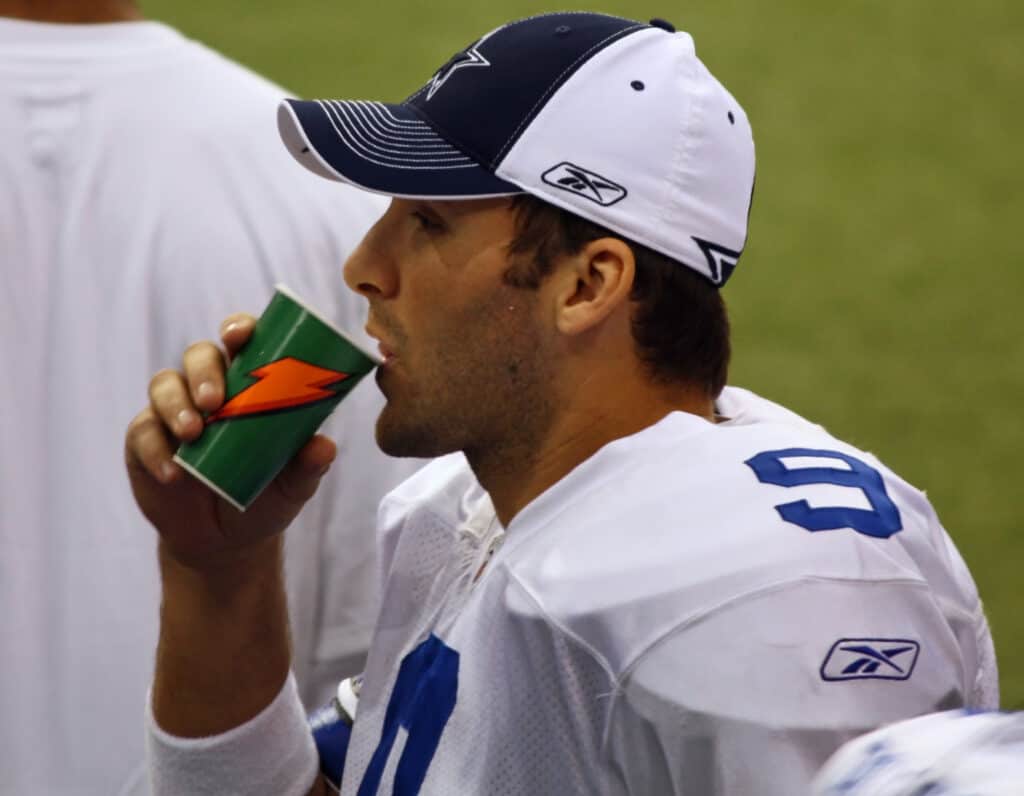 Few athletes can make the transition from the field to the broadcast booth, and even fewer can do it as seamlessly as Tony Romo has done — which is why he makes the big bucks. Let's find out XXX
How Much Does Tony Romo Make With CBS?
Tony retired from the NFL in 2016 and began working for CBS the very next year. In 2017, he signed a three-year deal with CBS that amounted to him earning USD $3,000,000 per season.
In February of 2020, CBS offered Tony a new contract worth USD $18,000,000 per year. Upon closer inspection, Tony's contract with CBS will see to it that he will make an estimated USD $875,000 per game called.
When he accepted the USD $180,000.000 offer, it made him the record-holder for the highest annual analyst salary in NFL history and the highest annual salary ever for a broadcaster.
How Much Does Tony Romo Make in Endorsements?
One look at Tony's Instagram feed shows you that the star has several brand deals with many big brands. According to Forbes, Tony makes approximately USD $5,000,000 in endorsements.
Tony began getting endorsements early in his career. In 2008, Tony signed a five-year deal with Starter, a sports apparel company, worth USD $10,000,000.
Since those early days, Tony has gone on to work with brands including Pizza Hut, DirecTV, Topps, Under Armour, Skechers, Chaps by Ralph Lauren, Corona, and more.
In addition to his official brand deals, Tony also engages with brands on a smaller scale in the form of sponsored posts on social media. He's been sponsored by brands such as Nerf, Frito-Lay, and Marriott Bonvoy — in fact, the majority of Tony's Instagram posts are sponsored ads.
How Much Did Tony Romo Make in The NFL?
As you can tell from the above, Tony is earning more than enough to provide for his family and their future. But how do his earnings today compare to what he was raking in as a professional athlete?
When Tony first joined the Dallas Cowboys in 2003, he received a USD $10,000 signing bonus and an annual salary of USD $225,000. In his final year in the NFL, his annual salary was USD $8,500,000.
Tony spent 14 seasons in the NFL, and according to Spotrac, he earned a total of USD $31,170,000 in annual salaries, USD $38,810,000 in signing bonuses, USD $300,000 in roster bonuses, USD $48,965,000 in restrucer bonuses, USD $8,175,000 in option bonuses, and USD $2,458 in incentives.
The above means that Tony earned himself a grand total of USD $127,422,458 during his time in the NFL.
While this is by no means a small sum, when you consider what he's earning now, Tony stands to make much more money as a broadcaster than he did as a professional football player.