Victor Garber is openly gay and married to his long time partner Rainer Andreesen. Have they ever decided to expand their family?
Victor Garber does not have any kids. He married his long-time partner, Rainer Andreesen, in 2015 and the two have never mentioned any plans to adopt children. However, Garber is very close to his Alias co-star that played his on-screen daughter, Jennifer Garner. Garner has even said Garber is like a grandfather to her children.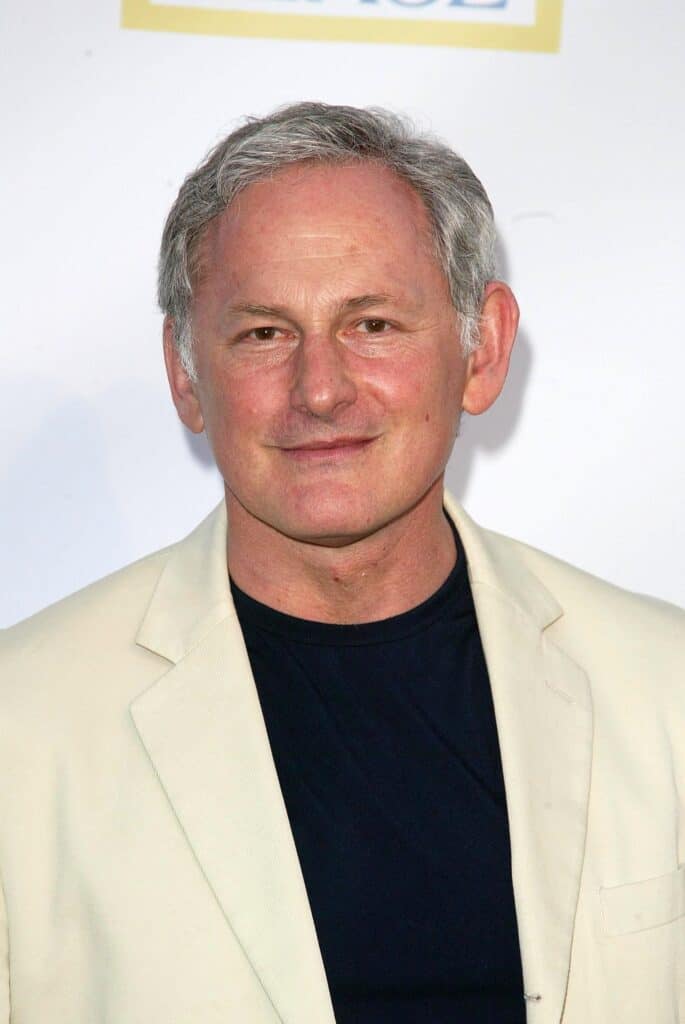 Scroll down to read more about Victor Garber's relationship with Rainer Andreesen, his time starring in Alias alongside Garner, and their long friendship.
Victor Garber and Rainer Andreesen
When Victor Garber revealed to the world that he was gay, he did it in the most nonchalant way possible. It was April of 2012 when he did an interview with Forever Young News, a Canadian magazine.
In the interview, he was asked what his greatest achievement was aside from his theatrical success. His response was pretty clear and also the first time he publicly spoke about his sexuality.
He said "My relationships with my family and my friends. My companion Rainer Andreesen and I have been together almost 13 years in Greenwich Village. We both love New York."
Since this magazine isn't one of the more well-known syndicates, it took a while for Hollywood to get the news that Garber was "out." In January 2013, after blogger Greg Hernandez brought up and reported on the Forever Young News article, all of the big tabloids started reporting that Garber was gay.
In his interview with Greg Hernandez, Victor simply said that he thought everyone pretty much already knew that he was gay. After all, he had been in a relationship with his fellow Canadian, artist, and model, Rainer Andreesen since sometime in 1999.
The reason this was news to Hollywood probably had to do with the fact that the Argo actor is very quiet about his personal life and likes to stay out of the tabloids.
On October 10, 2015, Garber and Andreesen tied the knot at the Wickaninnish Inn in Tofino, British Columbia, Canada as was reported by ABC News.
Garber's Role on Alias
While Victor Garber does not have any kids of his own, he has played more than one role where he was a dad. The most notable of those roles would have to be when he played Jack Bristow on the TV show Alias.
In the series, he was the father of the spy and double agent Sydney Bristow. Sydney Bristow was played by Jennifer Garner and this was actually Garner's breakout role.
Throughout the five seasons of filming, Garner and Garber became incredibly tight forming an unbreakable bond. This was clearly seen through their on-screen relationship as father and daughter and probably one of the most acclaimed relationships of the entire show's five-season series.
You can watch Victor Garber talk about the possibility of an Alias reboot on Watch What Happens Live with Andy Cohen in the below video. Spoiler Alert for anyone who hasn't finished the show yet!
In a 2020 round table with the stars of Schitt's Creek, Garner actually broke down in tears when she recalled filming the final episode of Alias. She stated that she has never actually watched that final episode because in it she has to say goodbye to Victor and that hurts too much.
Both Garner and Garber have stated that they are best friends.
Victor Garber "Like a Grandfather" to Jennifer Garner's Kids
The end of their television show Alias in 2006 wasn't enough to break apart the two close friends. Victor Garber was even the officiant of Jennifer Garner's wedding and marriage to Ben Affleck.
Garber is also the godfather of Garner's daughter Violet and is consistently apart of her family. As some would say, he has chosen his family and that family is Jennifer Garner.
In an interview with US Weekly, Garber expressed that he feels like a grandfather to Jennifer Garner's children. He was also a huge support to Jennifer when she went through her split from Ben Affleck.
When he was asked about Ben Affleck he said that he doesn't see the actor very often, but that he still considered him to be his friend. That's a true standup response from a man who seems to have nothing but great respect for all of his friends and family.