The two superstar musicians are known for their successful musical careers and tumultuous friendship, causing anyone to wonder if the two have ever dated.
Although Drake and Nicki Minaj had an incredibly close friendship, the two rappers never confirmed a romantic relationship with their fans or the press. In fact, Nicki Minaj went on The Ellen Show in August 2018 and stated, "I've never been in a relationship with Drake."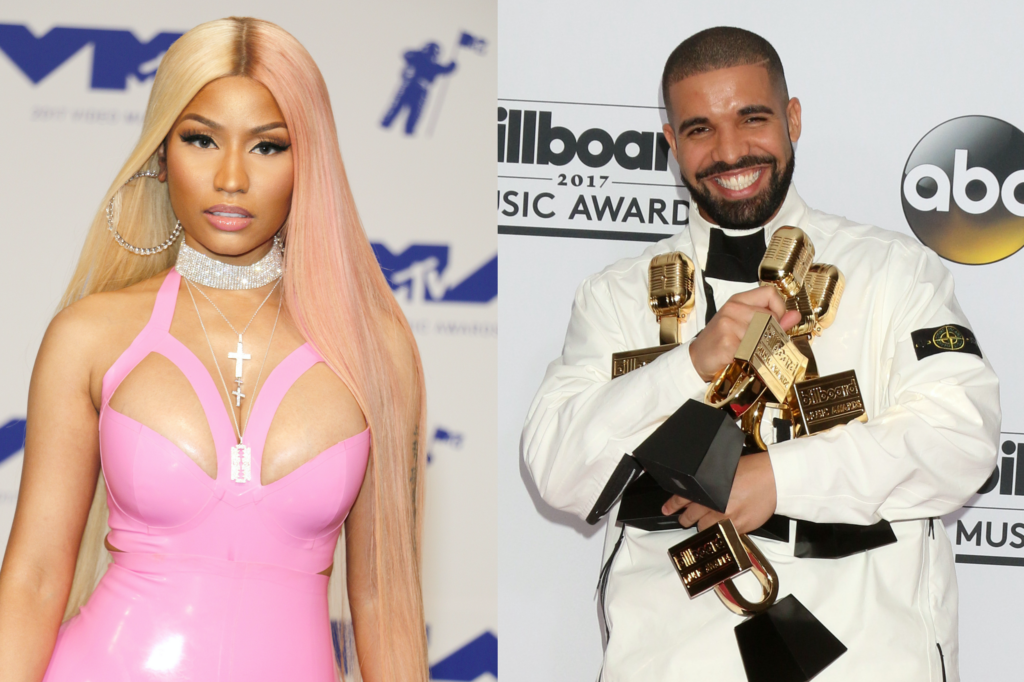 Whether the two dated or not, they have achieved several successes outside of their dating lives – and still managed for one or two interesting romantic entanglements along the way.
Drake and Nicki Minaj's Friendship
Drake and Nicki Minaj's friendship began almost simultaneously with their careers, as they both got their first record deals with Bryan "Birdman" Williams's record label, Cash Money Records.
Since then, they collaborated on many tracks, including the Nicki Minaj hit "Truffle Butter," where Drake featured alongside Lil Wayne and Drake's "Make Me Proud," on which Nicki Minaj featured. The latter song served to fuel rumors that the two were an item, with lyrics like "Might've been a time when I loved her too/But you take that away, and you've always been the one."
Drake and Nicki Minaj definitely did not shy away from using hints about a blossoming relationship to fuel their publicity – quite a smart tactic, as it often worked for their advantage. Sometimes people just need to use the harsh spotlight to their advantage.
Some funnier instances of the two jokingly hinting at a potential relationship include a Twitter exchange in which Drake posted, "Please refer to @nickiminaj as Mrs. Aubrey Drake Graham and dont [sic] stare at her too long. She's finally mine. :)".
Additionally, Drake and Nicki Minaj stoked the relationship rumors further in Nicki Minaj's cotton-candy dreamscape of a music video for her single, "Moment 4 Life," in which the two get married underneath a fireworks display.
You can watch the magic unfold in the official music video below.
Drake and Meek Mill Rap Beef
Unfortunately, the moment cannot always last for life, as was the case with Drake and Nicki Minaj. The two had fallen out before, and the two rappers seemed to have a generally tumultuous friendship.
However, the real waves came along with Nicki Minaj's relationship with the rapper Meek Mill, who featured on a couple of her songs, namely "Buy a Heart" and "Big Daddy" from Nicki Minaj's third studio album, The Pinkprint.
Although Nicki Minaj argued that the two were only friends, it became clear that the two had feelings for one another. They eventually confirmed their relationship, much to the disdain of Nicki Minaj's previous partner of 12 years, Safaree Samuels.
Meek Mill also gave Nicki Minaj a massive diamond ring, but she said that although Meek Mill gave her the rock, "He and I are not engaged. But he said he would like to give me three rings before we get married."
There was drama surrounding the new relationship, but Drake didn't get too involved until Meek Mill tweeting the now-infamous tweet that started their rap beef, claiming that Drake didn't write his own rhymes. The tweet is now unavailable, but a copy is available in Billboard Magazine's full breakdown of the beef.
Drake fired back with two songs – "Charged Up" and "Back to Back," the latter containing the brutal line "Is that a world tour or your girl's tour?" designed to mock Meek Mill's opening act slot on Nicki Minaj's tour.
Nicki Minaj stayed out of the beef, for the most part, stating firmly in an interview with The New York Times Magazine that she had bigger things on her mind than the drama between two grown men.
Drake and Nicki Minaj made up briefly after her split with Meek Mill. However, the peace was short-lived when Drake and Meek Mill collaborated on a song together, "Going Bad," as Meek Mill and Nicki Minaj had gone through a difficult breakup.
Later, Drake would go on record with Rap Radar to say that this changed his relationship with the "Super Bass" singer "probably forever."
Nicki Minaj eventually married Kenneth Petty, a childhood friend of hers from Queens, on October 22nd, 2019. Nicki Minaj gave birth to their son the following year. As for Drake, he fathered a child, Adonis, with Sophie Brussaux in October 2017.
Although the two never officially dated, they still found their own moments for life.