Rap royalty Nicki Minaj is visibly petite and she never seemed to have any issues about it. Her talent, personality, and work ethic are what propelled the Trinidadian diva to the pinnacle of success anyway. But, fans are still curious: How tall is Nicki Minaj without heels?
Although the rapper herself claimed to be 5 feet 3 inches tall in a 2015 tweet, most celebrity height sources agree that Nicki Minaj is actually 5 feet 2 inches tall (1.57 m or 157.5 cm).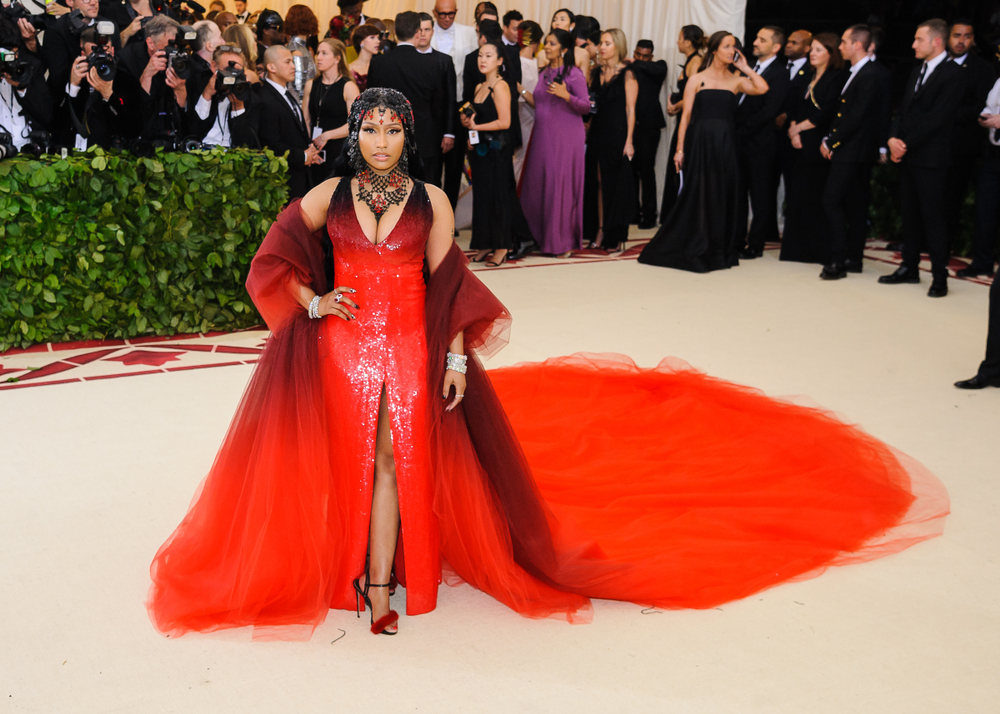 Here's everything else we know about the Super Bass superstar and American Idol judge.
How old is Nicki Minaj?
Born Onika Tanya Maraj on December 8th 1982, Nicki Minaj's age as of 2022 would be 40 years old. She was born and raised in Saint James, Trinidad and Tobago until her family relocated to Queens, New York when Nicki was around 5 years old.
Nicki Minaj got started in music when she was 22 years old, as a member of a rap group called "Full Force" and then later on used her MySpace profile to release her early musical work. She gained a sizeable following using that platform, which eventually led to her getting signed with Dirty Money Entertainment.
It wasn't until Nicki Minaj was in her late twenties when she rose to mainstream success as a rapper-singer. In 2010, she released Pink Friday, which had hits such as Your Love, Right Thru Me, and the widely-successful Super Bass. The album featured collaborations with the biggest names in hip-hop and R&B like Rihanna, Eminem, Kanye West, Drake, and Lil Wayne.
Although most people (celebrities included) tend to celebrate big when turning 40, the rapper and mother seemed to have chosen to keep things quiet when she hit the big 4-0. While her most loyal fans, The Barbz, posted well-wishes and loving tributes for their favorite female artist on social media, some folks on the internet tainted her special day with mean tweets and hashtags per HipHopDX.
How much is Nicki Minaj worth?
Nicki Minaj has certainly come a long way from her days working at (and getting fired from) Red Lobster. According to Wealthy Gorilla, Nicki Minaj's net worth as of 2022 is estimated at $100 million. She amassed her wealth from earnings as a rapper and singer as well as from her endorsement deals since 2010.
Reaching this level of wealth is something truly out of the ordinary, especially for female rappers. V Magazine reported in 2020 that Nicki Minaj is actually the first one to ever to earn this much.
The Anaconda rapper enjoys her wealth by living in mansions in Los Angeles, California and owning luxury cars customized to according to her personality. 
Does Nicki Minaj have children?
Nicki Minaj has one child, a son she calls Papa Bear. He was born on September 30, 2020. Papa Bear's father is Kenneth Petty, Minaj's childhood sweetheart and current husband. They got married in 2019. According to Hollywood Life, the couple first dated in their teens until they lost contact along the way.
Kenneth and Nicki managed to reconnect in their adult years and it seems that the love between them was never lost. In 2019, the rapper explained on Twitter why she was choosing to stand by Zoo (Kenneth's nickname). She called him her soulmate and deeply appreciates the fact that he knew her before she became Nicki Minaj. 
Who was Nicki Minaj dating before getting married?
Before finally settling down with Zoo, Nicki Minaj was involved in a number of relationships both long-term and casual dating. For 12 years she was in a relationship with Safaree Samuels (who posted an old photo of her on his Instagram story for her 2022 birthday). After they broke things off, Nicki began dating fellow rapper Meek Mill in 2015. Although engagement rumors swirled around the couple, Nicki in 2017 announced that she was single.
Nicki Minaj's unconfirmed ex-boyfriends include Drake, Eminem, and Nas.