Bono is known not only as a musician but as a huge philanthropist. How did he originally make his money?
Bono made his money as the lead singer and lyricist of the band U2. The Irish rock band rose to mainstream popularity in the 1980s. Their decades of success have led the band to a net worth of over $787 million and Bono's personal net worth of over $700 million.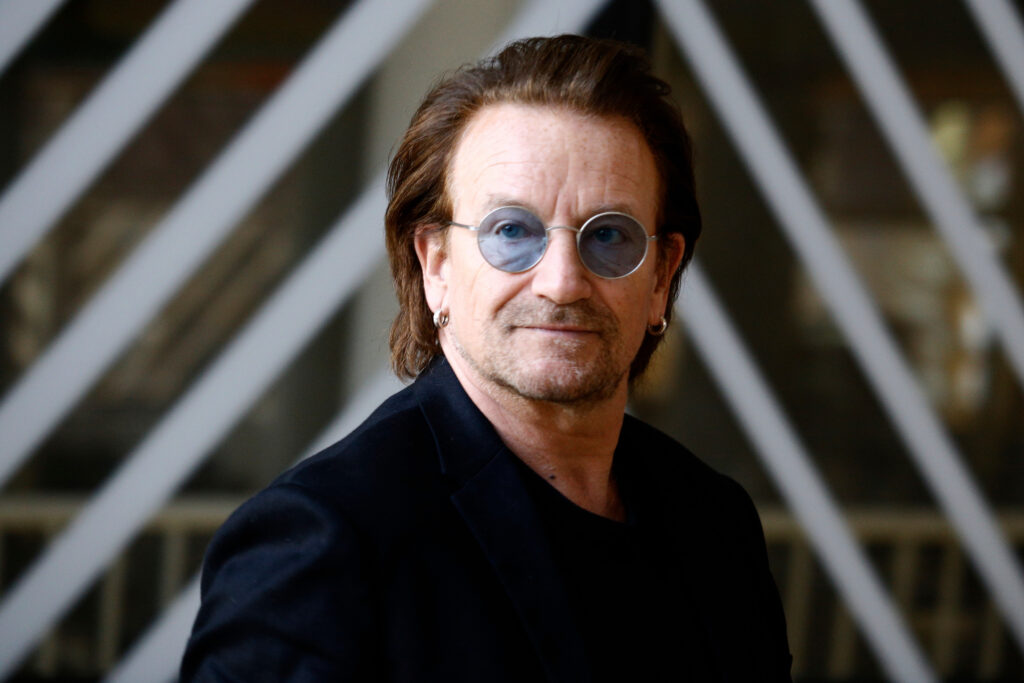 You can read more below about how U2 has contributed to Bono's wealth and the other ventures that have contributed to his wealth.
Bono's Success With U2
In 1976, Bono was one of a few different students who responded to a bulletin posted to a notice board at his high school, Mount Temple Comprehensive School. The ad was posted by Larry Mullen Jr. and was responded to by David Evans, Dik Evans, and Adam Clayton.
When they first started, the group called themselves "Feedback" and late "The Hype." Bono originally played guitar, sang, and wrote lyrics. He was playing guitar alongside The Edge (David Evans).
However, Bono was not very good at playing guitar. Dik Evans left the group and they renamed themselves U2 and Bono moved to sing and songwriting only.
In 1979, the band was signed to Island Records, and their debut album, Boy was released in 1980. Their first international single failed to chart but their album Boy did a lot better with over 100,000 copies sold in multiple countries.
It was their third studio album that was released in 1983 that brought them to a much bigger success. That album was War.
War has sold over 11,000,000 copies worldwide to date. It featured the hit singles 'New Year's Day,' 'Sunday Bloody Sunday', 'Two Hearts Beat As One', and 'Seconds.'
It was their first album to reach number one on any of the charts, hitting number one in the UK. Their following album, The Unforgettable Fire, reached number one in even more countries.
This album hit number one in the UK, Australia, and New Zealand. It featured one of U2's most well-known singles to-date 'Pride (In the Name of Love)'.
However, it wasn't until their performance at Live Aid in 1985 that they managed to become an international sensation. Live Aid is historically regarded as one of the most epic concerts to have been held ever.
The two concerts that took place simultaneously in London and Philadelphia helped to raise funds for the Ethiopian famine. It was also a concert where U2 made a huge impact on concertgoers.
This was due to Bono getting down from stage and dancing with a woman he picked out of the crowd. He did this to their song 'Bad' and the stint caused them to cut into their limited playtime. As a result, they didn't get to play their number one hit and the band thought of the whole ordeal as a bust.
You can watch U2's full performance at Live Aid 1985 in the below video.
People liked what they did though and their next album The Joshua Tree hit number one across the charts. The band has put out a total of 14 studio albums which have been massively successful and brought in huge revenue.
Bono's Other Ventures
While U2 made Bono a success initially, he has since invested in a lot of other business ventures that have expanded his wealth. He is also an active philanthropist.
One of his first ventures was to buy the Clarence Hotel in Dublin and refurbish it into a 5-star hotel. This helped to bring a beloved and old Dublin treasure back to life.
In 2005, he co-founded the fashion brand EDUN which manufactured fairtrade clothing and was targeted at bringing positive change to Africa. The brand's parent company was LVMH who decided to cease operations in 2018.
Bono also invested with Elevation Partners who bought large shares of Forbes Media Group and Facebook which have made him hundreds of millions of dollars. He has also been involved in the Rise Fund that is focused on positive social and environmental impact.
One other venture that he is involved in is being on the board for Zipline. Zipline is a drone delivery service focused specifically on delivering medical supplies to developing nations in Africa.
It's through all of these ventures that Bono has managed to create a $700 million net worth.