As an actress and star of "The Real Housewives of Beverly Hills", Kyle Richards' marriage to Mauricio Umansky has been well-publicized. How did they meet?
Kyle Richards met Mauricio Umansky in 1994, while he was working as a real estate agent in Los Angeles. The couple has three daughters together, as well as spending a lot of time with Richards' first daughter, Farrah.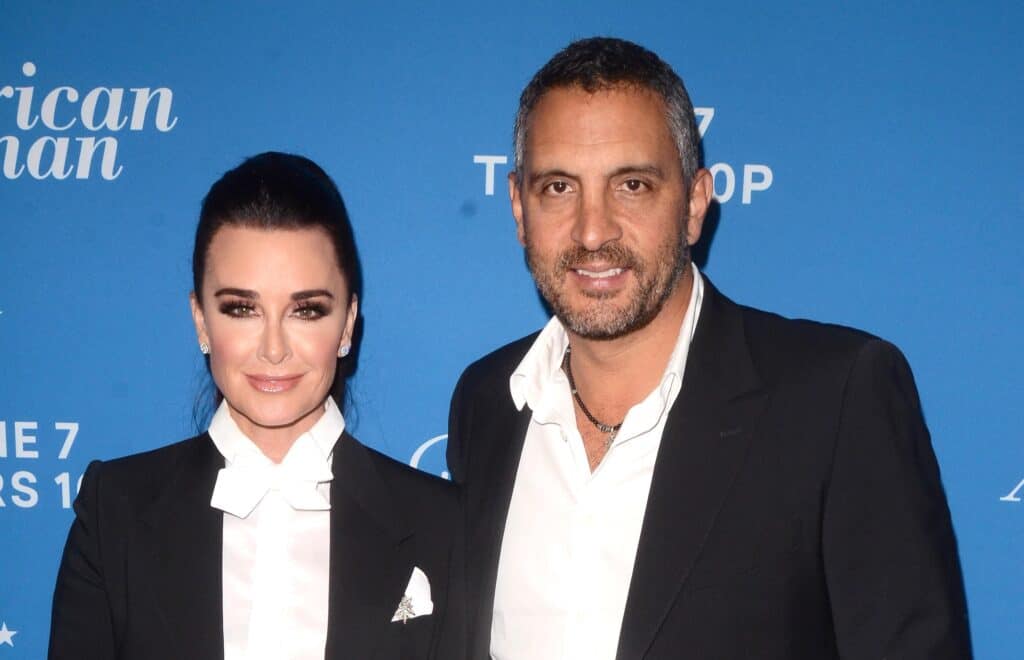 For more on Kyle Richards and her marriage to Mauricio Umansky, read on.
Kyle Richards
Despite being best known to modern audiences for her decade on "The Real Housewives of Beverly Hills", Kyle Richards' screen career extends back much farther. Her first significant acting role came when she was just five years old, appearing in 18 episodes of "Little House on the Prairie".
Her career as a child actress continued throughout the 1970s, appearing on TV shows such as "Fantasy Island" and "Flying High" but her most famous role came in 1978. Richards played Lindsey Wallace in "Halloween", a role that she would reprise more than 40 years later in "Halloween Kills".
As an adult, she continued to have small roles in movies and guest appearances on TV shows, though she did appear in 21 episodes of "ER" as Nurse Dori Kerns.
Richards became a founding member of "The Real Housewives of Beverly Hills" and has gone on to appear on the show for more than a decade.
Marriage
Richards first married in 1988, when she was 18, to an Indonesian man named Guraish Aldjufrie. She was pregnant at the time and gave birth to her daughter with Aldjufrie, Farrah.
The relationship was short-lived, however, and they separated two years after their marriage and finalized a divorce two years after separating.
In 1994, four years after first separating from Aldjufrie, Richards met Mauricio Umansky. Umansky is the son of Mexican television personality Estella Sneider and is of mixed Russian and Greek Jewish descent.
He was working as a real estate agent in Los Angeles when he and Richards met and has continued to have a successful career in real estate. Richards and Umansky married on January 20, 1996, while Richards was pregnant with her second child.
As part of their marriage, Richards converted to Modern Orthodox Judaism and also attends the Los Angeles Kabbalah Centre. The couple has three daughters together: Alexia, Sophia, and Portia, with Farrah, also spending much of her time with her mother and stepfather.
As a clear indication of their success together as a couple, Richards and Umansky listed their Bel-Air mansion for sale in 2020. The mansion was priced at $5.9 million, featuring seven bedrooms, eight bathrooms, a large home gym, and a home theater.
RHOBH
In 2020, Richards addressed the supposed 'Real Housewives Curse', which has seen a number of marriages featured on the franchise ended in divorce. Jill Zarin, a former star of "The Real Housewives of New York", said she hoped Richards and Umansky would leave the show before it affected their marriage.
Richards said that she didn't think Zarin was implying anything personal about Richards and Umansky. Instead, she was simply talking about the 'curse' but Richards said that after more than 25 years of marriage, she and Umansky were happier than ever.
Her eldest daughter, Farrah, seemed to support this view. She believes that, contrary to any worries about a 'curse', appearing together on the show has actually made their relationship stronger.
In addition, Farrah believes that they set a good example for other married couples or anybody in a relationship because they get along so well. She also said that she thinks her mother and stepfather's busy lifestyle means they value their time together even more.
Rather than there being any sort of tensions between Richards' first and second husbands, Farrah has said that Aldjufrie and Umansky are great friends. Aldjufrie has even referred real estate clients to Umansky, with the pair working together on deals before.
As with any marriage in the public eye, Richards and Umansky are subjected to constant speculation by the media and public. In September 2020, one reality fan speculated that they had separated and the rumor quickly spread around the internet.
In truth, Richards and Umansky were perfectly happy. On the day the rumor truly took hold online, the couple were enjoying a cycle around the Aspen Mountains together.