The Real Housewives of Beverly Hills star Kyle Richards is known for many things: her impressive wealth, socialite status, philanthropic endeavors, and makeup skills. This article can't teach you anything about the first three attributes listed but it can teach you about her technique, routine, and go-to makeup products.
Kyle Richards has a distinct makeup look that includes fluttery lashes, shimmering cheeks, nude lips, flawless foundation, and bright eyes. She is an outspoken lover of makeup and has even converted her home gym into a vanity.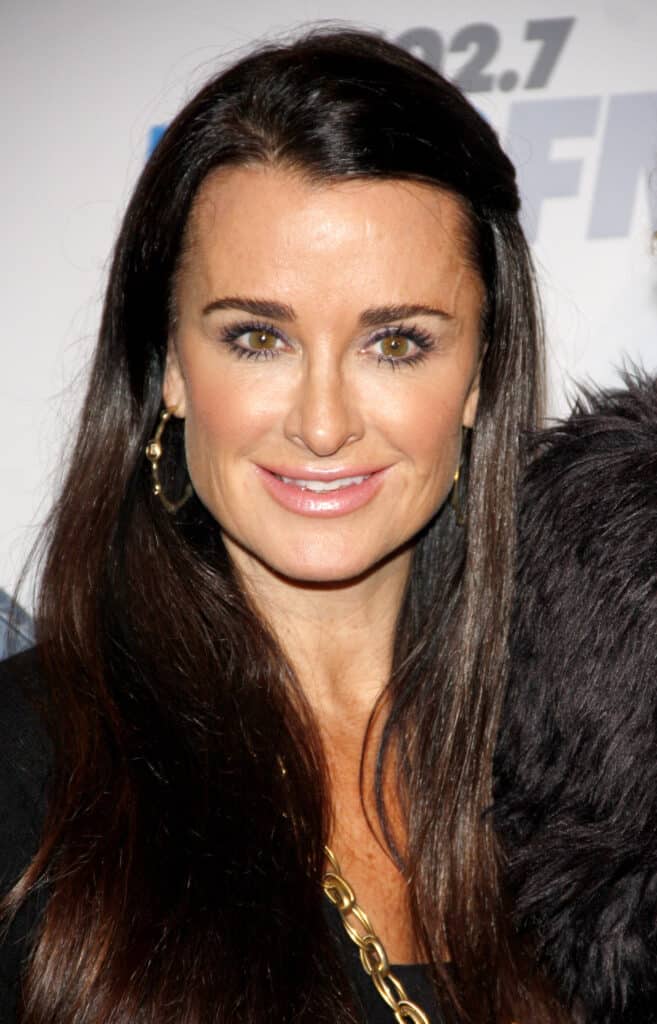 For a look inside Kyle Richards' makeup bag, as well as a glimpse into her routine, keep reading. Believe it or not but you may even have one or two of her favorite products in your own makeup bag already!
Her Face
Kyle's face is always bronzed, dewy, and seems to glow from the outside in. She starts with a Beautyblender and foundation — which is usually Make Up For Ever HD Invisible Cover Foundation in shades 128 and 140 or Bobbi Brown's Skin Foundation Stick — before concealing blemishes and brightening her under-eye area with Tarte Shape Tape Concealer.
"Old school" is how Kyle describes her makeup style which is why so many people are surprised to hear that she was highlighting her cheeks with a shimmering blush before that was even a thing. Speaking of blush, while she dabbles with different blushes from Becca Cosmetics and Model Co, her favorite is Hot Mama Shadow Blush by theBalm.
For bronzer, Benefit Hoola Bronzer and Bobbi Brown's Bronzing Powder in the shade Tawny Brown are used. The final touches include a light dusting of Becca Cosmetics' Shimmering Skin Perfector in the shade Opal as well as a spritz of Iconic.London's Original Rose Gold Setting Spray.
Her Eyes
Bright, sparkly, and smokey are all words used to describe the eyeshadows often occupying Kyle's eyelids. They're usually from palettes by MAC, Lorac, Bobby Brown, or Charlotte Tilbury.
Urban Decay Eyeliner is the order of the day although the star often ditches the eyeliner for a dark shade of eyeshadow instead.
She frames her eyes with Benefit's They're Real Mascara, L'Oreal's Voluminous Mascara, and Too Faced's Damn Girl Mascara. Kyle defines her brows with Gimme Brow + Volume Eyebrow Gel by Benefit as well as Precisely My Brow in shades 4.5 and 5 by the same brand.
Her Lips
When it comes to her lips, Kyle is a massive fan of the Buxom Full-On Plumping Lip Polish in the shade Tonya but is quick to point out that she loves all of the available colors. She has spoken out about her fondness of the vitamin-packed lip gloss and refers to it as "the best."
Lip gloss is her staple and the one makeup item she can't do without. Even before she became a makeup lover she pointed out that she feels "put together" when she wears lip gloss.
In terms of lipstick, she and her makeup team use a variety of brands and shades including Tom Ford's Spanish Pink lipstick, MAC's Ruby Woo, RinCon Cosmetics Velvet Liquid Lipstick in Flirty, Becca Cosmetics' C Sugar lipstick, Charlotte Tilbury Pillow Talk, and Feral Cosmetics' Page Me 143.
As is the case with her lipsticks, she uses plenty of lip liners from an assortment of brands but as of late is sticking to Kylie Cosmetics and MAC Cosmetics liners.
Her Skin
It should come as no surprise that Kyle takes very good care of her skin and her skincare routine can only be described as rigorous. Before we explore her routine and the products she uses be aware that she has openly admitted to getting botox and undergoing laser surgery.
Since she wears a lot of makeup, taking it off isn't always an easy task which is where products like the Clarisonic Skin Cleansing System come in handy. In addition to cleansing, Kyle uses a glycolic acid exfoliant, Nassif MD Peri-Orbital Complex eye cream, vitamin C infused skin brightening moisturizers, MAC wipes, and an assortment of serums.
To keep her skin looking young and free from the negative effects of piling on the makeup the socialite will also utilize the St. Ives Mineral Clay Firming Mask as well as the Glamglow Thirstymud Hydrating Treatment.
The products mentioned so far are relatively standard in the world of celebrity skincare, but that's not to say that Richards isn't into some weird and wonderful things on the side. For example, the celebrity indulges in three strange types of facials involving 24 karat gold, her own blood platelets, and electrical currents.