Lamar Odom is a former NBA basketball player, the owner of a music and film production company, an amateur boxer, the writer of an autobiography, and the ex-husband of Khloe Kardashian. We all know how their story ended, but how did it begin?
Only three weeks after their meeting, Lamar Odom and Khloe Kardashian got engaged. Lamar's proposal to Khloe was not much of a proposal and more of a conversation that ended up with the pair deciding to marry nine days later.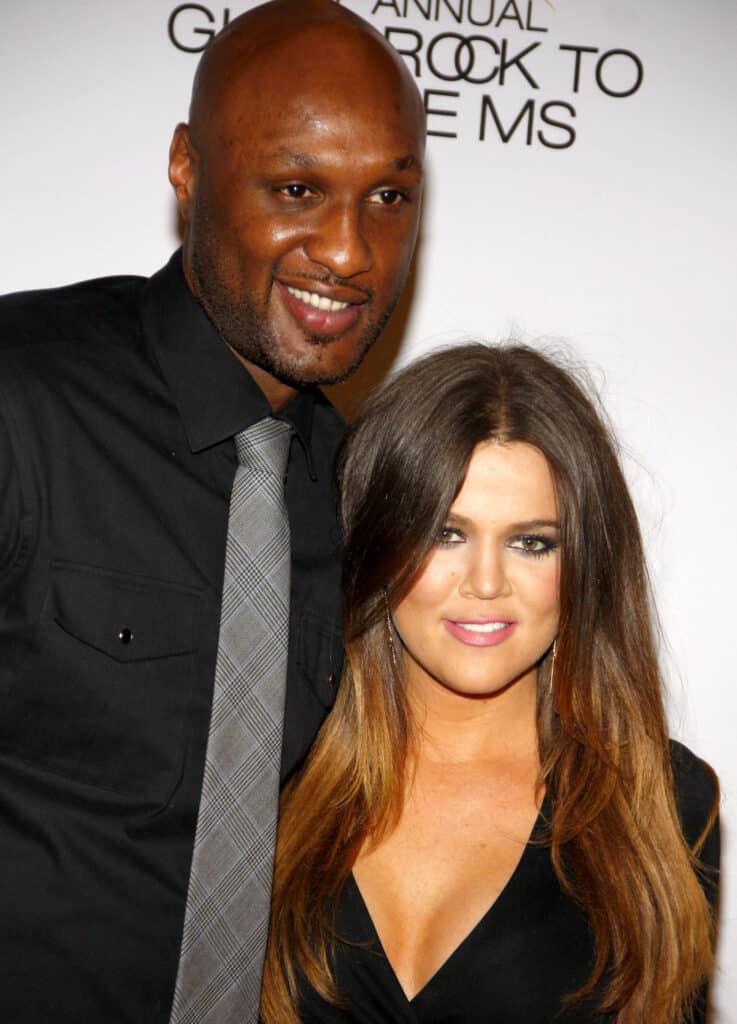 Let's pull back the curtain and take a look at how Lamar Odom and Khloe Kardashian met, how he proposed, and what their marriage was really like behind closed doors and away from film crews.
How Did Khloe Kardashian And Lamar Odom Meet?
Lamar and Khloe first met at the end of August 2009, at a party hosted by NBA star Ron Artest. Before this night, they had never met before and knew very little of one another.
Khloe says of her first encounter with Lamar, "The first time I met Lamar, I wasn't that down for him. It was typical — I was in a nightclub, he was a basketball player, I wasn't down for that whole thing."
She continues, "But once I got to meet him. His heart, his smile — I mean, I love everything about Lamar — but at first nothing really attracted me to him."
It was a little different for Lamar. He told Wendy Williams, "I didn't even know who she was when I met her. I went up and spoke to her, introduced myself. I fell in love. She's a beautiful person, inside and out."
The pair went on a handful of dates, but within three weeks of meeting and getting to know one another, Lamar had decided that Khloe was the one for him. Before he had even met all of her sisters, he was shopping for engagement rings.
How Lamar Odom Proposed to Khloe Kardashian
While of course there could have been a private proposal, details of such have never been revealed by either Khloe or Lamar.
As far as viewers of 'Keeping Up With The Kardashians' are concerned, there was no actual proposal. What started as a conversation about the idea of marriage between the two, turned into Lamar asking Kris Jenner for permission to marry her daughter.
Not everyone in their lives was happy for the soon-to-be newlyweds. One person, in particular, was Khloe's then-stepfather Bruce Jenner, now Caitlyn Jenner, who found out about the engagement on the news.
A few days after they decided to marry, and once the wedding planning was well underway, Lamar 'proposed' for real by asking Khloe "Have you ever been in love?" and presenting her with a ring while she was sitting outside with her close friend Malika.
Nine days after this proposal, and just one month to the day that they met, Lamar and Khloe married on 27 September 2009 at Irving Azoff's Los Angeles mansion.
In true Kardashian-Jenner fashion, their wedding ceremony was filmed and aired for the first episode of season 4 of 'Keeping Up With The Kardashians". The episode was titled 'The Wedding'.
Did Lamar Odom and Khloe Kardashian Have a Good Marriage?
Despite only knowing each other for a mere 30 days before tying the knot, Khloe and Lamar's marriage lasted much longer than anyone expected. The pair spent four years as a married couple, though they were officially married for seven.
A year after getting married, Khloe and Lamar starred in their own reality TV show called 'Khloe & Lamar', which ran for two seasons. In the show, fans could see that the pair was happy and very much in love.
As far as the public was aware, they had a marriage that was strong, serious, and filled with lots of love and candy baths. Sadly, it was not meant to be as the marriage started to crumble in 2013.
In 2013, Lamar was the subject of scandal after scandal — ranging from cheating allegations to DUI arrests. By December of that year, after just four years of marriage, Khloe had filed for divorce.
Though Khloe filed for divorce in 2013, due to Lamar's health issues, the pair only signed the divorce papers in July of 2015 and officially divorced on 17 December 2016.
In a 2016 interview with Howard Stern, Khloe opened up about her marriage saying, "I'm sure people would say it's a mistake for me, I wouldn't change what I did because it was also some of the best times of my life… It was just the most intense relationship."