There has been a lot of dramatic news in the past few years about the relationship between Cardi B and Offset. Still, they managed to work things out, but do you know how they got engaged?
Offset proposed to Cardi B in Philadelphia at the Power 99's Powerhouse Concert. The rapper got on one knee on stage and pulled out a huge 20-carat diamond ring.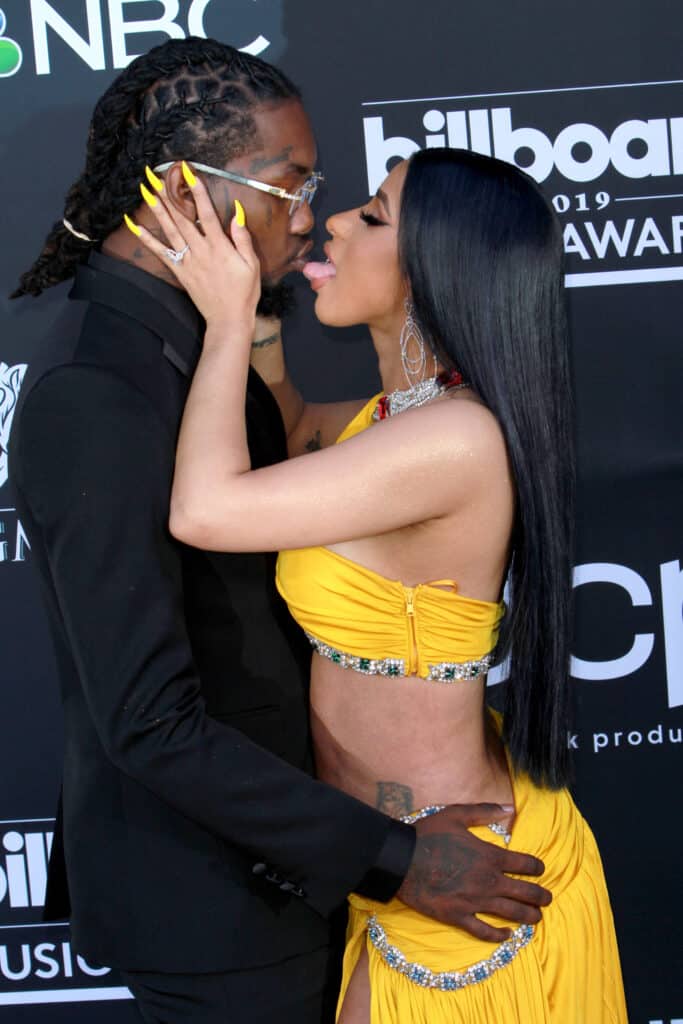 The couple made headlines in multiple magazines since the proposal and their relationship has gone through many ups and downs, too. Find out about that and more in the next post.
Public Proposal at a Concert
In 2017, the power couple appeared together for the first time at the Super Bowl. Although that was their first official date, it wasn't the first time they actually met.
Offset told Rolling Stone that he arranged a meeting with Cardi B's crew for a group hang in NY. He did this as a "power move" before the game so he could get a chance to meet the singer.
Their romance was a simple rumor until later in June when the singer spoke about it. Despite her ambiguity, Cardi B admitted that she was dating the Migos member.
She said that she was feeling blessed and motivated after meeting Offset. Then in October, the big day finally arrived.
Thousands of fans in Philadelphia got to see a romantic proof of love when Kiari Cephus, AKA Offset, kneel and ask Cardi B to marry him. It was a beautiful moment that fans immortalized in videos uploaded all over the internet.
In January 2018, someone leaked a video, in which you can allegedly see Cephus cheating on Cardi B.
This was the second video of the rapper's alleged infidelity; later Cardi B confirmed the veracity of the video. She went on Instagram and warned Offset what would happen if he did something like that again.
As time was passing by and the things between Offset and the performer of "WAP" were going OK, we received shocking news. Cardi B was pregnant with Offset's fourth kid; she made the announcement to the world on her debut on Saturday Night Live in April.
Are the Rumors True?
After Offset kept calling Cardi B his "wife," people started to make questions, and eventually, the truth came out. The singer of "Be Careful" told the press the whole story.
The pair got married in private a month before the public proposal at Philadelphia. When asked about it, Cardi B said that she wanted to live the experience of a public proposal.
This was one of her lifelong dreams and she didn't want to miss the chance to see Kiari on one knee.
Life as a Married Couple
Probably one of their most important moments as a married couple was when they welcomed their first child. It was a baby girl called Kulture Kiari Cephus.
The singer-rapper made the public announcement of her baby by uploading a photoshoot of her on Instagram.
Things were fine for the new family, but in December of that same year, Cardi B said that she and her husband had broken up. She explained that things were not working anymore and the pair decided to get a divorce.
Nonetheless, she admitted that all the arrangements for the divorce could take some time.
A few months later, the Grammy-award winner and Offset went together to the 2019 Super Bowl party and then again to the Grammys.
It looked like they were keeping things cool between them despite the divorce. In fact, on Offset's birthday, Cardi B uploaded a video, in which she gave him 500 thousand dollars.
The surprising birthday present was inside Offset's fridge as a pile of cash. She said that she didn't know what to give to a man who has everything.
Then they spent Mother's Day together as a family, and Cephus uploaded a picture of his family calling Cardi B his "wife" and thanking them. However, it looked like things were really over when E! Online obtained a few court documents with information about the ongoing divorce.
In October, Cardi B went live on Instagram and told everybody how things were. She also said that she got back with Offset and that even though living together was hard, she wanted to make things right.
Besides, Offset gave Cardi B a new Roll Royce for her birthday and she loved it.
Things were official when the singer-rapper dismissed her petition for divorce from the court.
We confirmed that she and the rapper were willing to try it one more time. Only time will tell.
What's Next?
After years of success, it looks like Cardi B doesn't have any intentions to hold back. The singer of "I Like It" says that her next album will surpass all her previous work.
When it comes to Offset and Migos, they work on their next great album and another collaboration with famous artists as well.