One of the most dazzling and dynamic celebrity couples are NFL superstar and Seattle Seahawks quarterback Russell Wilson, and Grammy Award-winning R&B singer Ciara, who officially tied the knot back in July 2016. The couple has had much to celebrate in their first several years of marriage, including the births of their daughter Sienna in April 2017 and their son Win in July 2020, but how did Russell Wilson propose to Ciara?
After the couple had been dating for about a year, Russell Wilson proposed to his girlfriend Ciara, and the two of them were married in an incredibly romantic setting in the English countryside. From the beginnings of their relationship to Wilson's widely publicized proposal and their present life as a married couple, the two have developed one of the most iconic and inspirational relationships in celebrity culture.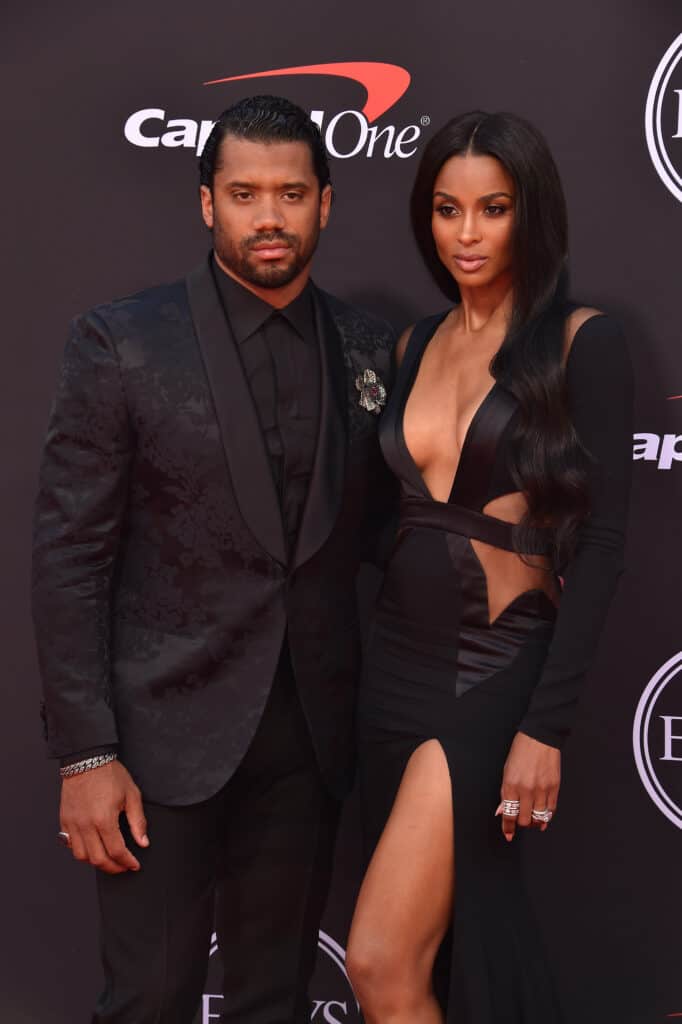 The Couple
In Spring 2015, President Barack Obama and First Lady Michelle Obama hosted a Japanese state dinner at the White House. The guest list for this prestigious event included Japanese Prime Minister Shinzo Abe and his wife Akie, award-winning television producer Shonda Rhimes, and famed Star Trek actor George Takei.
Also in attendance were Russell Wilson and Ciara, who made the dinner their first public appearance as a couple. While Wilson had been accompanied by his grandmother at the White House Correspondents' Dinner just a few days earlier, he brought his long-rumored girlfriend Ciara to this event instead.
Before the two began dating, both Wilson and Ciara had been in serious relationships. Ciara had been engaged to the rapper Future, with whom she had a son named Future Zahir Wilburn, while Wilson was previously married to his college sweetheart Ashton for two years before it ended in divorce.
One of the ways in which the two connected was their mutual love for children. This was particularly appealing to Ciara, whose son was still an infant when she began dating Wilson.
Wilson and Ciara are also both devout Christians. The two have been very vocal about their faith, and Wilson shared in an interview with The Rock Church in San Diego, California that he and Ciara had agreed to remain celibate until they were married.
The Proposal
On March 11, 2016, about a year after the two began their relationship, it was confirmed that Russell Wilson and Ciara had become engaged. Rather than simply popping the question, Wilson whisked his girlfriend away to a glamorous resort on the North Island of Seychelles immediately after Paris Fashion Week.
Ciara was unaware of their destination and was stunned when she and Wilson landed at this exclusive vacation spot. North Island has been known for a long time as a popular hub for celebrity couples and even royalty.
Prince William and Princess Kate spent their honeymoon at North Island. Other famous couples who have vacationed there include David Beckham and Victoria Beckham and Brad Pitt and Angelina Jolie.
At a private spot which is quite fittingly known as "Honeymoon Beach", Wilson proposed to Ciara and presented her with a 16-carat engagement ring. She eagerly accepted his proposal and shared a video on Twitter of herself and Wilson almost immediately afterward:
The Marriage
Much like their proposal, Russell Wilson and Ciara's wedding was held in a romantic international setting. While their proposal took place at a tropical island getaway, their wedding was at a Victorian estate in the countryside of England.
On July 6, 2016, Wilson and Ciara were married at Peckforton Castle in Cheshire. For the ceremony, Ciara wore an exquisite wedding gown designed by Peter Dundas, the creative director at the Italian fashion house Roberto Cavalli.
The ceremony was attended by 100 of the couple's friends and family members. Singer Kelly Rowland and tennis player Serena Williams were among those present and served as two of Ciara's bridesmaids.
Just three months after the wedding, Ciara announced that she was pregnant with her and Wilson's first child together. On April 28, 2017, Ciara gave birth to a baby girl, who they named Sienna Princess Wilson.
In January 2020, Ciara revealed on Instagram that she and Wilson were expecting their second child together. On July 23, the couple welcomed a baby boy, who they named Win Harrison Wilson.
Ever since the day of their wedding, Russell Wilson and Ciara have continued to build their new life together. Despite their busy careers, the two have dedicated themselves to raising their family and seem to be happier than ever.