Zayn Malik is an English singer and songwriter, popularly known as a member of the former boy band group, One Direction. Born and raised in Bradford, England, he decided to audition as a solo contestant on The X Factor in 2010, which ultimately led to the establishment of the group One Direction. He left the group in 2015 and has since then been a solo recording artist with RCA Records.
Zayn Malik proposed to former fiance, Perrie Edwards when they were watching a movie with his mother, her mother, and Zayn's two best friends in their back garden. He arranged a fun outdoor movie night and decided to then pop the question.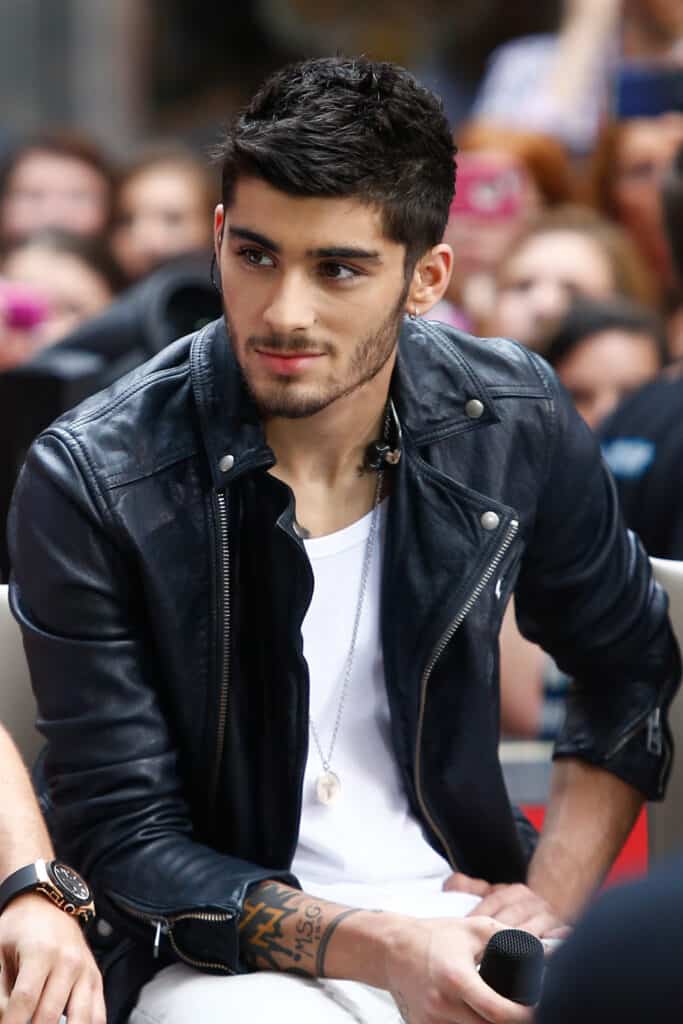 Zayn Malik and Perrie Edwards did not share their relationship publicly until 2012, and the couple broke up in 2015. Zayn also left the 1D the same year and distanced himself from his band boys, taking on a new stage in his life.
He is now in a relationship with Gigi Hadid and the couple is expecting a baby.
Zayn Malik and His Luck With One Direction
Zayn Malik started in music at a young age and got lucky with his success in the industry with the popular former boy band, One Direction. To date, One Direction is one of the most successful boy bands in music history, and although the band has broken up, Zayn has continued making music as a solo artist.
Zayn is of Pakistani-English descent, and from Bradford, a smaller town in the county of West Yorkshire in Northern England. As a child, Zayn was exposed to music and as a teenager, he took performing arts courses and took part in school productions.
Zayn Malik decided to take his talent for the arts to an even bigger stage at age 17, when he auditioned for the seventh season of television competition, The X Factor in 2010. He sang "Let Me Love You" by Mario in the preliminary round, and was accepted into the next round.
He was eliminated before the last round, but the judges decided to group him with other young artists, Harry Styles, Naill Horan, Liam Payne, and Louis Tomilson to perform together for the remainder of the show.
Little did they know that the boys would be more successful than they ever could've imagined.
As finalists on the show, they became one of the most popular acts and after finishing in third place, they signed with Simon Cowell's music label, Syco.
The group was officially formed and named "One Direction". The group topped music charts right away with their very first single, "What Makes You Beautiful" in Septer 2011.
After five years together, Zayn decided to leave the band and become a solo artist. Although fans were upset, he did what he felt was best to take his career to the next level.
His first solo single was "I Don't Mind", followed by more popular singles such as "Pillowtalk" and "It's You". His first album reached number 1 in both the UK and the US.
He continues to make music, with his latest album being released in January 2021.
Zayn Malik and Perrie Edwards's Former Relationship
Zayn Malik and also former X Factor contestant, Perrie Edwards, first met in 2011. The pair started dating in 2012, keeping their relationship private for a period of time. In 2013, the couple was already engaged before splitting up in August of 2015.
Perrie Edwards is an English singer and member of the girl group, Little Mix.
Zayn told some fans the details of how he popped the marriage question to Perrie Edwards during a soundcheck for a One Direction concert. He stated that he had planned to ask for her hand in marriage in front of both of their moms, so he arranged a movie night for all of them.
The movie night occurred in their back garden and waited until the perfect moment to ask.
Of course, Perrie had to say yes to one of the biggest heartthrobs during this time!
The couple did have a tumultuous relationship, however, with cheating rumors being spread around about Zayn having more than one girl in the picture during his nights out. Of course, the rumors were denied, but everything started to go downhill after Zayn decided to get a tattoo of Perrie.
The couple eventually broke up in 2015, and the tattoo was removed. Zayn decided to part ways with One Direction, followed by parting ways from Perrie, as well.