Winner of an Academy Award, Golden Globe Awards for three consecutive years, and one of the highest-paid actresses of Hollywood, Angelina Jolie has millions of followers admiring and rooting for her beautiful features and well-toned body.
Jolie's workout regime and diet vary with different role demands of her movies and public appearances. The brunette beauty follows an intense circuit training routine in which she practices a combination of 2 to 3 sets of 10 to 15 repetitions of different exercises in every workout session.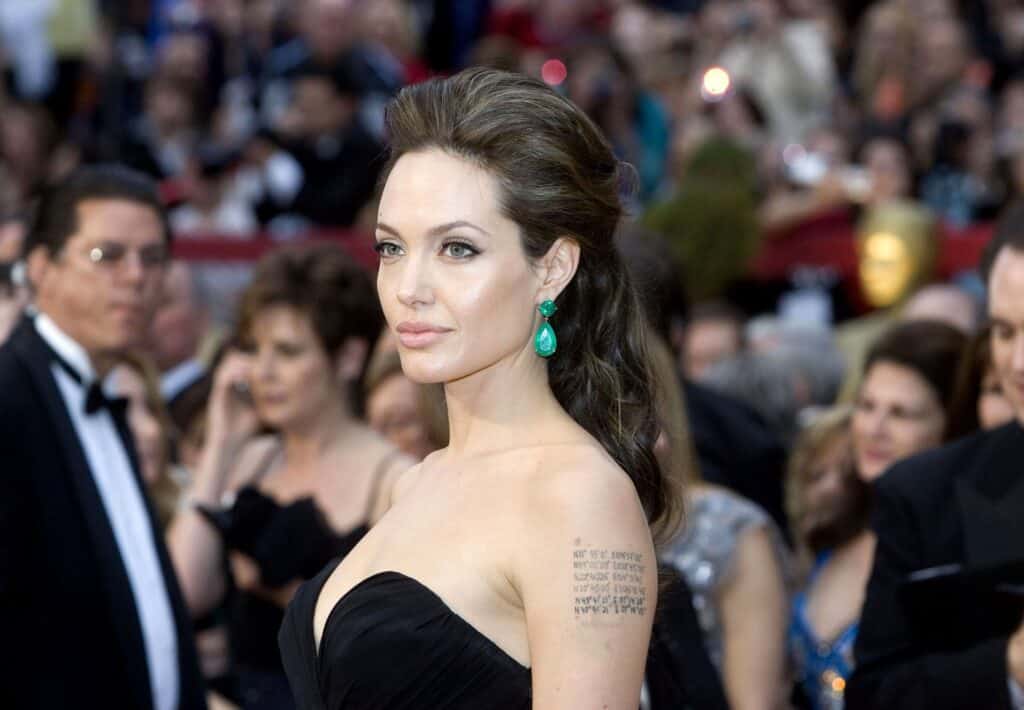 Along with rigorous workouts, Jolie sticks to a healthy diet plan consisting of portion-controlled fiber-rich and low calories food. As she is an 'action' genre actress, she has received training for sword fighting, military weapons, horse riding, and diving.
Gunnar Peterson is the personal trainer of Angelina Jolie. He also happens to be a personal trainer of a few A-list Hollywood celebrities including Dwayne 'The Rock' Johnson, Billy Dee Williams, and Jennifer Lopez. 
Circuit Training
During a conversation with Pop Workouts, Peterson revealed details about Jolie's workout regime. To keep herself fit, she practices circuit training along with aerobic exercises.
Circuit training is a combination of muscle strength and cardio exercises. It enhances metabolic rate, develops a fighting spirit, and tones overall body structure.
Jolie performs high-intensity interval training by alternating her focus on different muscles between different days.
As on Mondays, she generally focuses on the training of her legs, arms, abs, and back whereas on Tuesdays her exercise regime revolves around toning muscles of the chest, shoulders, arms, and abs. Her circuit training is followed up by aerobic exercises.
Jolie uses 5 to 10 lbs. dumbbell weights while doing squats, rows, bicep curls, and lunges. Her High-Intensity Interval Training (HIIT) stretches up to thirty to forty-five minutes.
Although Jolie is not a big fan of Yoga, however, she practiced muscle toning yoga exercises for the flying scenes in her biggest commercial success 'Maleficent'. In an interview, she mentioned that she had no patience for yoga exercises, but she had to train for them as they help develop core strength. You can check out this entertainment news as follows:
Diet Regime
Whilst being the main lead in the action-packed movies like 'Lara Croft: Tomb Raider', 'Wanted', 'Salt', and 'Mr. and Mrs. Smith', Angelina maintained her body shape by following a healthy diet regime in addition to intense workouts.
Jolie has a portion-controlled high protein and fiber-rich diet. She consumes soy milk, steamed vegetables, and steamed meat. She has also cut down her sugar and caffeine intake.
For high-intensity action sequels preparations, she used to abstain from smoking and drinking.
Jolie exclaimed that she is naturally slim with a small appetite. Soups and protein shakes are her favorite go-to food.
Preparing for 'Lara Croft: Tomb Raider'
'Lara Croft: Tomb Raider' was one of those films that gave Angelina Jolie international fame and brought her under the limelight.
Whilst preparing for the popular video game adaption 'Lara Croft: Tomb Raider', Angelina had to build up her stamina for various athletic and action stunts.
In an interview with Paul Fischer, Angelina spoke about how she underwent training from two and a half months before filming and then throughout the shooting of the film for eight months.
Angelina had to go through special weight training and adapt to a healthy dietary regime. Her strength training ranged from kickboxing, diving, bungee ballet to military weapon training to boost her stamina and strength.
For developing muscle strength, her diet consisted of a high protein and low carbohydrate diet to develop muscle density and gain physical strength. She took different vitamins, teas, and protein shakes to build appropriate muscle mass.
She also practiced yoga for muscle toning and body relaxation. You can watch how Angelina trained for the movie:
Returning to Pre-Pregnancy Weight
Throughout the globe, masses admire and envy Jolie's impeccable shape.
As per a few reports, she had only put on 25 pounds during pregnancy and those were easily lost through breastfeeding and moderate diet after the delivery of her baby Shiloh Jolie-Pitt.
Jolie's Cancer Preventing Surgery
Jolie was at high risk for breast and ovarian cancer as she carried a mutation in the BRCA1 gene. She underwent a preventive double mastectomy and removed her ovaries and fallopian tubes too.
Even after facing this turmoil, she maintained her workout routine with an enhanced focus on her diet. Jolie's doctor informed in an interview that Jolie's diet now comprises vegetables, antioxidants, superfoods like turmeric, flaxseeds, and soy products.
Angelina Jolie is a composition of beauty, grace, and talent. She is also one of the most famous humanitarians of current times as well.
Sticking to her workout regime and diet would be an ardent task but you may give it a try to develop a well-toned body.