Paul David Hewson, better known as Bono and the lead singer of the insanely popular rock band U2, has been in the spotlight of the public eye for many decades now, and while there's no denying he's getting older, he always seems to look like he's in good shape. So, how does it do it?
Bono doesn't really do anything to stay in shape. There are no U2 or Bono exercise routines or gym workouts, and many health problems throughout his career mean that physical activity has been limited. We can only assume he has a typical diet, but his movement on stage perhaps accounts for something.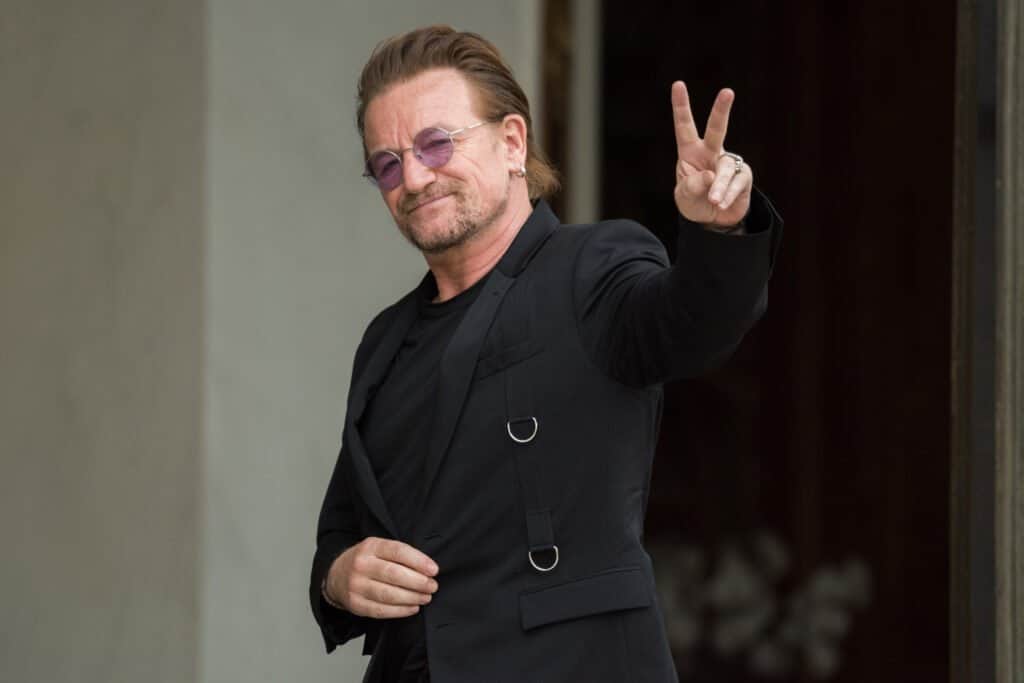 Today, we're going to be zeroing in and focusing on Bono's health, his lifestyle, and even covering his near-death exercise. Let's jump straight into it.
Why The Sunglasses?
Perhaps what Bono is best known for is his iconic sunglasses, which he never seems to take off, even when it's nighttime. While we thought this was just for style, we soon found out that Bono actually lives with a condition known as Glaucoma.
This is a medical condition where the person's eyes are very sensitive to light, and even a flash can leave the person's eyes feeling very blurry and out of touch, which can not only be irritating but may even pose safety issues, such as the person suffering migraines or not being able to see where they're going.
This obviously comes with all kinds of side effects.
In an interview with the Rolling Stone magazine, Bono said;
"…very sensitive eyes to light. If somebody takes my photograph, I will see the flash for the rest of the day. My right eye swells up. I've a blockage there so that my eyes go red a lot. So it's part vanity, it's part privacy and part sensitivity."
For a celebrity who spends a lot of time in the spotlight (literally) and has his picture taken everywhere, it's amazing that Bono has come as far as he has.
Exercising on Tour
It would be so easy for anybody to get caught up in what they're doing and end up not exercising properly, but not Bono. Many fans report that Bono was a regular attendee of gyms and was frequently seen jogging while out on tour, but these reports date all the way back to 2001.
In addition to this, it's estimated that singing and dancing can burn hundreds of calories an hour, and judging by the high-octane energy that Bono bought to his performances, he probably wasn't far off a 1,000 calories a set, all burned just being on stage.
As you can see from this performance, Bono certainly puts a lot of energy into his performance, and it's clear to see why the crowds of the world love him so much.
However, there's no information on gm routines or circuits that Bono follows on a day-to-day basis. At some parts of his career, around 2010, he declared that he was actually a little overweight, but nothing more was heard from it since.
Health Problems
Just because Bono is famous, that doesn't mean he's living a carefree life. Oh no.
Back in 2010, while preparing for his ongoing world tour with U2, he suffered a spinal injury and was rushed to the German hospital in Munich for neurosurgery. With this, the North American part of the tour was postponed until later in 2011, but Bono was able to make a full-ish recovery.
Fast forward to November 16, 2014, Bono found himself involved in what the tabloids called a 'high energy bicycle accident.' Bono was out cycling (possibly for fitness), where he swerved to avoid another rider and crashed.
He was immediately rushed to New York-Presbyterian Hospital, where he had many X-rays and ultimately five hours of surgery. The report says that he fractured his shoulder blade, orbit and pinky finger, and humerus. There was even a nerve trapped in the break when the bone moved (lovely, we know), which had to be repaired using three metal plates and up to 18 screws.
Bono posted on the U2 website that while he was doing fine and recovering, he may never be able to play guitar like he used to again.
As you can see, Bono has been through a lot physically, so we don't blame him if he's not jumping on the treadmill and putting the pedal to the metal. However, whatever his shape is, there's no denying he's still adored by millions of fans around the world.