Michael Phelps is decorated with so many Olympic medals that you'd probably do yourself a pretty serious back injury if you wanted to show them all off at once. He was apparently born to be in the water, as he is one of the most decorated swimmers of all time, but just how fast is he?
Michael Phelps' reported top swimming speed is 5-6 miles per hour. This swim speed makes Phelps one of the fastest swimmers to have ever lived, holding a variety of different Olympic records to back up the fact.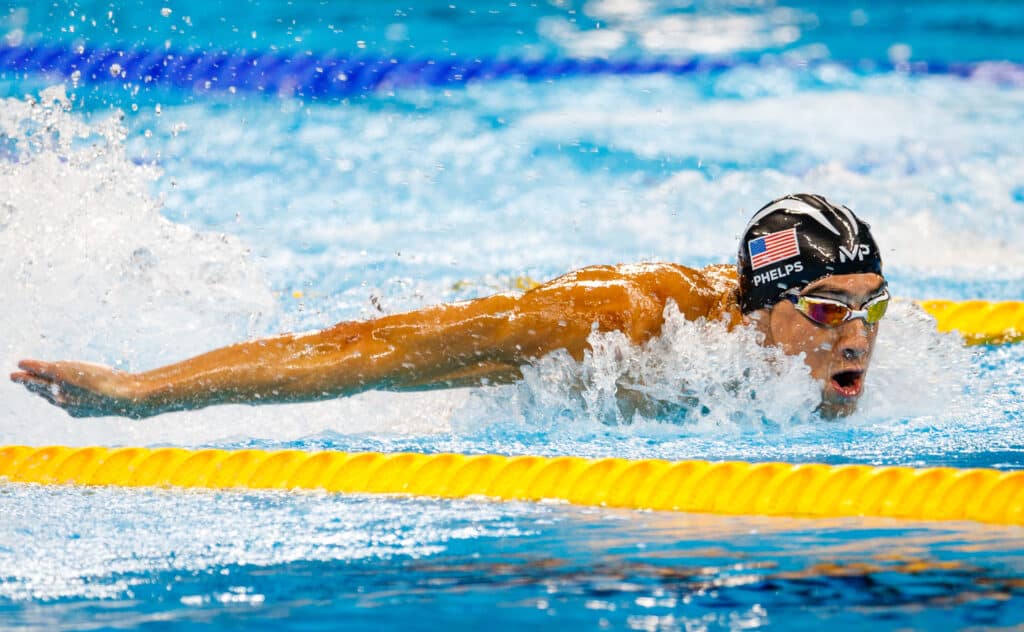 Although it's hard to imagine just how fast 6 miles per hour is, Phelps is probably so fast in the water that he could finish a race two or three times before the majority of people had finished once. There are also more than 20 Olympic medals if that's more convincing.
What Affects Swim Speed?
Phelps has separated himself from his competitors by an almost insurmountable gap, his seemingly peerless career performance in the sport putting him into the running in the discussion for not only the greatest swimmer of all time but the greatest athlete.
Although an argument could be made that it's simply Phelps' hard work and dedication that separates him from the rest of the pack, it's hard to imagine that other athletes at the Olympic level wouldn't have the same kind of dedication and ferocity in their passion for the sport.
So, assuming an equal level of training and commitment to improvement, exactly what is it that causes Phelps to be so far ahead of his competition?
Phelps has a number of genetic variances that are possibly instrumental in his phenomenal swim speed, like his body to leg ratio and the broad shoulders or 'wingspan' of his body. There's also the fact that his ankles are double-jointed, acting like natural, size 14 flippers.
Although things like this could be theorized to assist in the water, other record-holders and stand-out champion swimmers with similar swim speeds don't possess the same kind of attributes and still manage to find great success in the sport.
An interviewee in one article put the likelihood of increased swim speed and fluidity in the water down to what he described as "locomotive genius", essentially just that Phelps has a better understanding and control of how to move his body as efficiently as possible while in the water.
Comparison to Other Swimmers
With the speeds that he has managed to achieve and the records he has managed to break, it's no wonder that he has a nickname like "The Baltimore Bullet". Although a lot has been said about his achievements, it wouldn't be fair to say that it was never close.
For example, at the 2016 Summer Olympics, Phelps' last event before he retired, in the race that many regarded as being his strongest, one of his competitors was barely more than a few tenths of a second behind him on the clock.
For now, however, Phelps still holds many of the records that he originally broke, especially in the freestyle races. In every freestyle relay, the record still belongs to him, as well as a few others in individual medleys and the butterfly.
Some of his records that he set long ago have only just begun to be broken now in recent years.
Phelps definitely belongs on a list of greatest swimmers of all time, if not at the top of it, together with the likes of Mark Spitz, another swimmer decorated in more gold than many of us will ever see in a lifetime.
Another contender for the spot would be Dara Torres, who successfully managed to snag more than one Olympic medal despite being at the age of 41, by far the senior in comparison to any of her other competitors.
Phelps vs Shark
If you remember back to when you were a child, you might remember asking yourself questions of your heroes that set insane expectations, questions like, "Could they beat a shark?"
Somebody, somewhere, with enough clout to get a TV spot dedicated to it, clearly had the same question of Phelps.
Clearly, it was madness, what with sharks swimming at around 20-30mph. It does say something about the kind of legacy that Phelps has left, however, that there wasn't much human competition left.