Meghan Markle, Duchess of Sussex has a stunning engagement ring that is fit for a princess. That makes sense since the ring came from a prince.
Meghan Markle's engagement ring is three-carats. It was designed by Prince Harry who sourced the main diamond on the ring from Botswana. The ring also features two smaller diamonds that were previously owned by Princess Diana. The Queen's favored jewelers, Cleave & Co., were used to bring Harry's vision together. In 2019, Harry and Meghan had the band redesigned.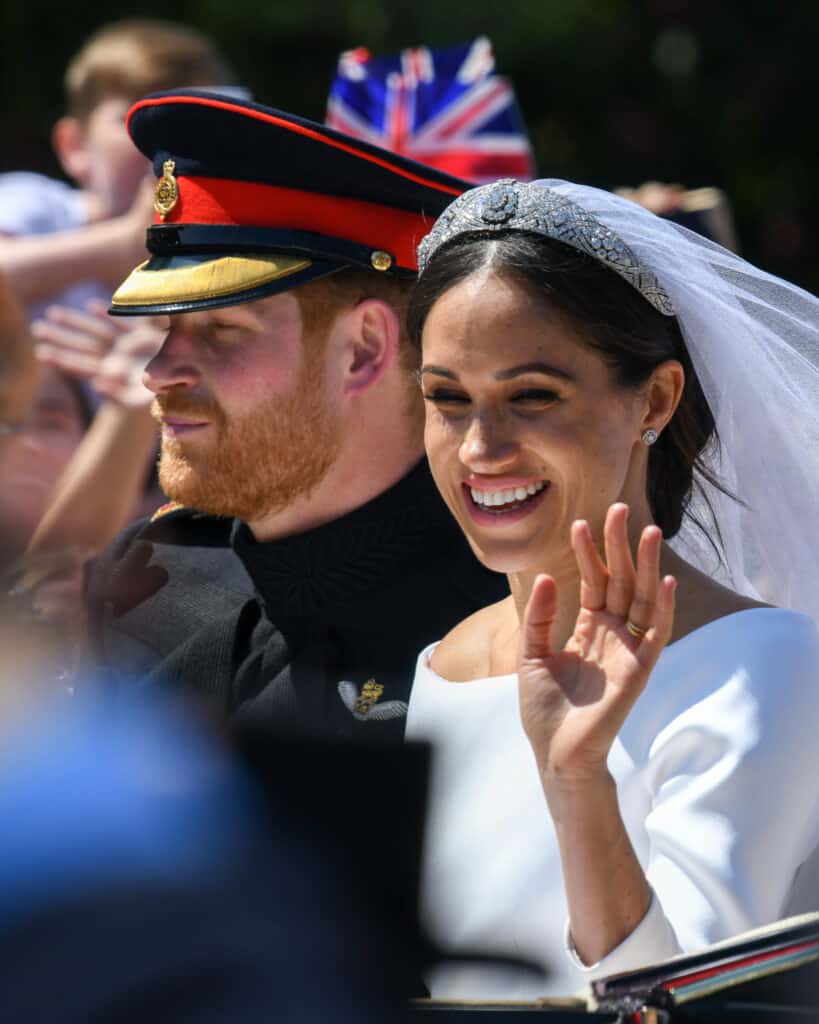 Scroll down to read more about the design of Meghan Markle's engagement ring, how Prince Harry proposed, and how the ring was redesigned.
The Design of the Meghan Markle's Engagement Ring
Markle's engagement ring features a three-carat cushion cut diamond at its center. It is accentuated by two smaller diamonds that once belonged to Prince Harry's mother, Princess Diana of Wales.
In an interview with the BBC (as reported by Town & Country), Prince Harry said that "the little diamonds either side are from my mother's jewelry collection, to make sure that she's with us on this crazy journey together."
This sentiment is clearly something that his older brother shares with him too. That's because Prince William proposed to Kate Middleton with Princess Diana's engagement ring from Prince Charles.
In fact, the ring that Meghan Markle was given as an engagement ring could have looked a lot different if it weren't for Prince William. Prince Harry was originally the owner of Princess Diana's engagement ring.
Hello! Magazine reported that the engagement ring was something that Prince Harry took as a keepsake to remember his mother by. This was after she died in a fatal car crash in 1997.
It was in the Amazon Prime documentary The Diana Story that Diana's butler, Paul Burrell told the story of how each son picked a memento to their mother after her death. Prince William chose to take her Cartier Tank watch because it was a gift to her from their grandfather.
However, Prince Harry chose to take her engagement because it used to hurt him when they held hands. It was a sentimental memory to him.
When things got more serious with Kate Middleton, Prince William asked Prince Harry if he could trade the watch for the ring as he delighted in the possibility of the ring one day being on the throne. Harry obliged.
If Harry had not, it is more than likely that the massive sapphire ring that is encrusted by 12 diamonds and costs over $500,000 would be sitting on Meghan Markle's hand.
The diamonds on Meghan Markle's engagement ring are set on a yellow gold band, which Prince Harry has stated is Meghan's favorite. Her ring is estimated to cost around $350,000.
How Prince Harry Proposed
Prince Harry didn't do a crazy bespeckled proposal like what you would expect from a Prince in a movie. His proposal was very simple and cute.
In a BBC interview that was transcribed by Town & Country, the two recalled how they were trying to roast a chicken one night while staying at their cottage. While in the process of making dinner, Harry got down on one knee and popped the question.
According to the couple, he didn't even manage to finish asking her to marry him before she was asking if she could say "yes." Meghan was so happy that she even completely forgot about the ring.
You can watch the full BBC interview with Prince Harry and Meghan Markle discussing their engagement below.
Prince Harry Redesigns Meghan Markle's Engagement Ring
The engagement ring that Prince Harry gave to Meghan Markle is absolutely beautiful. However, its beauty did not stop the Duke of Sussex from deciding that he wanted to tweak the design a bit.
In 2019, many news outlets were quick to notice that the massive engagement ring was missing from the Duchess of Sussex's finger. Many thought that it was removed due to her pregnancy and needed to be resized.
However, it soon showed back upon her finger but it looked a little different. The yellow gold band had been replaced with a micro-pavé band.
Micro-pavé is a style of band that features tiny diamonds set into the band. Prince Harry had the redesign done by famous jeweler Lorraine Schwartz.
Harry had Schwartz also designed an eternity ring for Meghan Markle which featured her, his, and their baby Archie's birthstones. It was a gift for their one year anniversary.