Since the day she got engaged to Prince Harry, Meghan Markle has served as an inspiration to young women all around the world. She's constantly been under scrutiny — from her political views to her choice of makeup — and under the microscope today is her perfume.
Meghan Markle alternates between Oribe Côte d'Azur Eau de Parfum and Jo Malone's Wild Bluebell and Wood Sage & Sea Salt Cologne in her daily life. For special occasions — like her wedding day — she wears a custom-made perfume by the Queen's personal perfumer, Floris London.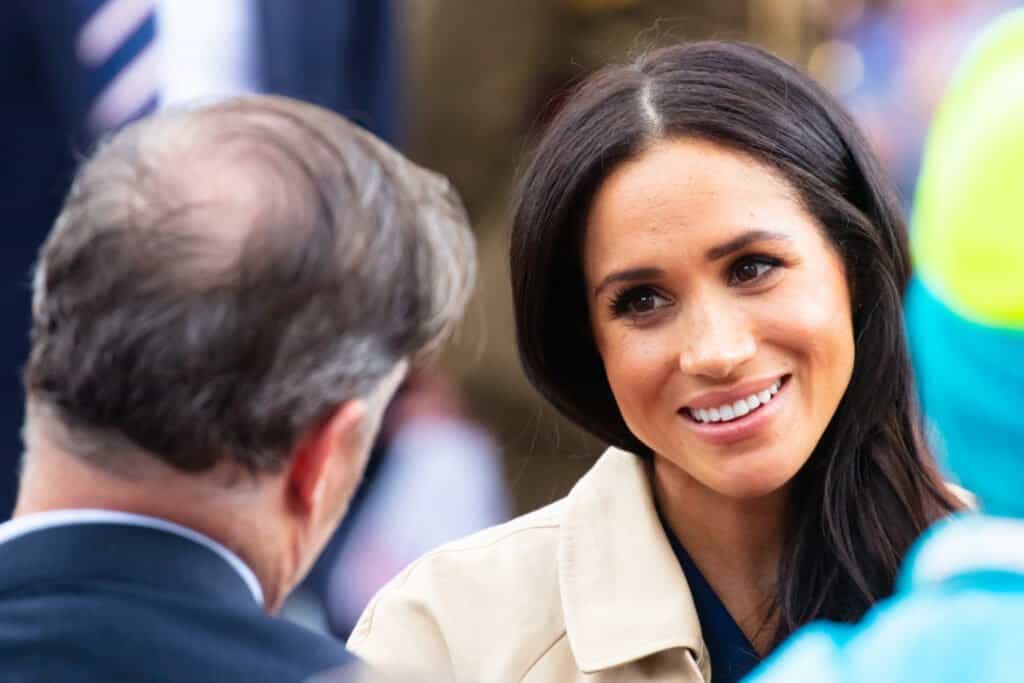 Though she may not be a princess anymore, Meghan still uses products fit for one. Let's find out what perfume Meghan Markle wears on a day-to-day basis as well as on special occasions, and how her spritzing habits have changed since leaving the royal family.
Meghan Markle's Favorite Perfume
Once upon a time, Meghan Markle was a blogger who shared all kinds of aspects of her life with her readers on The Tig. On this now-defunct blog, which Meghan described as her "passion project", she often shared travel advice, personal stories, and her favorite products.
As it turns out, Meghan is a bit of a fragrance fanatic. She once wrote, "Fragrance is my favorite thing, so much so that if I leave the house and don't put any on, I'll turn around and go back home."
Meghan's favorite fragrances are Oribe Côte d'Azur Eau de Parfum and Wild Bluebell and Wood Sage & Sea Salt Cologne by Jo Malone. She is known to alternate between the two scents depending on the occasion.
Oribe Côte d'Azur Eau de Parfum smells like bergamot, white butterfly jasmine, and sandalwood. This perfume, which is Oribe's signature scent, is classed as a floral scent with woody undernotes.
Wild Bluebell is a light perfume that has notes of clove, lily of the valley, jasmine, rosehip, white amber, musk, and — of course — bluebells. Wood Sage & Sea Salt smells like sea salt, sage, ambrette seeds, seaweed, and grapefruit.
At night time, Meghan switches to a deeper, more sensual, scent. It's thought that she opts for BLV II by Bvlgari which has notes of licorice, vetiver, musk, violet, and mandarin orange.
The actress turned duchess, countess, and baroness turned regular celebrity doesn't rely solely on perfume to smell nice. She uses WELLA Professionals Oil Reflections Luminous Smoothing Oil in her hair because "it smells like vacation."
What Perfume Meghan Wore on Her Wedding Day
Although the perfume Meghan wore on her wedding day does not have a name, that's about all that is a mystery. The custom-made scent was formulated and produced by Queen Elizabeth II's perfumers Floris London.
The famed Floris London has been handling the perfumery needs of the royal family since the 1800s. In addition to developing a perfume for Kate Middleton's wedding celebrations, they gift a bottle of perfume to Queen Elizabeth II every year on her birthday.
The fragrance was designed specifically with Meghan and her specific body chemistry in mind. Though completely original, it was largely inspired by Floris London's Beramotto di Positano perfume.
Beramotto di Positano is a complex scent with notes of green tea, orange blossom ginger, and bergamot. Meghan's wedding day perfume was created with "sea breeze, sunshine, and water" in mind and is described as being "crisp, clean, and airy".
Fragrance in the Royal Family
During official Crown duties, royalty is dissuaded from wearing perfumes of any kind. Myka Meier, an expert in modern-day royal etiquette, explains why.
Myka reveals "It is uncommon for Royals to wear any fragrance whatsoever. Fragrance is a very personal preference, and while one might enjoy their own personal perfume, the person they are meeting with may not."
She continues "Therefore, in professional situations, it is unlikely any fragrance, including both perfume or scented body creams, would be used." Of course, Meghan has made sure that this won't be a problem she ever has to face again.
Kate Middleton's favorite perfume is Jo Malone Landon's Orange Blossom Cologne. On her wedding day, she wore 'White Gardenia Petals' by Illuminum and fragranced Westminster Abbey with Jo Malone scented candles.
Queen Elizabeth II reportedly wears Guerlain L'Heure Bleue. This scent is known to be spicy and citrusy and has a pungent smell of aniseed, bergamot, and flowers.
Princess Diana wore Penhaligon Bluebell every day and opted for Quelques Fleurs by Houbigant Paris on her wedding day. The People's Princess's makeup artist, Barbara Day, revealed that she spilled the luxurious liquid on her wedding dress.