Meghan Markle blows everyone's minds away with her pose and style since long before becoming part of the British Royal Family. However, her flawless, natural makeup makes long-hard fans wonder all the time what makeup does Meghan Markle wear?
Meghan Markle wears regular makeup products and brands that you may currently use and can get in almost any drugstore. The list includes Maybelline lash sensational mascara, NARS Orgasm blush, and Fresh sugar advanced therapy lip treatment.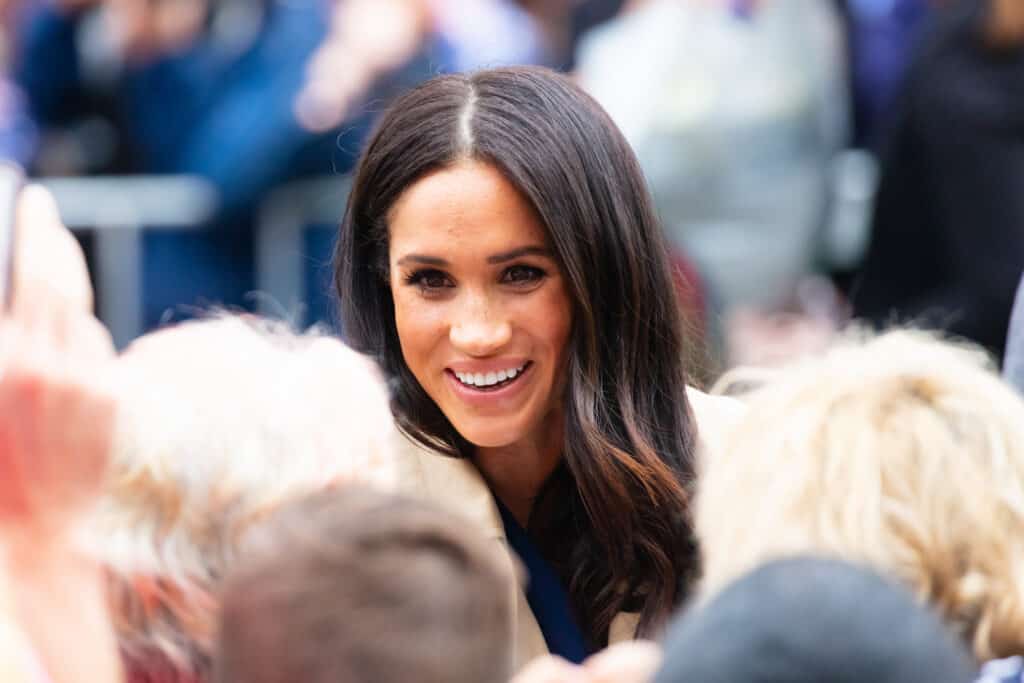 Meghan keeps herself down to earth despite being part of royalty. That shows in her makeup product selection. From taking care of her skin to the makeup products she uses, Meghan knows what she's doing to flaunt flawless makeup all the time.
Timeless Love for Makeup
Meghan is very honest in regards to her beauty and makeup routines. And you can learn from it, too. This covers every aspect of her makeup and style, including her skin, hair, and clothing style.
From using tea tree oil to avoid blemished skin to prepping her skin with a great primer, Meghan follows a religious skincare routine.
She's a loyal consumer of certain products that are responsible for her now characteristic natural, yet classy look.
For example, Meghan uses Fresh Sugar Advanced Therapy Lip Treatment to keep her lips kissable, hydrated, and soft all day long.
Meghan's signature look calls for a Matte Revolution Lipstick, using Very Victoria shade to finish her distinguished princess-like makeup. Look how celebrity makeup artist Spencer Barnes reveals what to use to achieve the same skin glows the Duchess of Sussex always has.
The Duchess has a dewy, glowy, and youthful-looking skin that makes both men and women go nuts about her. A combination of YSL's Touche Éclat All-Over Brightening Pen, and Make Up For Ever Ultra HD Microfinishing Loose Powder are responsible for it. These make her skin glow without making her look greasy.
In addition, using Laura Mercier's Foundation Primer Radiance makes Meghan skin be prepared before applying any makeup. This assures her skin is always radiant and will make the final result look even better.
Meghan uses Maybelline Lash Sensational Mascara and RevitaLash Cosmetics's Advanced Eyelash Conditioner. These products make her eyes look their best even with no make-up on.
To finish the entire look, the Duchess sprays Derma E Hydrating Mist With Hyaluronic Acid to set the makeup. Besides, this product adds a layer of moisture that's highly needed to keep healthy skin underneath.
Meghan's Style Tips
Meghan Markle is more than a pretty face, as her styling has been a staple for her since her acting career took over. From red carpets to royal events, the Duchess is still wowing people all over the world with her outfit selection.
Her sporty, yet classy, and sexy style has changed since she entered Harry's life and family. However, she is known for going a little bit against the rules of Royal protocol.
Meghan dresses and behaves free-spiritly, ignoring what the royal protocol dictates most of the time. From not using nude stockings to using an open-shoulder wedding dress, a loose hairdo, and bright lipstick shades, Meghan has done it all.
The Duchess of Sussex recommends women to get a pair of power pants, a short blazer dress, and adopt monochromatic looks when you want to feel stylish and powerful at the same time. In addition, Meghan says it's practical to buy your favorite pair of shoes in different colors to keep looking great without compromising color combinations.
A white button-down shirt is mandatory for Meghan. Or at least, it's what she swore by before entering the Royal Family. It makes you look elegant and it's possible to dress it up or down, to suit every occasion.
Also, trenchcoats, cardigans, and parkas are a fine addition to anyone's closets. Meghan loves wrap-coats, as they make her look sexy, warm, and comfortable while cinching her waist in a classy way.
American Duchess
Meghan Markle is part of a list of Americans that became part of international royalty. However, The Duchess of Sussex is the second American to enter the British Royal Family, right after Wallis Simpson. Simpson's a Baltimorean divorcee that bewitched King Edward VIII.
Unfortunately, Simpson entered history after King Edward VIII decided to abdicate the throne out of pure love for her.
Once a beloved Hollywood actress and now part of royalty, Meghan has a long life ahead of her with husband Harry and son Archie by her side.