He is considered one of the most devastating boxers in the history of the sport and became the youngest heavyweight champion in history. How did Mike Tyson train and how many push-ups could he do?
During his prime, Mike Tyson was expected to perform 500 push-ups each day, in 10 sets of 50. He did this six times per week, part of a calisthenics training program that saw him performing 15,000 push-ups in an average fight training camp.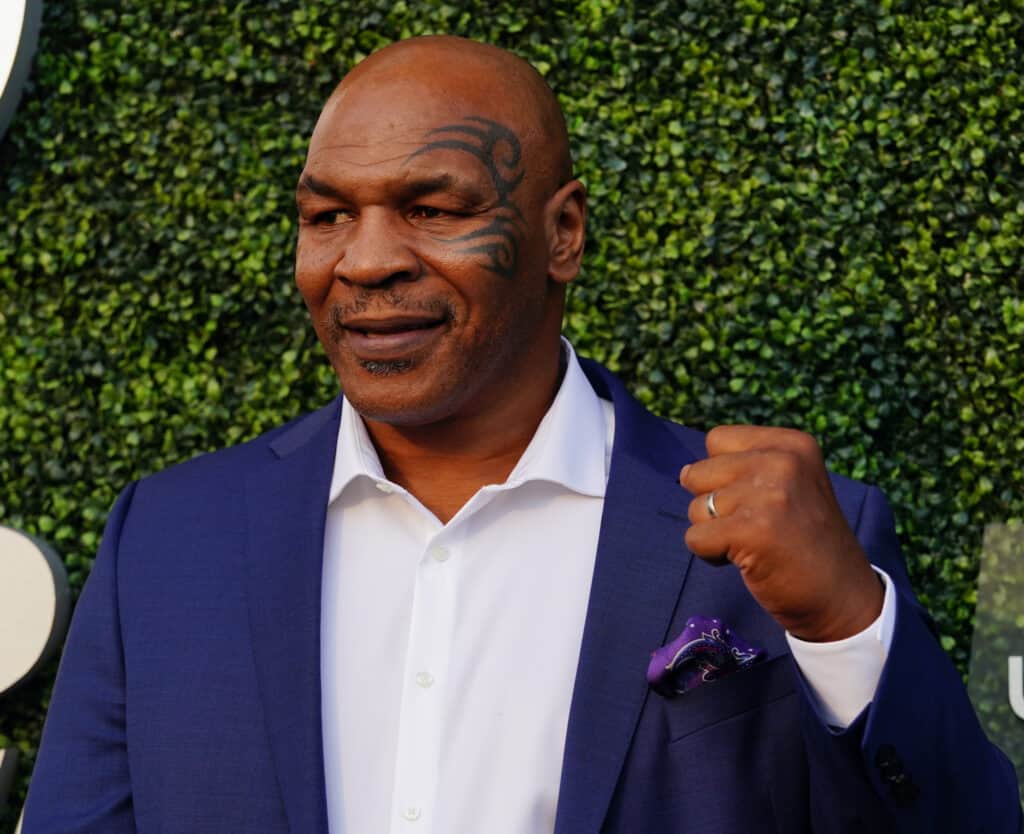 For more on Mike Tyson's training, life, and career, read on.
Training
When Tyson began training with Cus D'Amato, he was out of shape but had obvious physical gifts. Despite being overweight, he also had a strong frame and was muscular, having started lifting weights at the Tryon School for Boys reform school.
D'Amato instilled a sense of discipline in Tyson, both in and out of the gym. During fight camp, Tyson trained for 50-60 hours every week, with one rest day on Sunday.
Tyson sparred more than 200 rounds before a fight, without headgear. D'Amato believed that wearing headgear provided a false sense of security and that fighting without it encouraged boxers to be more alert.
Weightlifting was a small part of Tyson's routine and had little to do with his punching power. Instead, D'Amato had Tyson punch a large, 300lb heavy punching bag, building his hitting power to a terrifying level.
He was also told to jog three miles with a 50lb weight on his back in an attempt to prevent Tyson from growing too tall. D'Amato believed that he was already at his most effective height.
Tyson's calisthenics routine was brutal, expected to perform 50 push-ups, 200 sit-ups, 50 bench dips, and 50 weighted shrugs.
While this is an impressive amount, it isn't beyond the capability of a person with a strict workout routine. What makes Tyson's routine far more impressive is that he was expected to complete this set 10 times each day, six days per week.
As a result, Tyson performed 500 push-ups, 2000 sit-ups, 500 bench dips, and 500 weighted shrugs every day. His rest on Sunday was clearly well earned.
In a full training camp before a fight, this means that Tyson performed 15,000 push-ups, 60,000 sit-ups, 15,000 bench dips, and 15,000 weighted shrugs. It's no wonder that Tyson was one of the most physically imposing and powerful boxers in the history of the sport.
Mike Tyson
Michael Gerald Tyson was born in Brooklyn, New York on June 30, 1966. Tyson had a troubled upbringing, belonging to a number of street gangs in childhood and his early teens.
He was sent to a reform school and Bobby Stewart, a social worker, and former Golden Gloves winner, immediately saw his potential as a boxer. Tyson was sent to live with legendary trainer Cus D'Amato, who also became his guardian.
After an excellent amateur career that saw him winning gold at the 1981 Junior Olympics, Tyson turned pro in 1985. He fought with incredible frequency, winning 18 fights in his first 12 months as a professional.
In his second year, Tyson knocked out Trevor Berbick to win the WBC title, becoming the youngest heavyweight champion in history. Over the following 12 months, he defeated WBA champion James Smith and IBF champion Tony Tucker to become the undisputed heavyweight champion.
Tyson's coach and guardian D'Amato had died in 1985 and Tyson signed with promoter Don King. He continued dominating the heavyweight scene for three years but his marriage to actress Robin Givens ended with Givens accusing him of physical abuse.
In 1990, Tyson lost to James "Buster" Douglas via TKO, considered one of the greatest upsets in sports history. He regained his form quickly but was convicted of raping a beauty pageant contestant in 1992.
Tyson was released in 1995, having lost three years of his prime. He defeated champions Frank Bruno and Bruce Seldon to regain two of his belts but was stopped by Evander Holyfield.
One of the most infamous incidents in boxing history occurred in the rematch when Tyson was disqualified for biting Holyfield's ear. Controversy continued to taint the final years of Tyson's career and was defeated by Lennox Lewis and suffered defeats to journeyman boxers in his final fights.
He was inducted into the International Boxing Hall of Fame in 2011 and is widely considered one of the greatest heavyweight boxers of all time.