Mike Tyson is a former undisputed heavyweight boxing champion and is regarded as one of the greatest heavyweight boxers of all time. Once known as "The Baddest Man on the Planet," he rose up and dominated the boxing ranks despite not being considered tall. So, how tall is Mike Tyson after all?
Mike Tyson is 5 feet, 10 inches (1.78m or 177.8 cm) tall with a 71-inch(180 cm) reach.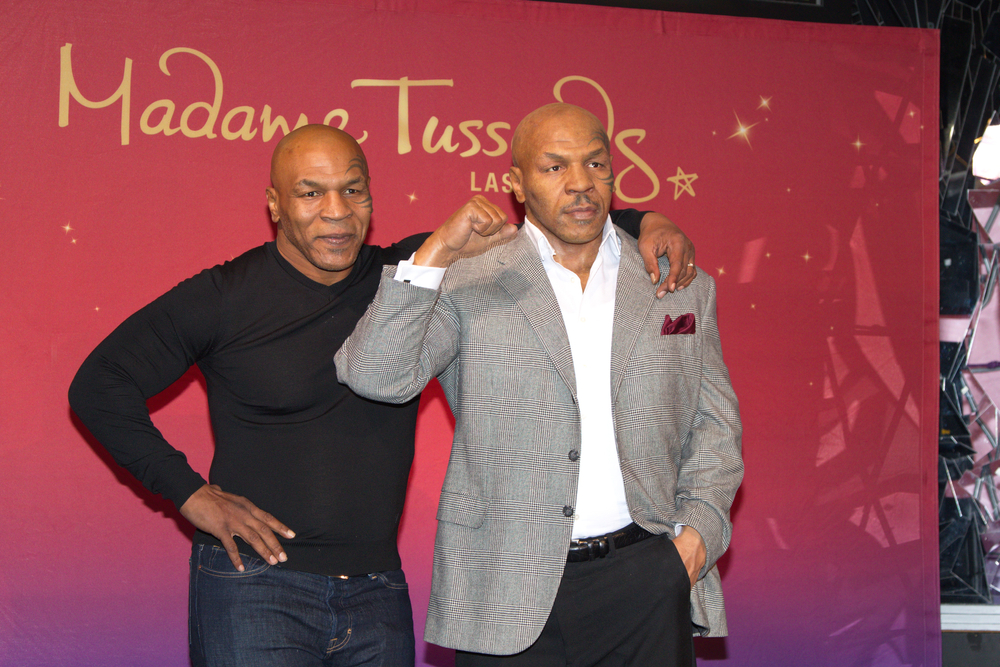 The youngest world heavyweight champion was one of the biggest attractions in all sports and entertainment from the mid-1980s to the 1990s. Let's check out what he is up to now.
What is Mike Tyson's boxing record?
Iron Mike has 50 wins, 44 of which were knockouts, 6 losses, and 2 no-contests. He was knocking opponents out left and right, some even in early rounds. The southpaw suffered his first defeat at the hands of Buster Douglas in 1990. Mike was the hottest boxer then at age 23 with a 37-0 record.
The event, Tyson is Back!, lasted 10 rounds with both fighters trading shots throughout. It ultimately ended with Douglas dealing a flurry of punches to knock Tyson out. Buster stood at more than 6 feet 3 inches with an 83-inch reach. Despite the physical advantages, he still came in as an underdog.
Did Mike Tyson go to prison?
Mike Tyson was also famous for his wild side out of the ring. In 1992, all the drama in his personal life finally caught up to him when he was charged and found guilty of the rape of Desiree Washington. 
He was sentenced to six years in prison but was released after serving three years of his sentence. He got out early for good behavior and was put on probation for four years.
After his release in 1995, he had a string of wins and got back to the top of professional boxing. He scored a TKO on Frank Bruno for the WBC heavyweight title and Bruce Seldon for the WBA heavyweight title.
Bite Fight
Evander Holyfield was the contender for Tyson's WBA heavyweight title. Similar to Buster Douglas, Holyfield had the height (6 feet 2+ inches) and reach (78+ inches) advantages but was also the underdog coming into the fight.
"The Real Deal" rocked Tyson in the closing seconds of the 10th round which saved him momentarily. The referee finally stopped the fight with Mike unable to defend the heavyweight championship in the 11th round. Holyfield was crowned as the new WBA Heavyweight Champion.
The two would meet again in 1997 in a much-anticipated rematch. The fight was going well with both fighters landing shots. Holyfield, however, was getting the best of clinches by throwing shots as they were separated by the referee.
This frustrated Tyson so much that, in the third round, he took a bite out of Holyfield's ear in the clinch. The match was stopped and Mike was disqualified.
Despite the biting incident, the two have maintained a friendship post careers.
Retirement
Mike would go on to a few more fights but he was never the same again. He had another shot at the top spot in 2002 when he went against Lennox Lewis (6 feet 5 inches). The UK fighter was just too much as he knocked out Tyson in the eighth round.
A face tattoo and a few disappointing matches later, Mike announced his retirement from boxing after his win over Kevin McBride in 2005.
Does Mike Tyson have a podcast?
Mike has had a successful resurgence in entertainment in the past years with appearances in two Hangover movies, playing himself as the real tiger king and voicing an adult animated TV series, Mike Tyson Mysteries.
Now, he is sharing all the wisdom he learned from his mistakes in the past through his podcast, Hotboxin'. The show features Mike in raw and unfiltered conversations with other celebrities and athletes.