Sylvester Stallone became one of the biggest action stars in the late 1970s and 1980s after he played Rocky Balboa. He has earned a lot of money since his role in the 1978 hit.
Sylvester Stallone makes anywhere from $10 million to $20 million a movie these days. However, for his first starring role in Rocky, he was only paid $23,000. He did make an additional $2.5 million in backend deals but the studio didn't want him to star in the film at all.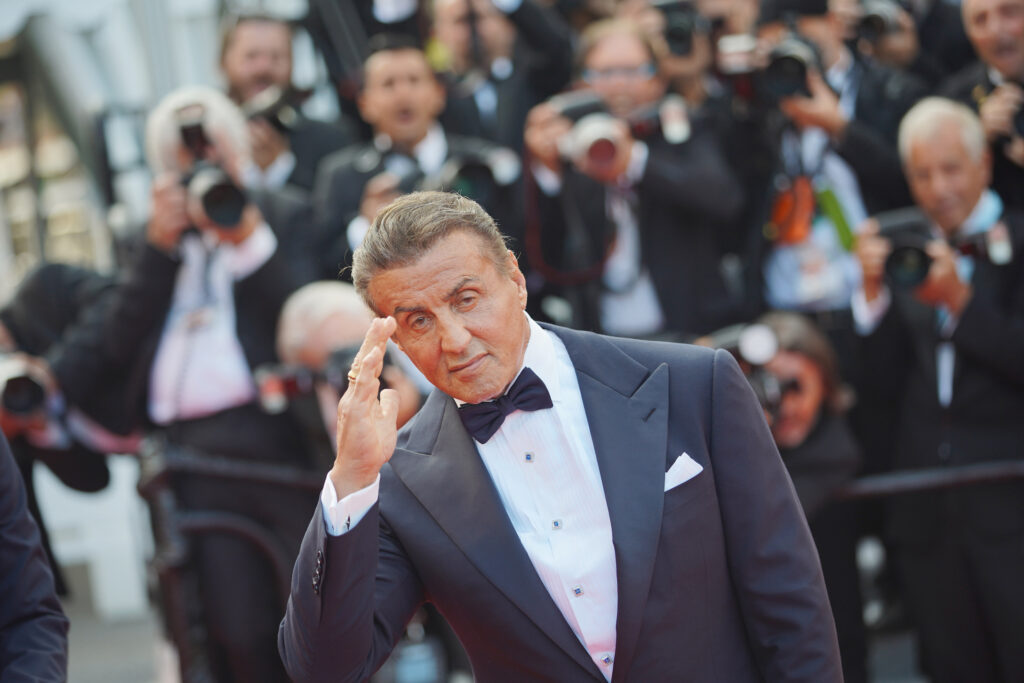 You can read more below about how Sylvester Stallone made it big with Rocky and what he has earned for some of his biggest roles.
Sylvester Stallone and the Making of Rocky
A lot of people aren't aware of the incredible story behind Stallone and his film Rocky. Before deciding to try and make it as an actor, Stallone attended the American College of Switzerland and then went to the University of Miami for theatre for two years before dropping out.
It was while he was still at university in Miami that Stallone had a role in a small drama. He also ended up starring in a softcore porno out of desperation for cash when he was evicted from his apartment.
From Miami, he moved to New York City where he continued to pursue his acting career, but to no avail. He failed to get a role as an extra in The Godfather and appeared in very minor roles through the early 1970s.
The only lead role he had was in an independent film called No Place to Hide (1973).
Stallone eventually picked up his life and moved from New York to Los Angeles to try to get more work there. However, again he was only cast in very small roles or as an extra.
That all changed when he watched a boxing match between Mohammad Ali and Chuck Wepner. He was so inspired by the fight that he went home and wrote the entire script for Rocky in three days.
Again though, he ran into problems. While studios wanted to buy his script, they didn't want him to star in it. At one point, Stallone was offered $360,000 for the script if he agreed not to star in the film.
He didn't accept even though he only had $106 in his bank account at the time. As he describes "I thought, 'You know what? You've got this poverty thing down. You really don't need much to live on.' I sort of figured it out. I was in no way used to the good life. So I knew in the back of my mind that if I sell this script. and it does very very well, I'm going to jump off a building if I'm not in it."
While this was happening, Stallone had to sell his beloved dog to a stranger to be able to eat. He said it was one of the hardest decisions he ever had to make.
You can watch the inspirational story of Sylvester Stallone in the below video from Chris Slonske.
Stallone wrote something so good that it couldn't be ignored. The studio eventually came back to him and said that they would give him a budget of $1 million to film Rocky and he could star in it. He only earned $23,000 for the role but he made a great backend deal that ended up making him $2.5 million.
Stallone's Starring Roles & Paycheck
As we all know, Rocky was a smash hit. It received ten Oscar nominations and ended up winning three of those for Best Picture, Best Director, and Best Film Editing. Stallone was even nominated for Best Actor and Best Original Screenplay.
The 1980s saw Stallone skyrocket to being a household name with Rocky becoming a franchise and then his role starring in First Blood (1982) which he was paid $3.5 million to star in.
Sylvester Stallone's earnings just got bigger from there. In 1983, he produced and starred in the film Staying Alive where he earned $10 million, and in 1984 he produced and starred in Rhinestone being paid $4 million.
When he produced Rocky IV (1985), Sylvester Stallone earned $12 million, and then his paychecks were consistently large. His two highest-paying roles paid $20 million each. They were for the film Driven (2001) and Eye See You (2002) which were massive flops.
His career did lull in the early 2000s but he did make a comeback and since made huge money with films like The Expendables.