Hollywood icon Sylvester Stalone is easily one of the most recognizable stars for his world-famous movies like Rocky and the Rambo movie franchise. Though he has long retired from the action scene, Sly has remained to look like he's still in his 50s.
Though nothing has been really confirmed from the longtime action hero himself, industry onlookers have narrowed down Sylvester Stallone's height to 5 feet 8 inches to 5 feet 10 inches tall (1.73-1.78 m or 173-178 cm).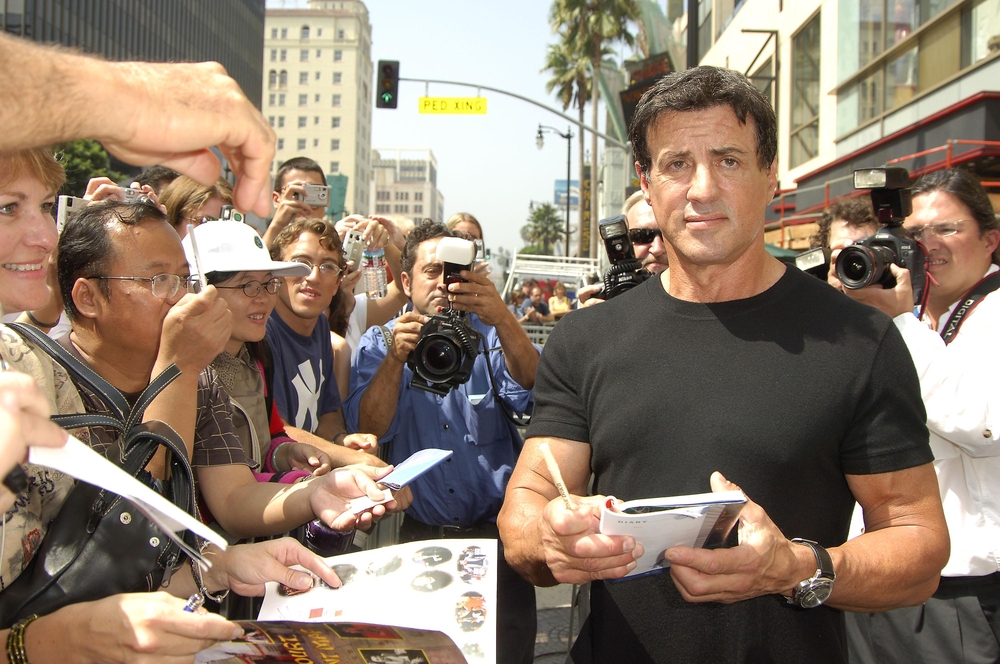 With his "hero" image and big personality, it's easy to assume that he's also physically tall or imposing. But fans were quite shocked to see him not towering over other actors when standing next to them. Nonetheless, his average frame doesn't take from his decades-long stardom.
Does Sylvester Stallone wear lifts?
It's interesting that an Italian shoemaker quipped to the Chicago Sun-Times that he has made Stallone 4.5 inches taller for 16 years. Though the identity of the shoemaker hasn't been confirmed, we could see in many celebrity height comparisons and star sightings that Stallone could one day be 2 inches short of 6 feet or sometimes 4 inches shy.
Not all celebrities are blessed with the ideal height. So in an industry that capitalizes on looking good, it is no secret that people, especially male celebrities, make use of shoe lifts and other styling tricks to elongate their appearance. It would be easier to be cast in lead roles when you're at a certain height, preferably taller than the average American man.
In Rocky's case, according to fellow action star Jean-Claude Van Damme, who claimed to be 5 feet 10 inches tall: "If you're too big a guy, it's hard to find good villains. That's why Stallone always has good villains. He's short. 
Movie action heroes like Stallone and Tom Cruise need camera angles and costume designs that are carefully thought of to make them stand out against their onscreen villains. For example, in the Rocky movies, Stallone would be wearing elevator shoes while doing his fight scenes.
How old is Sylvester Stallone in 2022?
He was born under the name Sylvester Enzio Stallone on July 6, 1946, in New York City and his childhood, together with his brother, Frank, was a tough one due to their parents' unstable relationship. They lived in different foster homes until he decided to leave with his father in Maryland.
Sly eventually relocated to Philadelphia to live with his mom and her new partner. The would-be star had his heart set on acting at an early age and enrolled in the American College in Switzerland. He then transferred to the University of Miami but soon dropped out to pursue his acting dreams.
Sylvester Stallone's age as of 2022 is 76 years old. He was 30 years old when the first Rocky movie was released in 1976.
How did Sylvester Stallone become famous?
Through the 70s and 80s, fans saw Stallone's star rise exponentially with his hit roles, Rocky Balboa and the Vietnam war veteran John Rambo in the Rambo film series. Stallone admits that he has already accepted that he will forever be "Rocky" to his fans.
His other film projects, though, were big flops except for the 2010 movie The Expendables, which featured an ensemble cast of popular male action heroes such as Arnold Schwarzenegger, Jet Li, and Jason Statham.
The action-adventure film earned $274.5 million at the Box Office with a budget of $80 million.
The film's huge success gave way to 2 more sequels. And apparently, a 4th installment is on its way to the cinemas in 2023, with Stallone reprising his role as Barney Ross and Jason Statham as Lee Christmas.