Tom Cruise is one of the highest-earning box office film stars of the last 30 years, so it's no wonder that fans are curious about how much money those movies actually make. So, how much does Tom Cruise get paid per movie?
The best example to take of Tom Cruise's net worth per production is to look at his most recent films. As of 2020, the last film he appeared in was Mission Impossible: Fallout, the last installment of the Mission Impossible franchise, in 2018. He received a reported $28 million for his latest role as Ethan Hunt.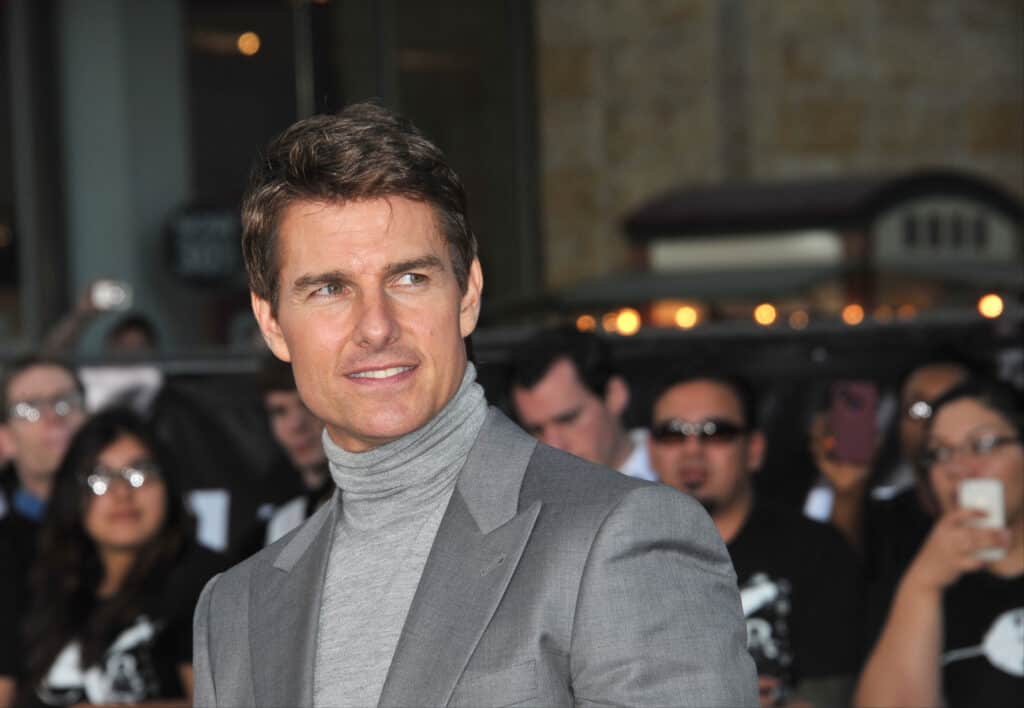 However, as with any actor, the amount they make per movie will fluctuate throughout their career. This is certainly the case with Cruise, who has been one of the highest-profile actors in the world for the last two decades.
Early Career Earnings
Of course, Tom Cruise hasn't always been a high-earner in Hollywood, as everyone has to start somewhere. He was paid only $50,000 for Taps, his second feature film in 1981.
And in his first major success, Risky Business, Cruise was paid just $75,000 as the lead actor in the film, although it grossed more than $63 million internationally.
However, his career earnings would soon pick up as he gained fame and international recognition. In 1986 he was cast as Pete "Maverick" Mitchell, one of his most famous roles to date, and the young actor netted a reported $2,000,000 for the film.
From that point on things were only looking up for the burgeoning superstar, and he received seven-figure salaries for every role (with one exception) following it.
His most notable role during the first half of his career would be as the eponymous hero of the film Jerry Maguire, which would later become an iconic pop culture film and earned Cruise his first Oscar nomination as Best Actor in a Leading Role. He was reportedly paid a whopping $20,000,000 for his part in the film.
Career Peak
Cruise was not only becoming an A-lister for his film roles, but also his appearances in Hollywood tabloids, following relationships and marriages with actresses Nicole Kidman, Penelope Cruz, and Katie Holmes.
He received considerable attention for certain actions, such as his involvement with the Church of Scientology and his now-infamous declaration of love for Katie Holmes while being interviewed by Oprah Winfrey, back in 2005.
Despite all this, Cruise' career earnings have not declined in any real sense over the last quarter-century. He has regularly earned over $20 million for the vast majority of his films since the first Mission Impossible film.
The only exceptions to this rule have been three films. The first being Magnolia, directed by Paul Thomas Anderson in 1999. Cruise took a severe pay cut, of only $100,000, allegedly because he was such a fan of Andersen's work to the point of seeking him out personally for a film role.
The other two films were Jack Reacher and Rock of Ages, earning $7.5 and $5 million respectively.
On the topic of Mission Impossible. The spy-thriller action franchise is where Cruise's career has peaked commercially, particularly in the 21st century. For the first two films of the four-part franchise, Cruise received an incredible $75 million paycheck for both films respectively.
The only film that Cruise earned more for outside the MI franchise would be 2005's The War of the Worlds. Cruise was offered 20% of the profits, of which there was $602 million grossed worldwide, netting Cruise over $100 million.
Net Worth and Average Movie Gross
Let's take a look at the superstar's current net worth. As of 2020, Tom Cruise is worth an estimated $500 million, with a projected salary of $50 million per year, based on his last few years of work. His total career earnings are estimated at over $750 million.
Being a certified lifetime A-Lister his films are expected to make considerable sales worldwide, and so far this has proven correct throughout his career. Around twenty of his films have grossed $100 million individually, and several, including Top Gun and Mission: Impossible earning over $300 million.
This means that Tom Cruise's feature films have likely earned several billion dollars over the course of his career.