Tom Cruise has been around for decades. You know what classic movies he's in, but what about where the global star spends most of his time?
Most recently, Tom Cruise can be found a few blocks away from the Church of Scientology's headquarters in downtown Clearwater, Florida, where he owns a multimillion-dollar two-story penthouse at The SkyView condominium.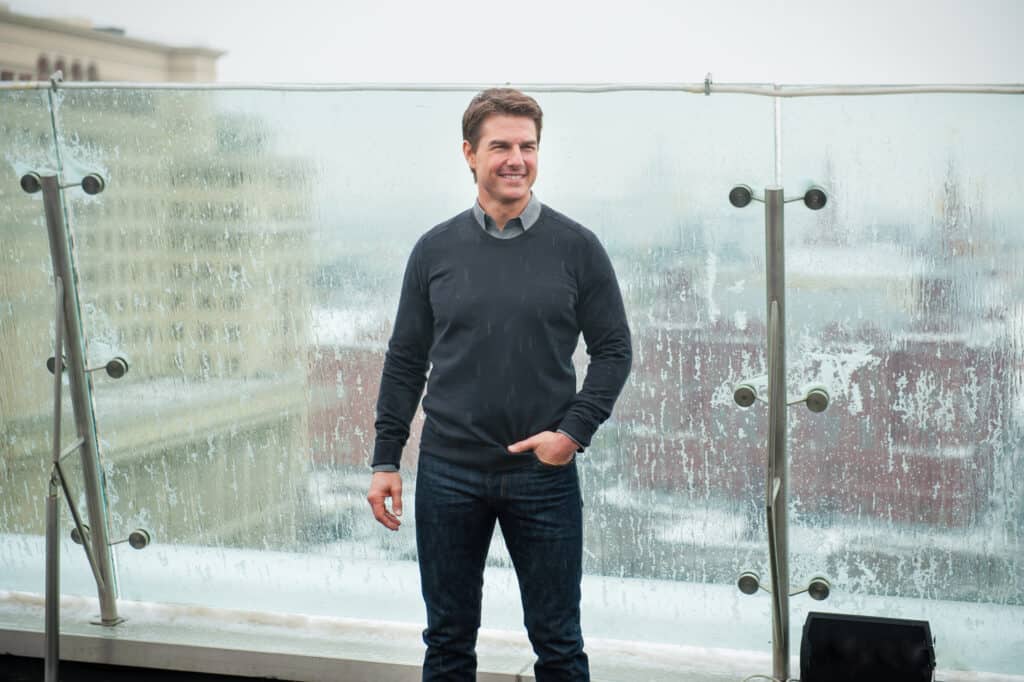 You may know him from his roles in classic movies like Risky Business, Rain Main, and Pete "Maverick" Mitchell in 2020's Top Gun sequel, but we figured you probably weren't so familiar with his homes. He has had quite an extensive real estate portfolio, so let's jump right in.
His Florida Penthouse
At the top two floors of a 10-story condominium called The SkyView is Tom Cruise's most recent (and not so humble) abode.
It was built by one of the world's richest Scientologists, Mexican native Moises Agami.
The sweet pad comes complete with a drool-worthy $500,000 private swimming pool and pool garden, a million-dollar (literally) movie theater, a brand-new gym, and a wraparound balcony that overlooks the city.
The SkyView itself is the largest, tallest building in Clearwater. What a gorgeous view he must get to see every night!
Of course, with Tom being the second richest actor in the world, he could totally afford all that. And more.
Let's look at the "more".
His Cabin in Telluride, Colorado
Tom scored a cozy 10,000 square-foot cabin near the historic town of Telluride, with 298 acres of land and a breathtaking view of Mt. Wilson to top it off.
Tom would wind up the private mile-long driveway to his home, then choose which of 7 bedrooms or 9 bathrooms he'd like to spend his time in.
He could have also opted to lounge in the 1,600 square foot guest house that rests on the property, which boasts 3 bedrooms and 3 bathrooms. That's what we would do if we had a guest house!
He purchased it in 1990 with then-wife Nicole Kidman, completing his remodeling of the home in a "log mansion" style in 1994.
If you want a closer look, check out the video below.
Luxury Beverly Hills Mansion
Tom bought his Beverly Hills mansion with ex-wife Katie Holmes in 2007 for a cool $30.5 million, though he sold it in 2016 for $40 million.
The house is a gorgeous stone mansion that sits on an acre of land off the very famous Coldwater Canyon Drive, where celebrity sightings are a dime a dozen (think Ellen DeGeneres or Ryan Seacrest).
This high-end space also reaches about 10,000 square feet, just like his Colorado home.
How many bathrooms do you think it has? Nine of course!
Not to mention seven bedrooms, several guest houses, a tennis court, a swimming pool, and even a playground!
Can we come over for the weekend, please?
He Also Had An "European-Style" Home Nearby
In Laurel Canyon, Tom bought a European-style estate that many deemed didn't quite "fit" him.
The mansion rested on two and a half acres of land in the beautiful Laurel Canyon neighborhood of Los Angeles, making this home his second in the city in addition to the mansion he also owned in Beverly Hills.
Imagine having plank floors made of oak and cathedral-like vaulted ceilings. These features ran all throughout the two-story house and its three bedrooms.
Of course, a guesthouse was also on the property, housing four bedrooms, bathrooms, and a kitchen.
We couldn't forget to mention that there was also a wine-tasting room and storage area.
His Two New York Area Properties
Are we surprised that he owned two properties in the Big Apple as well? Nope, we aren't!
In 2013 he sold his 2,200 square foot condo at the American Felt Building for $3 million. Located on 13th Street, the building was constructed back in 1984, the year the actor starred in "Risky Business".
Oddly enough, Tom decided to lower the ceilings in this apartment to nine feet tall, and still, no one really knows why. The American Felt Building has 41 units with very high ceilings, so his choice stuck out to many.
Beyond that, this condo offers two bedrooms and a gym. It seems a little more on the modest side compared to Cruise's other luxury homes.
However, in that same year, Tom also bought a gorgeous townhouse located in Greenwich Village on West 12th street. Built back in 1860, it had 8,300 square feet of space between six floors — and that excluded the rooftop patio!
The East Grinstead Mansion
Last on our list is the East Grinstead Mansion located in the United Kingdom, just 30 miles south of London. He and his wife at the time, Katie Holmes, purchased the mansion in 2006.
This beautiful mansion is not short on space with over 11,000 square feet, 6 bedrooms, with 5 full and 2 half-baths. It also has a gym, a movie theater, and a private dance studio.
We're not surprised that this home is only a few miles from the Church of Scientology's UK headquarters, a group he has been affiliated with since 1990.