Kyle Busch is a professional stock car racing driver, racing team owner, and entrepreneur. Everyone who knows him knows that he has spent his entire adult life working his way up to earning the big bucks, but just how big are we talking? How much is Kyle Busch worth?
Kyle Busch has a net worth of USD $80 million. This figure is made up of his earnings from his career as a professional stock car racing driver and all the endorsements, licensing, and merchandise income that comes with it as well as from his entrepreneurial ventures.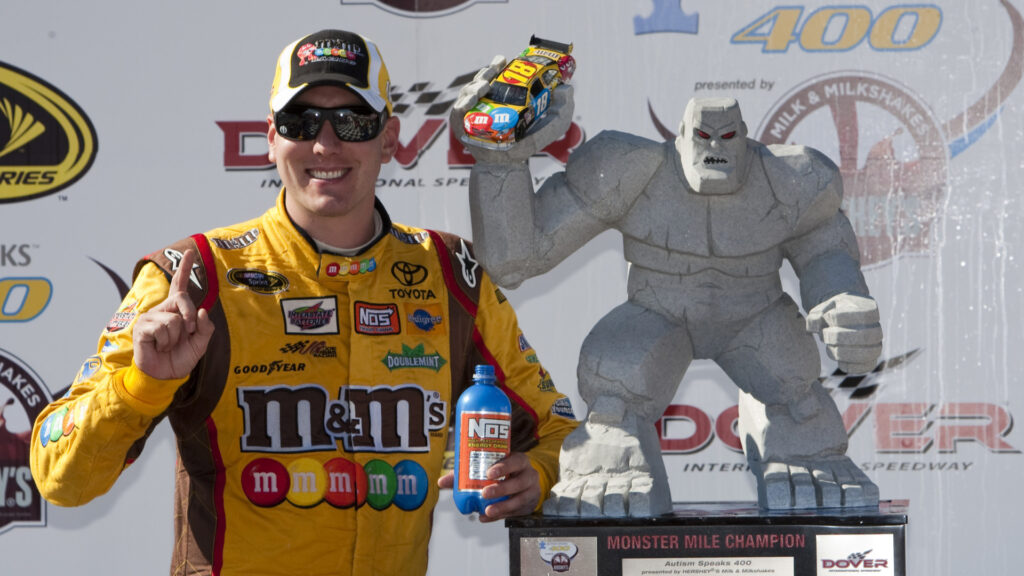 If you're interested in finding out everything there is to know about how Kyle Busch makes his money – and spends it! – be sure to keep reading as this article will fill you in on everything relating to Kyle Busch and his impressive net worth.
What Is Kyle Busch's Net Worth?
Kyle has a net worth of USD $80 million. In 2020, Forbes named Kyle the highest-paid NASCAR driver of the year and he is one of the highest-paid drivers in racing history. According to Celebrity Networth, between June 2018 and June 2019 alone he earned a whopping USD $16 million.
Most of his impressive net worth comes from the time he spent on the track as a racer, the winnings he earned in events like the NASCAR Sprint Cup and the NASCAR Nextel Cup, as well as through 'Kyle Busch Motorsports.'
In addition to his on-track winnings and salary, Kyle also has an entrepreneurial streak and has capitalized on his popularity. In 2017, he earned himself USD $1.6 million from endorsements, licensing, and merchandise sales.
How Does Kyle Busch Make His Money?
Kyle may be a legendary driver, but he's well on his way to becoming a legendary businessman too. To date, the star has been involved in numerous successful ventures.
For starters, Kyle has a personal sponsorship with both 'Electric Visual' and 'Monster Energy.' Under the 'Kyle Busch Motorsports' umbrella, Kyle sells several products including T-shirts, caps, lanyards, keychains, figurines of his previous racecars, driving gear, and other apparel.
In 2019, Kyle teamed up with a beverage entrepreneur by the name of Jeff Church to create 'Rowdy Energy.' This is a private energy drink company that sells low-sugar high-caffeine beverages in flavors such as cotton candy, blue raspberry, cherry limeade, and 'Power Burn.' Fans of the brand can also purchase everything from T-shirts to tailgating gear branded with the 'Rowdy Energy' logo.
How Does Kyle Busch Spend His Wealth?
By now, you know that Kyle makes some serious bucks. And he's just as good at spending it as he is at making it! But how does the sports star spend his massive wealth?
Like many celebrities, Kyle has spent a fair portion of his earnings on property. In 2012, he purchased a 13,000-square-foot mansion in Denver for USD $7.5 million. The next year, he purchased a mansion in Lake Norman which he bought for USD $3.29 million but sold in March of 2018 for a cool USD $3.9 million.
Off the track, he drives a Toyota Camry, a Chevrolet Corvette Z06, or a Ford Edge, depending on what he feels like that day. Kyle also uses his wealth to fund lavish vacations to destinations including The Bahamas and Cabo.
And, finally, Kyle also uses some of his money to give back to those in need. In 2007, he and his wife Samantha established the 'Samantha and Kyle Busch Bundle of Joy Fund' which aims to financially support couples who are going through the IVF process. He also has a charity called the 'Kyle Busch Foundation' that partners with the likes of 'Joyful Heart' and the 'Pretty in Pink Foundation.'