Nevada-born car racer, Kyle Busch, has an impressive track record. With over 60 Championship Cups won, which is the most amongst active drivers, Busch currently ranks 9th on the all-time wins list. With a professional career spanning 24 years, fans wonder when the racer got started.
Kyle Busch began his racing career in 1998 in Legends Cars Racing at the age of 13. He took his first lessons when he was six years old, and by the time he was 10, Kyle became crew chief at his brother Kurt's dwarf car team.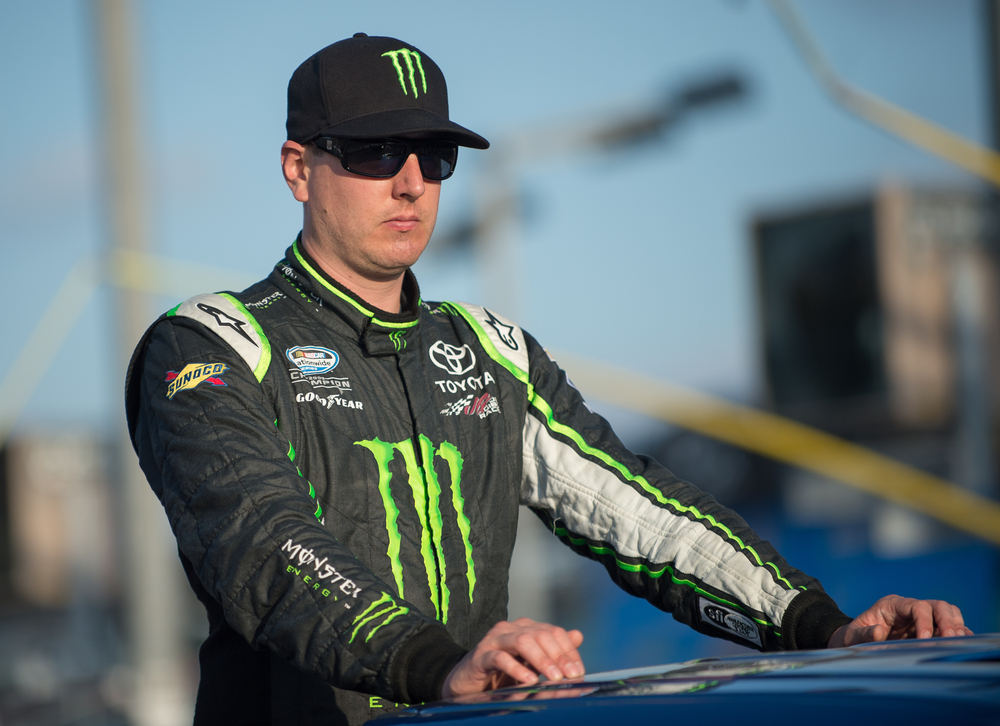 Here is everything else you need to know about Kyle Busch's racing beginnings. 
How long has Kyle Busch been racing?
If there is anyone who is "born for the wheels," that would be Kyle Busch, it seems. Kyle got a very early start – at age 6 – learning how to drive a makeshift go-kart around his family's neighborhood. By age 10, he was crew chief in his brother's car team.
There was no stopping Kyle since then. Barely in his teens, Kyle started his driving career in 1998. He won over 65 races in the three years that followed, and the rest is car racing history.
Counting from the beginning of his racing career in 1998, Kyle Busch has been in the sport for 24 years as of 2022.  
How many career wins does Kyle Busch have?
As of 2022, Kyle Busch has garnered a total of 60 Career Cup Series wins and 224 total NASCAR wins. This places Kyle in the 9th spot of all-time wins.
How many championships does Kyle Busch have?
Kyle Busch was awarded the Cup championship two times – in 2015 and in 2019. According to his website bio, his 2015 win "was among the most improbable in racing history," as he suffered a leg and foot injury in the same year he won.
With much tenacity, Kyle was able to heal his injuries and get back in good enough shape to race. His recovery turned out to be swifter than expected, and Kyle went on to win his first Cup. 
Does Kyle Busch own a racing team?
Busch and his wife, Samantha, own a stock car racing team, Kyle Busch Racing. The team was founded in 2010 when the remaining assets of Xpress Motorsports were all bought from J.B Scott in 2009. In October 2020, KBM opened a $10 million facility in Mooresville, North Carolina.
Kyle Busch Motorsports (KBM) currently competes in the NASCAR Camping World Truck Series and ARCA Menards Series. KBM has competed in series such as Southern Super Series and CARS Tour in the past.
Do Kyle and Samantha Busch own a foundation?
Kyle Busch is more than the "Rowdy" racing champion many know him for. Kyle, along with his wife Samantha Busch, owns a fertility awareness foundation.
It's called 'The Samantha and Kyle Busch Bundle of Joy Fund.' They advocate for infertility education and remove the financial barrier for in-need couples who lack the monetary resources for IVF and other fertility treatments. 
According to the website, 89 grants have been awarded, $1,115,500 worth of funds were granted, and 56 babies have been birthed through the help of their foundation, with even more babies on the way.
They started the foundation after a prohibitively expensive in vitro fertilization treatment, which salvaged the couple's fertility issues as well as their marriage. It led to the birth of their son Brexton in 2015 but also the trauma of his wife's miscarriage three years later.
Kyle Busch Foundation
The Kyle Busch Foundation is a philanthropic foundation founded by Busch that deals in providing monetary grants for disaster preparedness and relief, working to empower children, families, and communities to overcome hardship.
The Kyle Busch Organization assists charities such as A Child Place, Barium Springs, Girl Talk Foundation, and his Kyle & Samantha Busch Bundle of Joy Fund, to name a few, in ensuring children and their communities live in a stable environment where their daily needs are met.
What is Kyle Busch's net worth?
Kyle Busch is pretty wealthy. About $40 million rich, he shares a 13,000 square foot home with his wife, Samantha, his son Brexton, and new baby Lennix on the shores of Lake Norman.
In the Charlotte area, the home sets a record costing a whopping $7.5 million. This house was featured in 2019 CMT's Racing Wives, and we could see the features which make the mansion a worthy purchase.
Kyle also has another mansion in Mooresville. The vast 77,000 square-foot home houses most, if not all, of his trophies.