Kyle Busch kicked off his career in 1998 with Legend Car Racing when he was just 13 years old, and he's been on the roll ever since. With long-time sponsor M&M's announcing their exit from NASCAR by the 2022 season's end, fans wonder who the 37-year-old racer is driving for.
Kyle Busch currently drives for Joe Gibbs Racing. He drove for Hendrick motorsports from 2003 until June 2007, when he left for Joe Gibbs Racing for the 2008 season. He drives the No.18 Toyota Camry.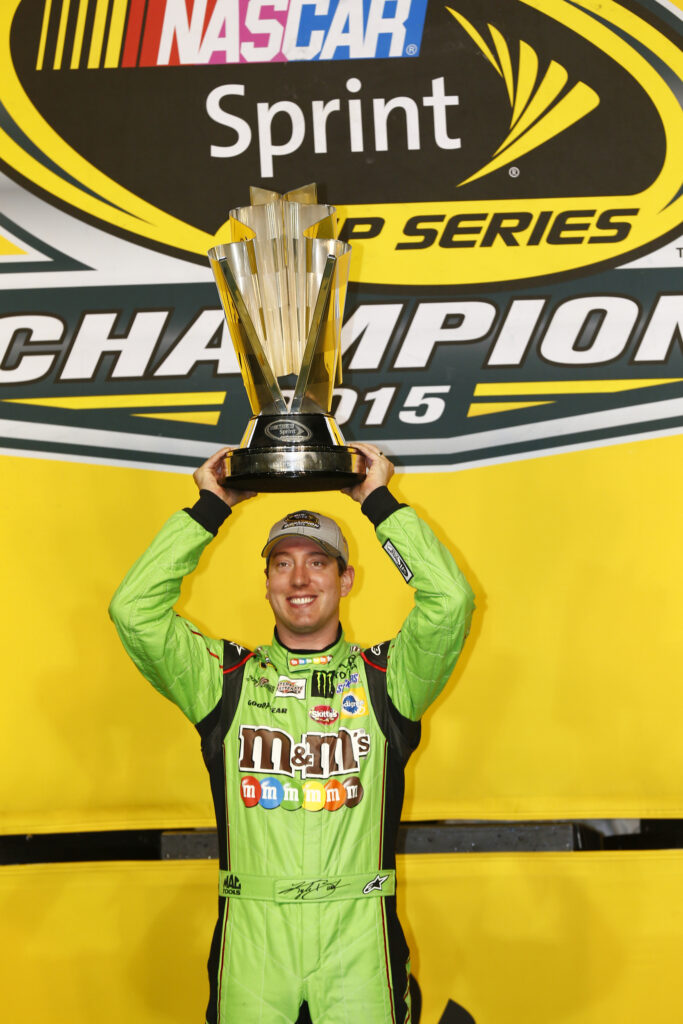 Who Is Kyle Busch?
Kyle Thomas Busch, known as Kyle Busch or "Rowdy" for his driving style, is a professional American stock car racer, team owner, and entrepreneur. He competes in the NASCAR cup series full-time. 
In 2009, he founded Kyle Busch Motorsport, which is very successful in the Camping World Truck Series. Busch is the 2009 NASCAR Nationwide Series champion and the 2015 and 2019 Cup Series champion.
He was born on May 2, 1985, in Las Vegas, Nevada to Tom and Gaye Busch. His older brother, Kurt Busch, is also well renowned in the world of racing.
Kyle graduated in 2002 with honors from Durango High School in Las Vegas. His graduation came a bit early so he could focus on his racing career
Kyle Busch's Racing Career
Kyle Busch's mother initially wanted him to become a dentist, but fate had other plans. Kyle was so passionate about motorsports that he took driving lessons as early as six years old when he rode around the neighborhood in a makeshift go-cart. By age 10, he became the crew chief at his brother Kurt's dwarf car team.
In 1998, not long after Busch's 13th birthday, he began his driving career. Joining Legend Car racing, he won over 65 races and two track championships at the Las Vegas Motor Speedway Bullring short-track between 1999 and 2001.
Kyle Busch moved to Late Models in 2001, where he competed and won 10 championships in the 2001 Burring season. He started competing in the NASCAR Craftsman Truck series when he was 16. He was Nathan Haseleu's replacement as he mounted the No. 99 Ford after signing with Roush Racing.
Under Roush Racing, he made his debut in Indianapolis Raceway Park but finished 9th place. In his second race at Chicago Motor Speedway, he was in the lead but his truck ran out of fuel with 12 laps to go.
Busch and the Fontana Incident
Busch's position in the No. 99 Ford was later replaced by Tom Woods III when Marlboro Cigarettes sponsored the CART FedEx Championship Series. His ineligibility to participate was due to the Master Settlement Agreement of 1998, which prohibited juvenile participation in events sponsored by tobacco companies.
After the whole Fontana incident, Busch had to switch over to the American Speed Association(ASA) after NASCAR put age restrictions. He left for Hendrick Motorsports in 2003, and there he leveled up with Greg Biffle for the driver with the most wins in their rookie year.
He competed full-time in the 2005 Sprint Cup race series in the No.5 Chevrolet that NASCAR legend Terry Labonte drove. He won, becoming the youngest ever participant to win the title in the history of the series.
In 2007, Kyle Busch became the first Nextel Cup Series driver to win in the Car of Tomorrow. But that was the same year he was put up for the highest bidder. In August of the same year, he announced his switch to Joe Gibbs Racing for the 2008 season. Joe Gibbs has come out to clear the air, saying that Kyle Busch's contract and sponsor situation will be resolved by the following season.
Kyle Busch Awards
Kyle Busch has received the Best Driver ESPY Award twice. (2015, 2019) and is also a two-time NASCAR Cup Series Champion, winning both in 2015 and 2019. He won the NASCAR Cup Series Regular Season for two consecutive years, 2018 and 2019 as well.
Busch is a seven-time NASCAR Camping World Truck Series Owner's Champion, as well as the founder of Kyle Busch Motorsports (2010, 2013 to 2017, and 2019).
Personal Life
Kyle Busch resides in Denver, NC. He is married to Samantha Sarcinella Busch, and they wedded on Oct. 31, 2010. They have a son together named Brexton Locke Busch. Kyle loves watching the Denver Broncos of the NFL. He is Christain and is also a Taurus.
What Is Kyle Busch's Net Worth?
As of 2022, Kyle Busch is estimated to have a net worth of $40 million.