Cameron Diaz started out as a model and then managed to get into acting basically on a whim. She starred in the hit film The Mask in 1994 and she looks pretty young in it, but how old was she?
Cameron Diaz was only 21 when she appeared in the comedy film The Mask opposite Jim Carrey. This was her debut film as she had previously been modelling since high school. Diaz went on to not only star in other comedies like There's Something About Mary, but distinguished herself as a dramatic actress with roles like the one in Any Given Sunday.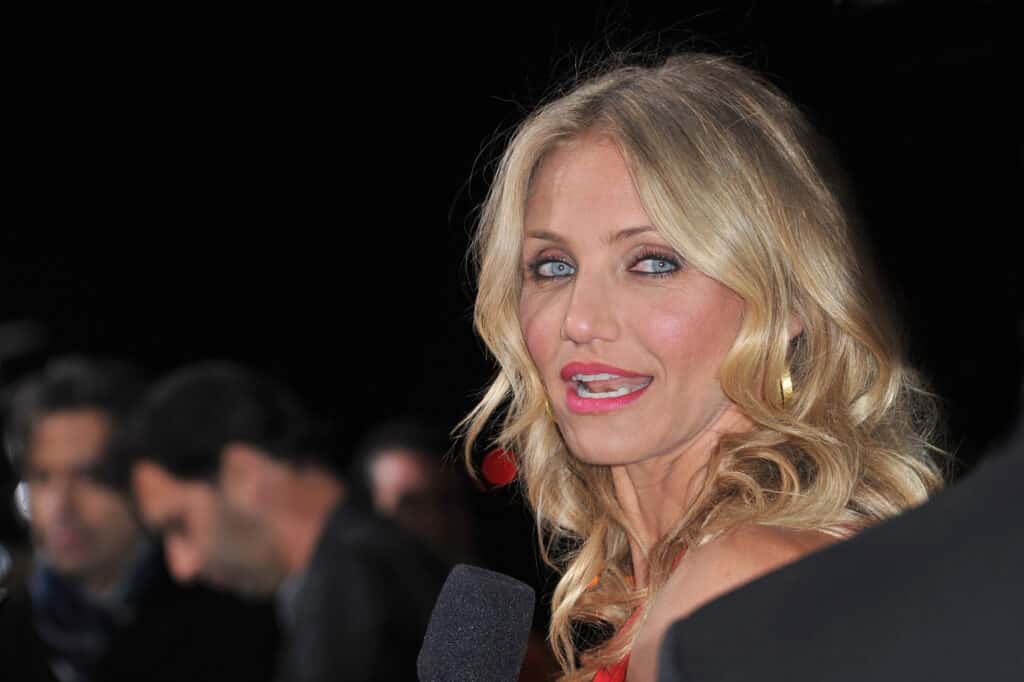 Scroll down to read more about Cameron Diaz's role in The Mask, whether she actually danced in the "Hey! Pachuco!" dance scene, and where her career went from there.
Cameron Diaz's Big Break
In 1988 at the age of sixteen, Cameron Diaz was signed to Elle Modeling Management while still in high school. She lived in Long Beach, California and actually went to high school with Snoop Dogg.
During her modeling career, Diaz appeared in advertisements for Calvin Klein, Levi's, and Coca Cola, as well as appearing on the cover of Seventeen magazine. It was in 1994 that she got her big break in acting as the lead actress in the comedy The Mask starring opposite Canadian acting legend, Jim Carrey.
Diaz was attempting to break into acting and despite having no previous acting experience, she auditioned for the lead role in The Mask on the advice of an agent. Even though the producers did not want her for the role, the director insisted that she play Tina Carlyle.
She had to take acting lessons before filming started.
Despite her lack of experience, Cameron Diaz recieved rave reviews for her performance. This also launched her role as a sex symbol across American cinema.
The idea of her as a sex symbol is probably in part, due to the different revealing outfits that Diaz wore throughout the film and her crazy dance scene with Jim Carrey to "Hey! Pachuco!"
Did Diaz Actually Dance in The Mask?
The "Hey! Pachuco!" dance scene in The Mask has to be one scene that everybody remembers. Unless you still remember when those two mechanics were somehow still living even with pipes impaling them, that, or when the dog put on the mask.
Okay let's be real here, the dance scene and when the dog put on the mask were probably the two most memorable scenes from the movie. The swing dance that Diaz and Carrey are doing in the film is quite complicated.
Despite that fact, both of them insisted on doing almost all of their own dance moves. The only exception were the very advanced moves, which they used doubles for.
After rewatching the scene, it is fairly impressive that they pulled it off. Although, Carrey has been pretty widely known for his more out-there style and movements.
Diaz's Blossoming Career
After her success with The Mask, doors opened up for Diaz and her acting career. One of her most prominent roles was as the leading lady in the 1998 film There's Something About Mary, opposite Ben Stiller.
Diaz won a Golden Globe for her performance in the comedy film. However, she went on to prove to the world that she has a diverse skillset in the world of acting.
Her first appearance in a drama film was in Oliver Stone's Any Given Sunday. She plays Christina Pagianacci, a woman who has inherited football team ownership from her deceased father.
Roger Ebert gave the film three stars and didn't have much to say about Diaz's performance, only stating her character is a woman "who will never really be accepted in a man's game."
This was only the first of a few drama's that Diaz appeared in. Other's were the 2001 science fiction psychological thriller Vanilla Sky where she played the jealous lover of Tom Cruise's character.
She also appeared in Gangs of New York, In Her Shoes, My Sister's Keeper, and The Counselor. All of which were drama films.
She also continued to star in comedies like The Sweetest Thing, The Other Woman and Bad Teacher until she finally decided to retire from acting in 2014.
This Vanity Fairarticle highlights that Diaz has said that she has felt peace in her life since leaving the world of acting. She is now married, a mom, and has launched a clean wine business called Avaline.