After making her big-screen debut in "The Mask" in 1994, Cameron Diaz enjoyed a successful Hollywood career. Did she ever date her "Mask" co-star, Jim Carrey?
Cameron Diaz and Jim Carrey have not dated. Diaz has been married to Benji Madden since 2015, while Carrey has been married twice, to Melissa Womer and Lauren Holly. There is no indication that Diaz and Carrey were romantically involved at any time.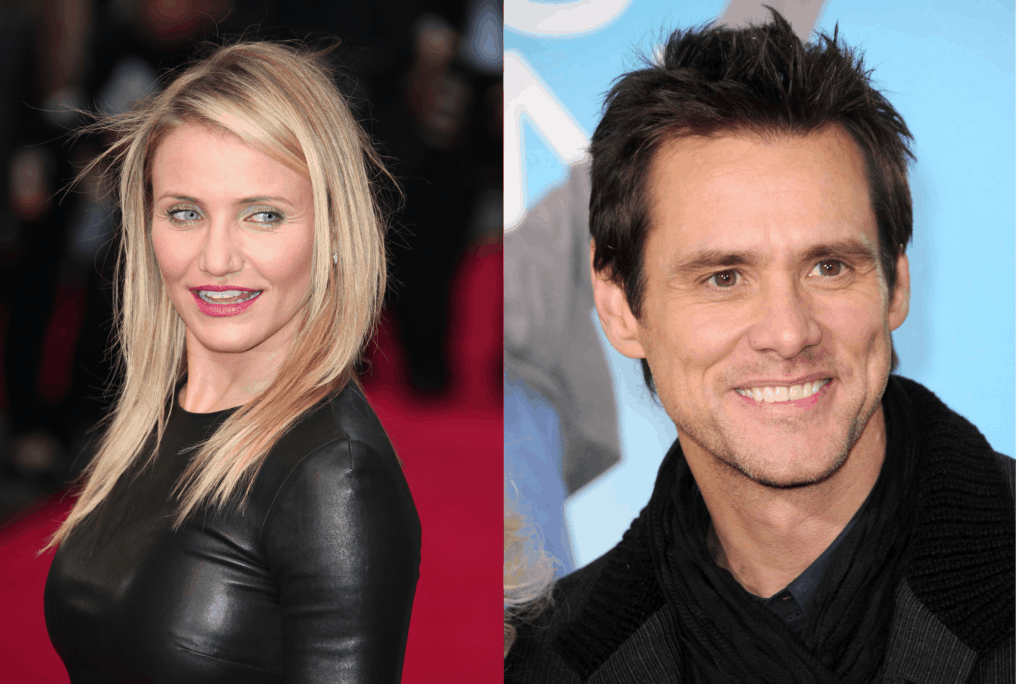 For more on Cameron Diaz, Jim Carrey, and their respective love lives, read on.
Cameron Diaz
Cameron Diaz began her career as a model, signing a contract with Elite Model Management at 16 years old. She modeled for major clothing brands such as Levi's and Calvin Klein, as well as appearing on the July 1990 cover of "Seventeen" magazine.
Diaz had her first public relationship when she was 18, dating video producer Carlos De La Torre, who was nine years her senior. They continued dating for about five years between 1990 and 1995, splitting just after Diaz found her big break in "The Mask".
In 1996, she began dating actor Matt Dillon. They met while working on separate films in Minnesota; Diaz was making "Feeling Minnesota" and Dillon was acting in "Beautiful Girls".
Diaz and Dillon would co-star in "There's Something About Mary" in 1998 but split shortly after the release of the movie.
She then began dating Jared Leto in late 1999 and became engaged in 2000. When Diaz was seen wearing a very impressive diamond ring on her ring finger at the 2003 Golden Globes, they denied that they had married in secret. By the end of the year, they had separated.
Diaz began a well-publicized relationship with Justin Timberlake in 2003, when Timberlake was 22 and Diaz was 30. They dated for four years before going their separate ways in 2007 but later worked together on the comedy "Bad Teacher" in 2011.
After relatively brief relationships with English model and actor Paul Sculfor and Marron 5's Adam Levine, Diaz began dating New York Yankees star Alex Rodriguez from 2010. After a stop-start relationship, they separated for good, with Rodriguez saying he would always love Diaz and the pair remained good friends.
In 2015, a year after the release of her apparently final Hollywood project, "Annie", Diaz married Good Charlotte guitarist Benji Madden. They were introduced by Diaz's friend Nicole Richie and married in a Jewish ceremony at Diaz's Beverly Hills home.
Diaz and Madden had their first child together on December 30, 2019: a daughter named Raddix.
Jim Carrey
Jim Carrey's first public relationship was with American singer Linda Rondstadt, who he dated for eight months in 1983.
He then dated Melissa Womer, an actress, and waitress at the Comedy Store club in Hollywood. The couple married on March 28, 1987, and had a daughter, Jane Erin Carrey, in September 1987.
Carrey and Womer divorced in 1995, after eight years of marriage. Their daughter Jane was a contestant on "American Idol" in 2012.
A year after his divorce from Womer, Carrey married actress Lauren Holly, who had appeared with Carrey in "Dumb and Dumber". Within a year of their wedding, the couple had divorced, marking the end of Carrey's second and seemingly final marriage.
After meeting on the set of "Me, Myself & Irene", Carrey began dating his co-star Renée Zellweger. In his semi-fictional autobiography, he referred to Zellweger as his "last great love", and called her "the one that got away".
Carrey's relationship with Zellweger was well-publicized but brief and, despite becoming engaged in 1999, they separated in 2000 before tying the knot.
His next public relationship began in 2005 when he met actress and model Jenny McCarthy, going public in June 2006. They were together for four years before splitting in April 2010, with McCarthy later saying that she and Carrey remained good friends.
Carrey later dated Cathriona White, an Irish makeup artist who he met in 2012. In September 2015, White was found dead, later deemed to be suicide by a prescription drug overdose. Carrey served as a pallbearer at her funeral in Ireland.
White's husband at the time of her death and her mother both accused Carrey of playing some part in her death, filing a lawsuit. The lawsuit was dismissed in January 2018.
In 2019, he dated actress and comedian Ginger Gonzaga, with whom he attended the Golden Globes 2019 Party. The relationship lasted less than a year.