Pretty Boy Floyd Mayweather has an undefeated record of 50 wins in his professional career. Despite this, there's still so much to discover about this boxing great. Here are some fast facts about him and while we're at it, let's discover Floyd Mayweather's height, weight, and other measurements.
Floyd Mayweather Jr. stands 5 feet and 7 inches (1.7 m or 170.2 cm) tall. Playing in the lightweight to welterweight division as a professional boxer, he has managed to keep his weight to around 68-70 kg.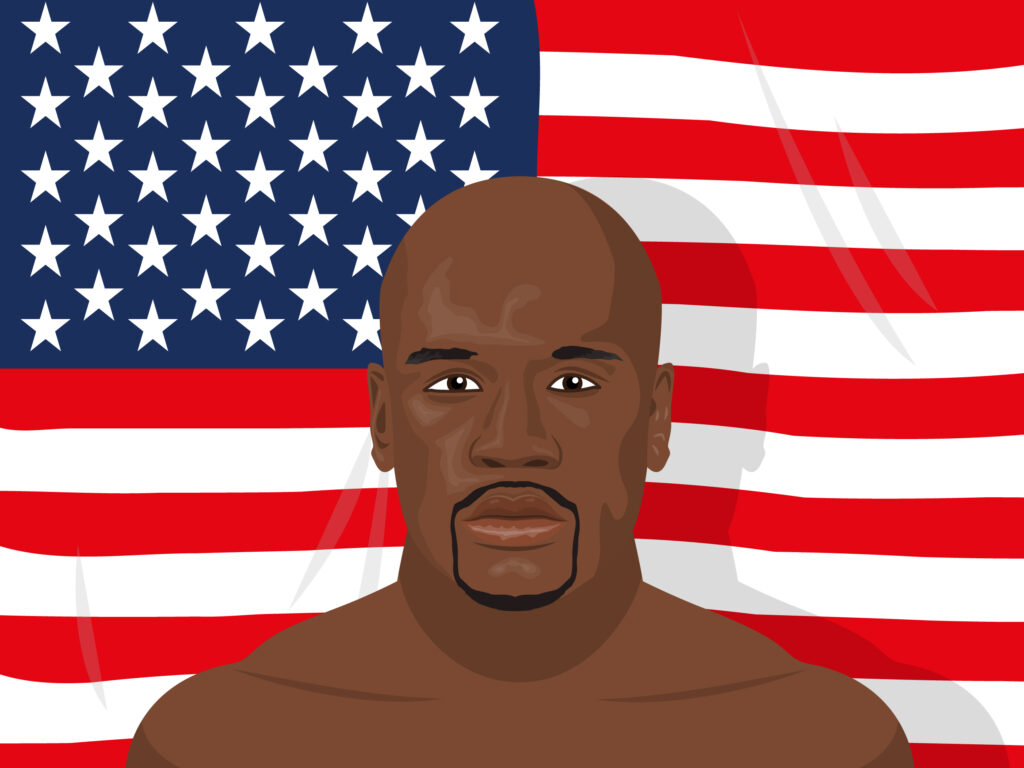 Another thing that gave him more advantage over his opponents is his long wingspan. Typically it should be the same length as his height, but Floyd Jr. has a measured wingspan of 72 inches.
Personal Background
Floyd Joy Sinclair was born on February 24, 1977, in Grand Rapids, Michigan. His father, Floyd Sr., was a professional boxer and trainer. His mother, Deborah Sinclair, was known to have had substance abuse issues.
The young Floyd Jr. had to live with his grandmother while his father was incarcerated. His childhood was pretty rough being a daily witness to violence, poverty, drugs, and all kinds of hardships.
Who is Floyd Mayweather Sr.?
Floyd Jr. comes from a family of boxers and it's no wonder where he gets his drive and talent. His father and coach, Floyd Mayweather Sr., also fought in the 70s throughout the 80s as a welterweight. He's known for his defensive abilities, something that he imparted well to his son.
As a trainer, he teaches his boxers a defensive strategy called Shoulder Roll, wherein the fighter uses his front shoulder to deflect blows and limit their impact. Floyd Sr. also coached light heavyweight fighter Chad Dawson, former two-division champion Joan Guzmán, and women's champion Laila Ali.
For a time, he was also Oscar De La Hoya's main trainer back in 2001 through 2006.
Boxing in the Mayweather clan is a huge deal. Roger Mayweather, Floyd Sr.'s younger brother eventually became Jr.'s trainer, something that would intensify the father-son feud. All is well after father and son made up before Jr.'s return to the ring after a 21-month layoff.
Mayweather's Illustrious Career
Let's run down  Floyd "Money" Mayweather's most high-profile fights.
We begin with his fight against six-division champion and WBC light-middleweight titleholder Oscar De La Hoya in May 2007. He weighed in at 154 lbs, ten pounds lighter than Dela Hoya. His tactical approach of counters and right hands gave him victory by split decision, making him a five-weight world champion.
Months after the Dela Hoya win, Floyd Jr. came back to defend his welterweight titles against undefeated Brit Ricky Hatton. Light-welterweight champ Hatton surprised Mayweather with a left jab that knocked him off-balance. But by the 10th round, the sheer power of Mayweather prevailed, forcing the Hatton camp to throw in the towel.
After his victory over Andre Berto, giving him a 49-win streak, Mayweather announced his retirement from his professional career as a fighter. However, he got back in the ring after just two years to try and have a 50-0 record by fighting UFC star Conor McGregor.
This was considered "The Biggest Fight in Combat Sports" and Floyd was victorious by technical knockout.
Last but definitely not least was his fight against the eight-division champ, Manny Pacquiao. A torn rotator cuff might have been one of Pacman's vulnerabilities as well as landing only 19% of his shots. The fight was quite underwhelming for boxing fans but it definitely gave both fighters a handsome amount of earnings from what is considered the highest-grossing PPV of all time.
The event generated $410 million in the United States alone, a hefty amount added to Floyd Mayweather's net worth, which is estimated to be upwards of $250 million.