American boxing promoter and former boxer, Floyd Mayweather, is a standout in his field, and many argue that he is one of the best defensive boxers in history. Where does this industry standout stay when he's not in the ring?
Floyd Mayweather owns property in multiple locations, notably a mansion in Los Angeles, California, and a Las Vegas compound in Nevada. Both of Floyd Mayweather's luxurious homes are valued in the millions.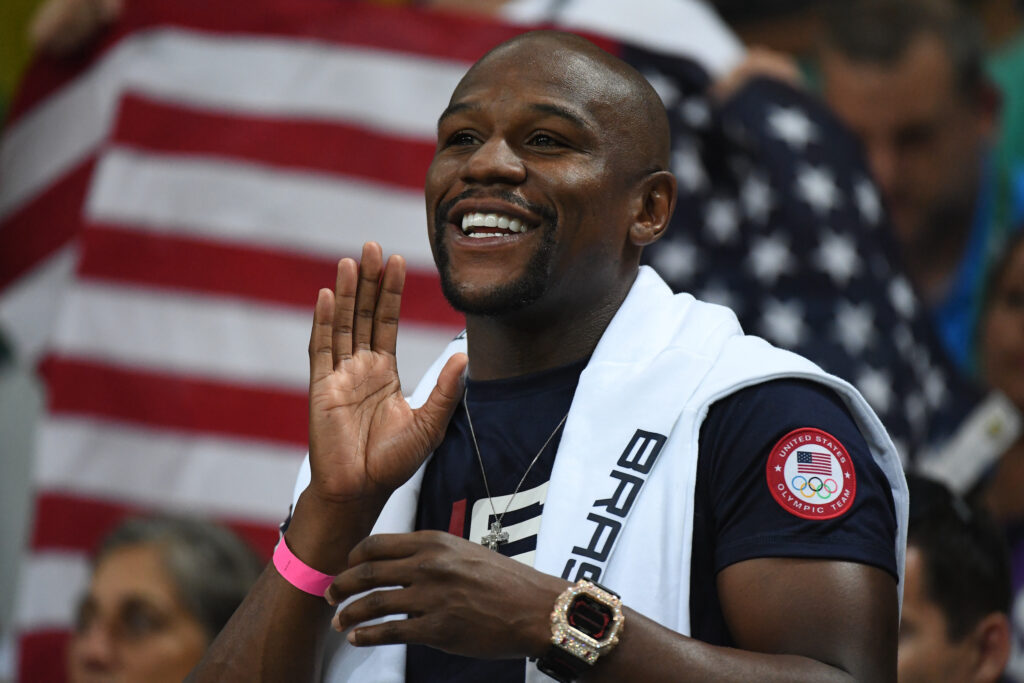 He might be known best for knocking down opponents in the boxing ring, but Floyd Mayweather clearly knows how to take it easy, as evidenced by his two beautiful homes. Floyd Mayweather is one of the sport's wealthiest personalities, and he's worked hard to maintain his reputation as the "Money" man of boxing.
Home in Los Angeles, California
Floyd Mayweather owns a home in Los Angeles, California.
He definitely abides by the saying, "work hard, play hard," as he brings his all to the boxing ring and then enjoys purchasing luxury goods such as an $18 million watch called "The Billionaire," which he showed off on his Instagram page.
However, "The Billionaire" watch was not even his most expensive purchase, as Floyd Mayweather purchased a mansion in Los Angeles, California, in 2017 for $25 million.
The mansion features six bedrooms and ten bathrooms alongside some more unique features, such as an in-home candy shop, a wine rack large enough to fit 225 bottles, a plush media room with space for twelve people, and a stunning outdoor pool.
Business Insider reports that Floyd Mayweather also enjoys meals such as his favorite late-night snack of oxtail and spaghetti bolognese, which he ate while bulking up to fight Connor McGregor in his beautifully furnished kitchen.
Home in Las Vegas, Nevada
If Floyd Mayweather isn't hanging out at his place in Los Angeles, he might be at his second home in Las Vegas, Nevada.
Floyd Mayweather purchased a $10 million compound in Las Vegas in 2018, just one year after buying his Los Angeles home — perhaps the big spender just couldn't settle in one place.
SportsCasting reports that Floyd Mayweather's Las Vegas mansion features eleven bedrooms and fourteen baths. The property also has both indoor and outdoor swimming pools, a garage with a capacity for up to twenty cars, and two guest houses for visitors.
Floyd Mayweather gave his fans a glimpse of the property in an Instagram post captioned, "My new home, I'm truly blessed."
The video features an outdoor view of the property, which includes statuesque columns lining a lush courtyard with a bubbling fountain at the center.
Mansion Global noted that the property also has heated floors.
Floyd Mayweather's Las Vegas compound sits on 1.4 acres of land and is approximately 22,000 square feet if one includes the guest houses.
Net Worth and Earnings
Floyd Mayweather was the highest-paid athlete of the 2010s, according to Forbes. The boxer raked in a staggering $915 million that decade alone, with a shocking $500 million of that cash coming from his highly publicized 2015 and 2017 fights against Manny Pacquiao and Conor McGregor, respectively.
He topped the Forbes Highest-Paid Athletes of the Decade list, beating out LeBron James and Cristiano Ronaldo.
Forbes credits this financial transformation to Floyd Mayweather, leaving behind his previous representation, Top Rank promoters, to begin promoting his own fights under Mayweather Productions. Although it cost Floyd Mayweather $750,000 to get out of his contract with Top Rank, he easily made that back through his high-profile fights.
Floyd Mayweather's net worth is an estimated $560 million, although he has brought in over $1 billion in revenue from his boxing matches.
Although he usually works now as a boxing promoter instead of a boxer himself, Floyd Mayweather has come out of retirement for special occasions. Floyd Mayweather promoted fights in some fascinating ways, such as being showered with cash to promote a fight with Logan Paul in 2021.
In an Instagram video, Floyd Mayweather hypes up his fight with the YouTuber, saying that, "They're worried about the legacy, I'm worried about the currency!"
Boxing's "Money" man is definitely all about the cash.
If you can't catch Floyd Mayweather at home, there's another way to reach him: through Cameo, another source of income for the ex-boxer. Although it may cost you — requests start at a whopping $999!