The Driver's last name is not exactly one of the most popular last names out there, however, there are at least two very famous people who have it: Adam Driver and Minnie Driver. Could that mean they are related?
Adam Driver is not related to Minnie Driver. He is an American born in California, while Minnie Driver is an English-American actress born in England. Adam comes from a middle-class American family with no famous connections. Minnie's mother was a couture model before transitioning to being a fabric designer.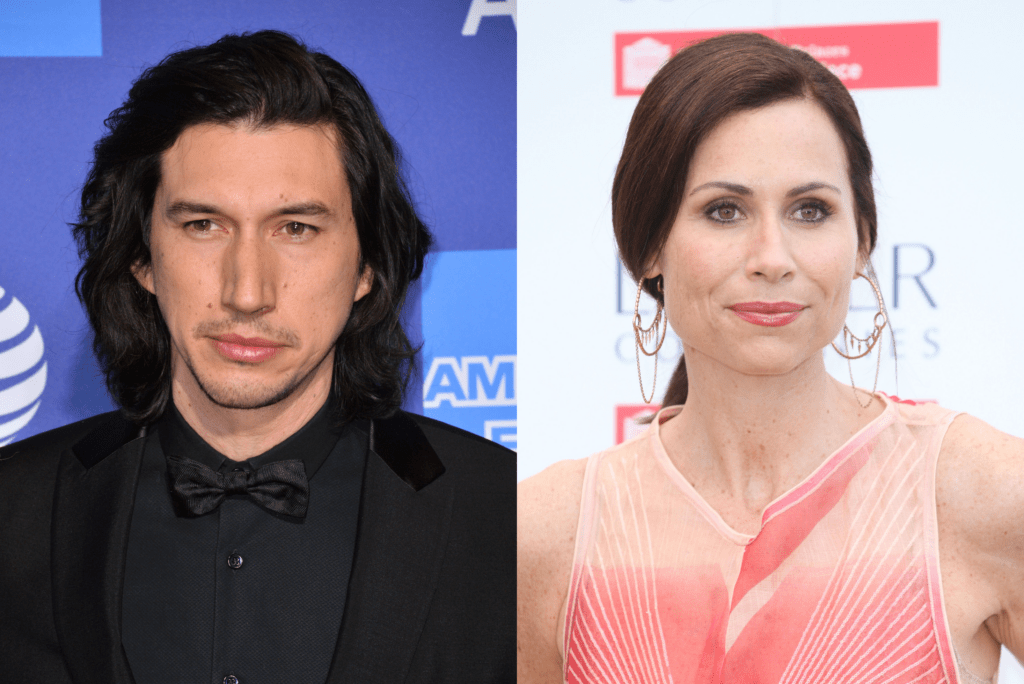 Scroll down to read more about Adam Driver's family, if he has any connection at all to Minnie Driver and the history and meaning of the last name.
Adam Driver's Family & Early Life
Adam Driver was born on November 19, 1983, to Nancy Needham and Joe Douglas Driver. His parents were living in San Diego, California, and had already had a daughter together, Adam's older sister April.
In 1990 when he was seven, Adam's mother divorced his father and moved the family back to her hometown in Mishawaka, Indiana. It was there that Adam seemed to begin living his life as a bit of a "misfit."
He told M Magazine (via US Weekly) that he was a bit of a troublemaker doing things like climbing radio towers and starting a fight club when he was in high school. Maybe this is why he was able to play the troubled character Kylo Ren so well.
In an interview with The Telegraph in 2015, Driver recalled "We didn't travel, no one could afford to go to Europe, so for me and my friends, our access to the outside world came through films."
While in Mishawaka, Driver developed a close relationship with his step-father Rodney G. Wright, a Baptist minister. When he failed to get into Julliard for acting, he headed to Los Angeles to pursue a career there, however, he lasted a week before heading home.
It was his stepfather who gave him the idea to join the marine corps after the September 11 attacks on the World Trade Center. He was almost killed in a training exercise and, as he told The New Yorker, he came to the conclusion that he needed to pursue his dream of being an actor.
He did manage to get into Julliard on his second attempt.
It is very possible that his time as an outsider in high school and his time serving in the marine corps were all experiences that helped lend themselves to his diverse acting style. That and his intensity.
You can watch Adam Driver's TED Talk about his time before becoming an actor and his time as a Marine in the video below.
The Driver Last Name
Adam Driver and Minnie Driver are definitely not related and it doesn't appear that the two have ever met before either. Neither of them has ever appeared in any of the same films or television series.
The only thing that the two appear to share is the same last name: Driver. According to the website Forebears, the last name Driver is the surname for approximately 37,729 people worldwide.
The countries it is most commonly found in are the United States, the United Kingdom, and Australia. The 'Driver' last name is of German and Anglo-Saxon origins and was previously most commonly found in England, Germany, or France.
Minnie Driver is English and born in the UK. However, knowing this means that Adam Driver probably has some British roots too.
The surname is the kind that is referred to as an occupational surname. This makes sense because the last name was originally created to indicate that the person with it was the driver of a carriage, vehicle, or some form of horse team.
As Paul Blake indicated in his BBC article titled 'What's In a Name? Your Link to the Past',
"When communities were small each person was identifiable by a single name, but as the population increased, it gradually became necessary to identify people further – leading to names such as John the butcher, William the short…" Or Adam the Driver?
This means that both Minnie Driver and Adam Driver are the descendants of blue-collar workers and probably have no family in common at all, not even distant cousins. Who knows though, it's always possible that there is a connection there, even if it is centuries old.